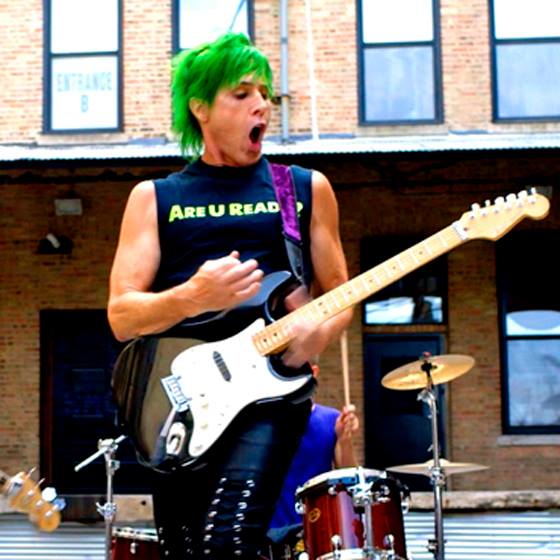 Jupiter in Velvet has long since carved out his own unique niche in the modern music world as a purveyor of guitar fueled rock borrowing much from psychedelic predecessors like Hendrix, The Beatles, and more modern performers like Prince. Despite the obvious influences in his songwriting and visual presentation, Velvet brings a distinct perspective to his songs that's all his own – many of the tracks harbor positive messages for listeners, but this is a signature element in his songwriting.
He furthermore deserves plaudits for his ability to write such songs without ever sounding overwrought and sappy. There's no doubting the earnestness of these songs, but they are delivered with such sympathetic production and raw panache you can't help but succumb to their charms. He plays like a songwriter with a mission, yes, but the self-assurance and personality leaping out of your speakers is impossible to deny.
URL: https://jupiterinvelvet.com/home
"A Cooler Shade of Mad" opens Anthems2Love on a signature Velvet note – he meshes a number of styles together in a single track without any jarring incongruities arising from the mix. Sparkling electric folk-style guitar chords begin the track (along with some accompanying ambient effects) before the song transitions into a higher gear. The percussion isn't the straight ahead rock drumming you might be expecting from this track, but it nonetheless carries the song forward generating palpable energy. Velvet intersperses the song's foundational guitar work with an assortment of muscular leads laden into the arrangement. It's a strong opener for Anthems2Love.
"If Not Peace… Then It's War)" has those direct and hard-hitting rock drums missing from the opener, but this cut doesn't focus exclusively on rock tendencies. There's a strong throwback vibe to the track, much like a great deal of Velvet's work, but it's transformed by Velvet's individualistic compositional talents – you will never hear a moment on this collection or any other from Velvet when he is unequivocally aping another artist. They are more like loving nods in a stylistic direction rather than full-on embraces of another's sound.
KKBOX: https://www.kkbox.com/hk/en/album/G0TZja9NSLEwU0F3uUND009H-index.html
The song "Stand Up", for me, is one of the more interesting numbers included on this release. It illustrates how at home Velvet is with usurping longstanding clichés in popular music. Nearly everything about this song screams anthem, even the title, and you can hear it in how Velvet structures the arrangement. Despite this, Velvet gives the song a distinctive spin in another direction altogether – there's no reliance on cliché and Velvet delivers on of his best vocals on Anthems2Love.
"We Are All ONE" provides Anthems2Love with a thoughtful and imaginative musical conclusion. The song's message is in keeping with the same concerns dominating much of Velvet's songwriting, but he manages each time to give it a spin different than before. The musical character of the song recalls 60's pop, but it has thoroughly modern sonic architecture and yet another five star vocal from Velvet. Anthems2Love demonstrates, if nothing else, Jupiter in Velvet's continued versatility after nearly ten years and numerous releases into his solo career.
Loren Sperry