---
Just two years ago Dirty Honey was your classic Los Angeles based cover band playing clubs and bars around town trying to get noticed. When record labels didn't come knocking, they took matters into their own hands and flew down to Australia to record their debut self-titled EP, with producer Nick DiDia who has previously worked with Rage Against the Machine and Pearl Jam. Shortly after, their debut single "When I'm Gone" hit No. 1 on the Billboard Mainstream Rock Chart, naming them as the first unsigned band to hold a No.1 title.
Comprised of guitarist John Notto, bassist Justin Smolian, drummer Cory Coverstone and lead singer Marc LaBelle, the foursome share similar influences from bands than dominated the 1970's and 80's. Labelle's vocals are a by-product of an AC/DC, Guns N' Roses and Aerosmith melting pot, bringing together the screeches of Axl Rose, the power of Brian Johnson and the soul of Steven Tyler. Their blues based approach to rock n' roll only adds them to the list of bands bringing back the sounds of the seventies, in what has become a hip-hop and electronic dominated industry. Music Existence spoke to bassist Justin Smolian about their quick climb to the top of the charts, tour life in a van, and opening up for the best guitarist of all time.
A typical day on tour with Dirty Honey sees fans starting to arrive at the venue as early as 6:30pm to catch them as the opening act. They've attracted fans spanning all generations, while simultaneously creating a stir among female attendees who come to their show. They convey a ton of energy during their live show, getting up close and personal with the audience numerous times throughout the night. Even after a killer set, they still spend the rest of the evening hanging out at the merch table, meeting and spending time with as many people as possible. By the end of the night they're loading up their van and heading out to the next city.
Part of the reason Dirty Honey has been able to amass such a following, is thanks to the notable tours they've been a part of this year. Opening up for acts such as The Who, Slash and Alter Bridge, there's no doubt they've had to opportunity to look up to some of the best. They're currently on the road with Alter Bridge and Skillet and despite being the first band on the bill everynight, they've watched the crowds getting bigger and bigger.
"It's been amazing, the reception has been over whelming! I don't think we have played one market where we haven't had people coming up to us after the show saying, "I never heard of you guys before, but you got a new fan tonight'. We've never had an actual bad night at merch and that's really nice. Being the first of three (bands) on this tour, it's taught us how to win over a crowd and work a crowd. We played The Chicago Theatre last night, and by the end of the set we had everyone on their feet!"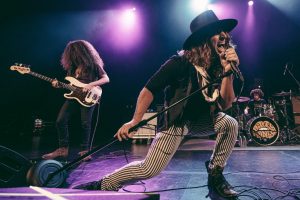 The practice will do them well for when they embark on their first run of proper headlining shows later this year. Apart from the odd solo show in between the tours they have been supporting, this run of headlining gigs will allow them to play a proper set for their west coast fans while also testing out the new material they've written on the road.
"We'll do like an Aerosmith cover and some older songs… and on this next run we'll probably test out some of the new material we've written, because we like to play stuff live before we record it… it helps you work out the kinks when you see the fans reaction. Like we wrote Rolling 7's and played it in the clubs, and we could just tell like oh my god people know this song, like this is a banger! You can definitely tell when a song is good."
One of the final shows of 2019 will be at the legendary Troubadour in Los Angeles. It will be a homecoming show for Dirty Honey, and particularly special for Justin who grew up attending shows at that venue. "The Melvins! Yeah I saw them there. That was one of my first shows when I was like 14 or 15, and I just remember it was so packed in there and there was a mosh pit. I actually threw up in the middle of the mosh pit…that was pretty memorable."
This fall the band will also get the opportunity to open up for Guns N' Roses during the final two shows on the Not In This Lifetime Tour. Taking place at The Colosseum inside the iconic Caesars Palace Hotel and Casino, these intimate shows will be something special for Guns N' Roses fans. With a capacity of only 4,000, scoring a ticket to one of these gigs is hard enough let alone being selected as the opening act. With Guns N' Roses being such a huge inspiration to the band, the boys in Dirty Honey certainly aren't taking the opportunity lightly. "I cried a little bit when our manager told us, I got a little teary eyed not going to lie. It's just cool to be at the end of their three year Not In This Lifetime Tour, it's a huge honour."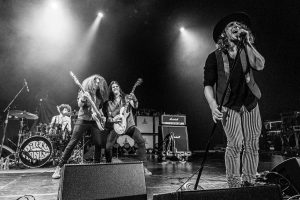 Having been out on the road with Slash, featuring Myles Kennedy & The Conspirators before, the band had a small taste of what to expect when opening for a member of GN'R. The tour this summer with Slash also proved to benefit the band, as the legendary guitarist was one of the first members of the GN'R camp to approve Dirty Honey for the Las Vegas dates. "There were a lot of people putting in good words for us, but Slash definitely was in our corner. It had to be approved not just by Slash but by Axl and Duff as well, and we heard early on that Slash gave us the thumbs up."
Dirty Honey already found their way to the top this year and have only just begun. They have new material ready to go, and are expected to head back Down Under in the new year to record their next release. In the meantime check out their debut EP, and head to one of their shows while you can still see them in a relatively small venue. Things have been changing in the music industry recently with the abundance of soul and blues filling the airwaves. Fans have been thriving for the next generation of charismatic and creative frontmen, bound together by the sound of real instruments coming together for the sake of rock n' roll. Dirty Honey's sweet sounds have left their mark in 2019, and will continue to thrive well into the new year.
DIRTY HONEY Online: Facebook | Twitter | Instagram | Website
Catch DIRTY HONEY Live:
OCT 16 – Mobile Civic Center Theater – Mobile, AL
OCT 17 – Avondale Brewing Company – Birmingham, AL
OCT 19 – Vibes Event Center – San Antonio, TX
OCT 20 – The Bomb Factory – Dallas, TX
OCT 22 – Jannus Live – St.Petersburg, FL
OCT 24 – House of Blues Orlando – Orlando, FL
OCT 25 – House of Blues Orlando – Orlando, FL
NOV 1 – The Colosseum at Caesars Palace – Las Vegas, NV – Supporting Guns N' Roses
NOV 2 – The Colosseum at Caesars Palace – Las Vegas, NV – Supporting Guns N' Roses
NOV 4 – The Rebel Lounge – Phoenix, AZ
NOV 5 – Sister Bar – Albuquerque, NM
NOV 7 – Jake's Backroom – Lubbock, TX
NOV 9 – Lost Lake Lounge – Denver, CO
NOV 12 – The Saint – Reno, NV
NOV 13 – Holy Diver – Sacramento, CA
NOV 14 – Strummer's – Fresno, CA
NOV 16 – Voodoo Room – House of Blues – San Diego, CA
NOV 22 – Troubadour – West Hollywood, CA
DEC 3 – Bourbon Theater – Lincoln, NE
DEC 4 – Wooly's – Des Moines, IA