Haute Couture Nu Goth Rockers Pretty in Purgatory premiered their debut video, 'Voices', to overwhelmingly positive reviews. Inspired by the 2008 Pascal Laugier horror film Martyrs, 'Voices' is a dark and visceral video that invokes the tension and unease of it's inspiration.
"A catwalk trapped in a wall of death", paints a picture that is Pretty In Purgatory. With a dark, avant gard appearance and abrasive tone, they have defined their own genre which they have coined as "Nu Goth".
"Our civilization is blinded by the stereotypical cliches of what makes up beauty, success and creative individuality; we speak for the ones liberated enough to live outside the conventional norms of society. The ones who are open minded and don't reside in any particular niche, but rather develop character through influences which they carve into their own personal identity. These souls make up a pact we call "the cult of purgatory" We all have inner voices, it's just a matter of which path we decide to take"- Micaela Purgatory
Pretty In Purgatory is a distorted portrait of our culture's fascination with fame, fortune & celebrity lifestyle. Often times, what is viewed as glamorous, is nothing more then a public display of the macabre. "We intend to take that which is mistaken for being beautiful, alluring and unattainable, and exploit it for the grotesque reality and dissociative detachment that it actually is".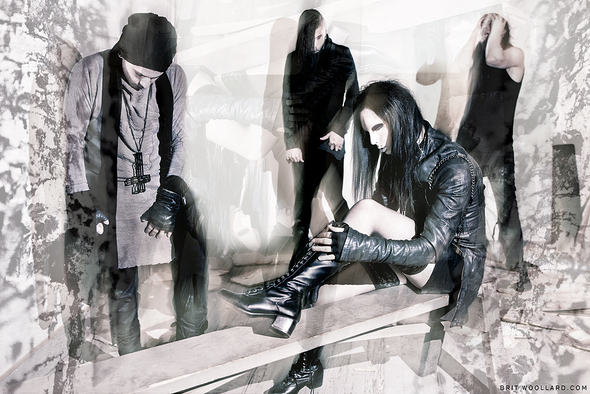 Formed in early 2013, by lead singer Micaela Purgatory & guitarist/producer Nikk Skum (Marazene/Bile), the group has set out to break boundaries as to what defines the traditional industrial, metal and goth genres.
Micaela's menacing vocals, combined with Skum's guitar and production skills, exploit and abuse the means for a sonic & visual assault of the senses. The band's diabolic, visceral percussion element (contributed in part by Aaron Rossi [Ministry/John 5]) completes the group's monstrous kick to the face aesthetic.
"We are living in a dark renaissance period in human history. The cold realities of failing economies, war, violence and overpopulation spanning the entire globe; are juxtaposed by the beauty, intensity, realism and transrealism being displayed in our art, film and music. we're all just human. Trying to get by the best we can with what we have to work with– and IMHO, segregational barriers of genre and lifestyle are crashing down all around us… This is a dark and beautiful time to be ALIVE!" – Nikk Skum
Pretty In Purgatory has just wrapped up their first music video for the ominous lead off track, "voices" and is set to release there debut EP early next year accompanied by a tour.