Virginia Beach post-hardcore band Emerge Restless has just released their debut album, Ursus Maritimus on Sonic Decoy Records. The band consists of former In Cynthia's Diary members Eley (Vocals), Chris Coykendall (Guitar/Bass/Vocals), and Rich Potts (Guitar/Bass/Vocals). After a long hiatus, the group brought in long-time friend Vincent Kondas (Drums) to complete the outfit.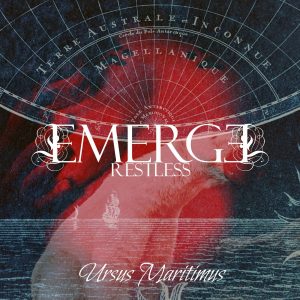 From the opening notes of track one, Bethel, Believe, it's clear that Emerge Restless isn't messing around. Lush, socially pleasing rock is the name of the game on this one. A post-hardcore gem that features several great grooves underneath droning vocals and swan-coreesque guitar noodles.
The first single off of the album, Venom, is another stand-out. With bone-crushing guitars, fuzzed-out vocals, and a head-bobbing groove, this song is a can't miss for the post-hardcore crowd.
The album continues on for 7 more tracks, each one a solid slice of shoe gazey post-hardcore. "Hedy Lamarr", named after the actress and inventor, is a 6/8 love anthem about beauty that is as gorgeous as the subject of the band's inspiration. "Citrate" is a time signature mind-meld of a track. "Adson Test" features even more intricate drum and guitar parts while "Viral Images" brings a more straightforward , pop feel to the genre before turning in on itself for sections of detuned heaviness.
"Five Fires" is another stand-out track, alternating effortlessly between rapid-fire metal blasts, twiddly guitar bits, and layered, pop-oriented vocals. The back third of the album takes some interesting twists and turns to keep things interesting, including the album closer "Truant Caller" which is a great sendoff to an epic album, including an almost minute-long fade out.