Sam Fender reigns as one of the biggest names in the British indie rock scene right now, which was heightened by the massive success of his debut album, Hypersonic Missiles in 2019. It seemed as though everywhere you went, there was his album with his brooding face plastered across the cover. If Fender's name doesn't ring a bell to you, his instantly recognizable appearance and voice surely will. On his sophomore effort, Seventeen Going Under, the 27 year old North Shields native deeply refines his songwriting to reconstruct the narrative of his past, his present, and where he aims to go next.
This 11-track album does not stray far from the likeness of Fender's debut but portrays a more matured and refined series of autobiographical vignettes recounting his life and musical ideations. He comes back to us more experienced, and with more stories to tell. If his debut was testing the waters for reception of spilling secrets from his personal diary, Seventeen puts pen to paper in a heart-baring, honest and confident way. He trusts his audience with his darkness, and embeds it carefully in his art, yet maintains keeping details vague enough to keep us guessing. It's a recipe that leaves us satisfied, yet still craving more.
Seventeen is crafted with a painstaking diligence and mapped in latitudes Fender urges us to carefully follow. Crafted in the depths of quarantine, Fender found a forced critical self-reflection spurring forth painful memories that broke through and forced their way into song. Produced by Fender's longtime friend and producer, Bramwell Bronte, the duo have collaborated on both albums together and have secured a recognizable sound that works in the world of modern rock. On the album's title track and lead single, Fender opens his veins and bleeds all over the page, metaphorically speaking. It serves the purpose of not only setting the tone for the album, but also introducing listeners to the weight of the stories that are to be told. The track shifts into a rumination on violence, toxic masculinity, and mental illness, and concludes with the pained image of his mother, mired in debt and suffering from illness, crying for help that the government has failed to provide her.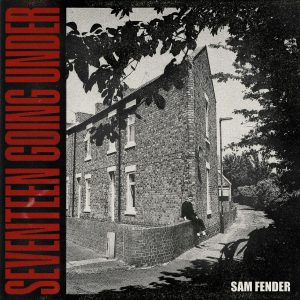 Seventeen in its whole picture tells the story of a young teen losing his innocence, then finding the strength to stagger blindly into adulthood with a chip on his shoulder. Some lyrics serve as an emotional punch to the gut, whilst serving foot-stomping beats that briefly make you forget about the darkness of the song. He expertly counters toxic masculinity with his own tender vulnerability and tackles the fragile construct of male mental health. Most notably, he turns the mirror on himself right from the start, stewing on his own emotional fraught. "That's the thing with anger/ It begs to stick around" he sings on the opening track. "It makes you hurt the ones who love you/You hurt them like they're nothing" is sung atop a thumping chorus, which eventually erupts into a roaring saxophone solo by Fender's personal saxophonist, Johnny "Bluehat" Davis. Those familiar with Fender's music will know that saxophone appears quite frequently throughout his work, and this album is no exception (horns appear on 8 out of 11 tracks in fact). The inclusion of a horns section that gives his music an extra layer of Springsteen-esque vigor is sprinkled throughout the duration of the album, but does not overpower the accompanying instrumentation. Fender excels at making sad, yet energizing music that is designed to sign along to happily in a live music environment. A dichotomy of sorts, his pulsating tracks are fueled by persistent drums, surging electric guitar, and his booming voice.
Four singles were released ahead of the album: the title track, "Aye," "Get You Down," and "Spit of You". In each of these tracks, Fender equally balances playing to both spectrums of his audience: the indie rock fans who crave harsh riffs and meaningful lyrics, to the mainstream pop sector that guarantees catchy melodies and short-length radio hits. These soaring anthems remain politically and emotionally charged, and often are set during his critical, formative years. At a surface level, Fender's ruminations may seem like a cry of teen angst, yet as the album progresses, he proves that his songs cogitate much deeper. In buildup to the release, two B-sides were quietly released: "Howdon Aldi Death Queue", a startling pandemic anthem, and "The Kitchen", a new live cut. Arguably, these songs deserve a permanent place in Fender's discography, as they are two of the biggest and wittiest songs out of the bunch. They're ambitious and absurd, yet fully showcase Fender's humorous personality. The album as a whole lacks humor (rightfully so), therefore it makes sense why these tracks were excluded from the main track listing. A digital-only deluxe version of the album was subsequently released, yet these two songs sadly still did not find a home.
The track "Aye" contains the same grandiose nature of "Howdon," and is written in Fender's signature Geordie slang. Constructed as a fevered, political chant, there is an undercurrent of tension that runs throughout the song, as he sings "I don't have time for the very few, they never had time for me and you".  It's hard to ignore the progression in Fender's lyricism in these moments. The "wokeness" he exhibited on tracks like "White Privilege" off his previous album come back with a vengeance on his new effort. After political tensions and the state of the world have grown more severe, Fender retaliates with an even stronger voice, fueled with an angry fire that scorches tracks like "Aye," "The Leveller," and "Long Way Off". Whereas in previous tracks it may have felt as if he were looking to check boxes off, this time around he has narrowed his focus. He never explicitly claims to be taking on the voice of a generation: the voice of the working-class in rural England. He paints that picture well and surely uses his voice to air their grievances from his own personal tribulations, but he always aims higher and casts his sights on society as a whole. While the setting of his songs may be North Shields, his lyrics cast a broader and relatable stage where you can live anywhere, or be from any background, and still feel the same emotions. While it is deeply personal in its narrative, it's also drenched in emotion that is universally relatable.
The sentiment on tracks like "Spit of You," "Paradigms," and "Mantra" shows Fender is less focused on millennial problems or romantic blunders, but rather the much deeper things life has to offer. He meditates on familial ties that extended beyond bloodline, and the ever-present shadow of death. Rather than catchy pop songs on the hookup scene, he delves deeper into the why, as opposed to the shallow what. In a year of TikTok hit makers, this is a fresh and invigorating take on music, let alone music that charts. It dives much deeper than what appears on the surface, all while cast in the guise of a catchy rock song. On his up-beat tracks, he wails against an indestructible wall of sound. One thing Fender has mastered is using the power of his voice to his advantage. With such a striking bravado, he proves that what he has to say is worth listening to. At times the strength of his voice does overpower the lyrics, but in his quieter moments, he allows his words to triumph the stripped-back production.
Fender does not search for resolutions and admits that the end is not in sight— not for his own healing and not for the world. But he makes the most of presenting things for what they are, without feeling compelled to give them a proper ending. On "Mantra" he reflects on society's standards and his own faults, yet acknowledges we're all just trying our best. This track reveals some of his more poetic moments, as he details putting his phone on silent to disconnect from reality for a while. The album's closing track, "The Dying Light," blatantly reflects his Springsteen influence. It's almost theatrical in the sense that it paints a detailed picture through storytelling-based lyricism. Atop a beautiful piano riff and one of the most simplistic elements on the whole album, Fender bleakly sets the scene. In his narration, he delicately embeds Easter eggs to further intensify the landscape. If you listen closely enough, you'll pick up on his coy reference to Dead Boys, a song off his debut chronicling rising male suicides — "Dead men at the bar, I've drank with them all. Through misadventure and drag/But I'm alone here/ Even though I'm physically not/ And those dead boys are always there/There's more every year". The music picks up slightly after this, and he is joined in by harmonious backing vocals, creating a warmth to the sound, and paralleling his loneliness and lost friends. It dramatically builds to its climax through a crescendo of drums, keys, chimes, horns, and chanted lyrics, which finally erupt in a melody that could be the long-lost sibling of Born To Run. The song serves its purpose as an album closer, with a dramatic finish and wraps together all the themes examined throughout. There is a satisfying finish here, one in which you'd expect to hear an audience applause as the song draws to its close.
Seventeen Going Under as a project feels urgent, incisive, and brave. At the end of it all emerges a man feeling pride for all he has accomplished and overcome to get where he is today, while staring back at his younger self in the mirror. Having felt every ounce of his pain, you're left proud of him too. Fender is keen to remind us that reflections of our past selves follow us into adulthood, no matter your circumstances. It's what you do next that matters. The composition is matured, deeply impactful, and reveals well-refined storytelling and lyricism. If there's one takeaway from Seventeen, it's the reminder that even in the darkest of times, there's always a sliver of optimism to cling to. The album is intended to serve as a message of hope and perseverance amidst adversity, as Fender guides us through the streets that raised him and emerges triumphant.
Seventeen Going Under  is out now.
Sam Fender Online: Website | Facebook | Instagram | Twitter | Spotify | Apple Music