L.A. based rock revivalist band Dirty Honey is back with their new single "California Dreamin'." The band who enjoys channelling the likes of Aerosmith, Guns N' Roses and The Black Crowes, have officially begun the roll out process for their debut album Dirty Honey, out April 23rd.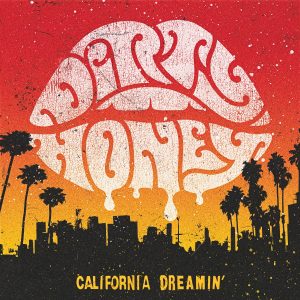 "California Dreamin''" has everything you'd expect from a Dirty Honey song. Frontman Marc LaBelle depicts the darker and grittier side to California's limelight, while keeping up with his signature shrieks and howls.
Describing the new song LaBelle said, "Lots of people come out to California, chasing a dream, and sometimes, people just don't make it. California isn't always the 'land of milk and honey,' dreams don't always come true here, and that's the perspective this song and video take.  The video is a dream through California that showcases the good, the bad and the ugly."
Guitarist John Notto embodies Slash on the new song with an ear piercing guitar solo performed amongst California's sand dunes. The image visually takes fans back to Guns N' Roses' iconic "November Rain" video from 1991, that still resonates with fans today having reached over 1.5 billion views on YouTube. 
After the release of their highly successful debut EP (also titled Dirty Honey) in 2019, Dirty Honey received lucrative touring invitations from bands like The Who, Alter Bridge and two opening nights with Guns N' Roses in Las Vegas. The band then continued to sell out headlining shows in North America and even booked their first European tour before concerts and touring shut down.
While everyone stayed at home in 2020, Dirty Honey kept busy with their outdoor "Suitcase Sessions," participating in Music Existence's "Quarantine Questions," and ultimately recording their new album. Producer Nick DiDia (Rage Against the Machine, Pearl Jam) joined the band virtually from Australia, where he was able to connect and track the record in real time thanks to modern day technology. 
The band's debut album Dirty Honey, is available for pre-order now. 
Dirty Honey Online: Website | Facebook | Instagram | Twitter | Spotify | Apple Music