Welcome to "Quarantine Questions With…". The newest segment from Music Existence that will explore what your favorite bands have been up to while self-isolating at home during the global coronavirus pandemic. To begin we have Dirty Honey, the latest instalment from the classic rock revival who have toured with everyone from Guns N' Roses to The Who. They have spent the majority of the past twelve months on the road touring their debut EP Dirty Honey, and hope to begin recording it's follow up as soon as it's safe to do so.
1) Name a show(s) you've been binge watching.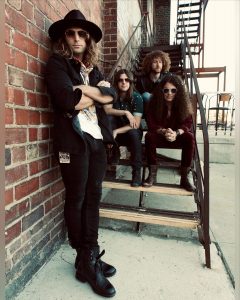 Marc: "Narcos Mexico"
John: "Ozark"
Justin: "Tiger King"
2) Do you have a favourite quarantine snack?
Marc: Fried broccoli from Erewhon
John: Celery with peanut butter
Justin: Edibles
3) Who has been on your quarantine playlist?
Marc: Aerosmith, Led Zeppelin, The Stones, AC/CD, Audioslave, Rage, etc.
John: More Eagles than usual
Justin: Joe Exotic, Miles Davis, Rolling Stones
4) Have you picked up any new hobbies since being at home?
Marc: No, unfortunately, just been playing a lot of guitar and finding creative ways to work out at home.
John: Playing more guitar, drums, practicing mixing, and growing a moustache.
Justin: Practicing, trying to find places to hike where there are no people.
5) Where is the first place you're going once this is all over?
Marc: On tour 🙂
John: A bar.
Justin: The beach.
Dirty Honey Online: Website | Facebook | Instagram | Twitter