We got a long awaited update from the folks over at Boston Calling today. They have decided to cancel this years festival. Here's what they had to say:
"After several weeks of consultation with local and state authorities, we have made the difficult decision to cancel Boston Calling 2020 due to the ongoing pandemic. We are heartbroken; however, the health and safety of our audience, artists, partners, vendors, first responders, and staff are of the utmost importance to us, and we felt that this was the only acceptable way forward…"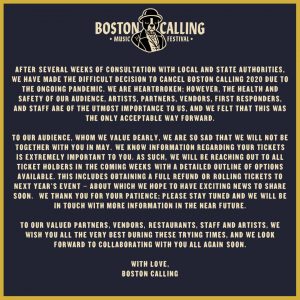 We are saddened to hear that it has been cancelled this year, but we can't wait to see what they have in store for next.