The past two years for The Blue Stones has seen the duo from Windsor, Ontario travel the world bringing their punchy rock n' roll sound to festivals and clubs in Canada, Europe and the U.S. While rock has always prided itself on the live concert experience, the band has also broken barriers in the streaming world by garnering over 40 million streams on Spotify alone. Despite having their North American tour cancelled in March the band continued to work on new music and prepare for their sophomore album following the release of two successful singles this year, "Shakin' Off The Rust," and "Let It Ride." Music Existence spoke to lead singer Tarek Jafar on the band's new album and what fans can expect from The Blue Stones for the rest of the year. 
Prior to their tour being cancelled The Blue Stones were building up significant momentum in both Canada and the U.S. In January, the band was nominated for a JUNO Award, "Shakin' Off The Rust" went No. 1 in Canada and their U.S. tour was garnering some well deserved attention south of the border.  
"We felt like we were really on a role! This was kind of the first year that things started really taking off touring wise and just as we were coming up to the peak of it, we had to shut down.… It's definitely something that we miss."
Currently, the band is waiting on the release of their pre-filmed virtual concert Live On Display. Taking a different approach to the virtual concert experience, the band wanted to give fans something special that stepped away from the classic virtual show landscape that music fans have been witnessing over the past six months. Filmed at an antique shop in Hamilton, Ontario the show will be both a visual and sonic experience that provides fans with direct access to The Blue Stones and some of their new material.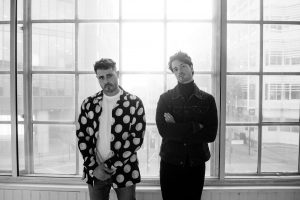 "It's just about getting something out there that's a little bit different. Obviously Justin and I have just been dying to perform in one way or another and we can't really get up on stage… so we wanted to put together something that was more than your standard live performance. Something that was trying to give you the feeling of being at a Blue Stones show, while sitting at home and watching on YouTube."
The band will finally have the opportunity to play live this week when they headline their first drive-in show in Toronto this Friday October 9th. Presented by 102.1 The Edge, The Blue Stones will take the stage at Toronto's City View Drive-In alongside tour mate JJ Wilde and many more artists yet to be announced. It will mark the first time the band has played to a live audience since March when their tour of Western Canada was cancelled due to the global pandemic. 
"That's the first time we're going to be performing live in over six months. I will say its going to be interesting performing at a drive-in. I can't say that I ever played to cars before… I think the banter on stage is going to have to change a little bit. So we'll see how that goes. Hey regardless I'm just happy to get out there, and JJ Wilde and her band are great!" 
While fans might have to wait longer for "real" shows to resume, rest assured the band is working on completing their sophomore album release to follow up 2018's Black Holes. Jafar kept his lips sealed on a release date, ("All we know is that it's soon!") but did say that this time around The Blue Stones have really settled into their sound and know who they are as a band. 
Between the touring success and digital growth online, The Blues Stones have not only continued to contribute to the growing rock n' roll movement around the world, but they have represented Canadian rock on a global scale. Despite being a duo their sound is mighty and complete combined with a killer live show that you won't want to miss. Check out The Blue Stones new single "Let It Ride," and don't miss out on their City View Drive-In show this Friday in Toronto. 
The Blue Stones Online: Website | Facebook | Instagram | Spotify | Apple Music