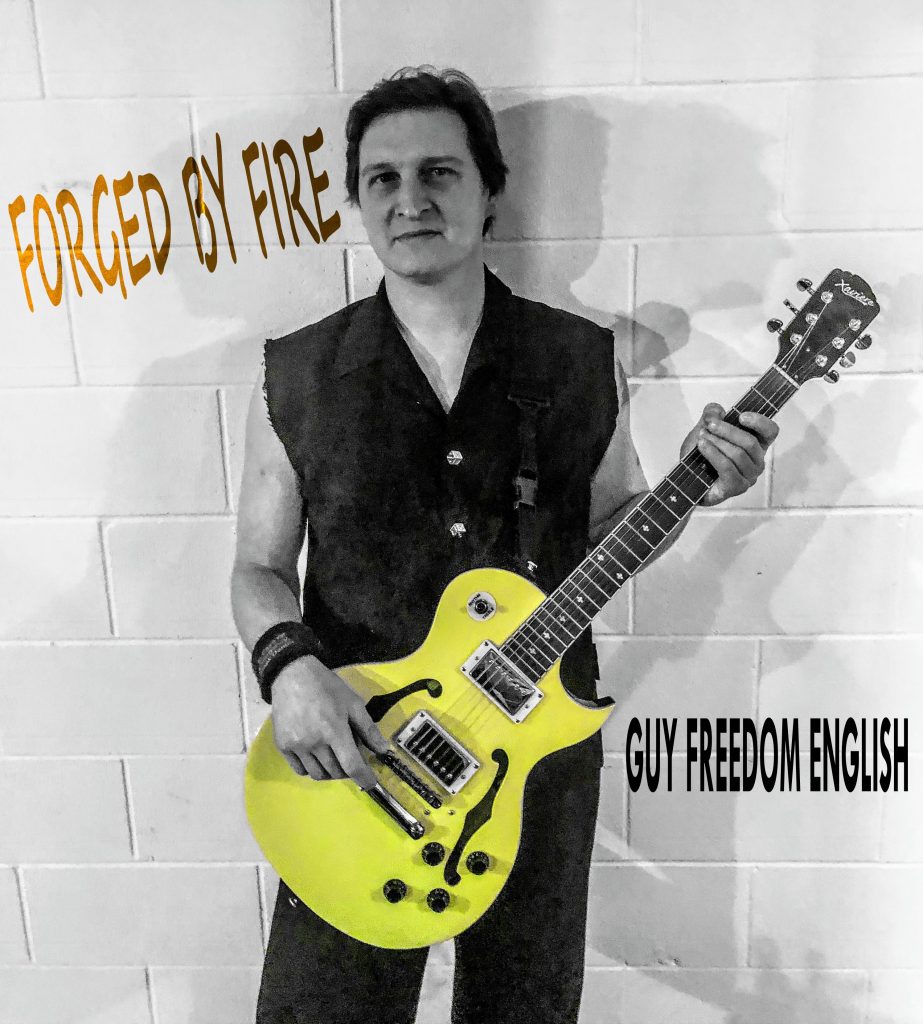 Guy Freedom English is a musician originally from Detroit, MI. Relocating to Brookings, SD, he has played many shows throughout the mid-west United States. From his days in Detroit, he recorded two studio EPs with the bands One Man Down and Losing Reality, as well as having shared the stage with Jamie St. James, Prong and Sonata Arctica.
He took a break from music to focus on his automation career and started playing again four years ago when his family bought him a guitar amp for Father's Day. He just released his 4th album Forged by Fire, on which he played and recorded everything on his own, but at heart, "I just feel like a guitar player that doesn't have his band yet."
Guy took time out from his promotion scheduled to answer a few questions for us:
MTS: You're originally from Detroit, MI and now live in South Dakota. What brought about the move, and how would you say that both places have influenced your music?
Guy Freedom English: Basically, I got tired of struggling in Detroit so I went back to school and got my electronics degree, and then I got job offer out in South Dakota. Career wise, I didn't have much going for me there. I figured if I didn't like it I could always move back, but 12 years later I'm still here. The places I've lived have inspired a lot of the lyrics for my songs. One way or another they're just stories from my life. Since I've left Detroit though, I do feel I've grown a lot as a player and writer. I think my family life at home has more to do with that though than anything else.
MTS: You've shared the stage with some pretty big names like Prong, Jamie St. James and Sonata Arctica. How did those shows come about and describe the feeling you had when you played in front of their crowds?
GFE: There's a place in Detroit, Harpo's Concert Theater. They book local bands to open for bigger name bands when they come through town. You would contact them about booking a show and they would set it up based on what dates were available.  I was very excited and nervous to play those shows. The stage is massive there and it's so high up from the audience. I remember being quite nervous the first time I walked out on the stage there, but then I heard the sound come out from the speakers on the stage and it felt good. It was that moment of, "holy shit I can't believe we're really playing here"! It's the biggest place I've ever played. Man, it's some great memories from playing those shows.
MTS: You mention your family in your bio, and that they bought you an amp for Father's Day. Tell us about them.
GFE: They've been really supportive of me playing music again. It's really the only time I've ever been supported at home with playing music. I hadn't really touched my guitar for about seven years and one day my wife and I were out doing some shopping. For some reason that day we stopped at a music store and I grabbed a guitar and plugged into this Orange Crush amp, it sounded great! A couple weeks later my family surprised me with the amp on Father's Day. It really caught me by surprise. Our older daughter helps me with art work for the album covers. Our son is an aspiring rapper and our other daughter's in band at school. So for me it's nice to have something in common with them. My wife has really been great with all of it too, and I don't think I'd be doing music again if it wasn't for her.
MTS: What can fans expect from your 4th album, Forged By Fire. Tell us about it.
GFE: This was my first time using an 8 track recorder. Before this I was working with a 4 track. I put one rhythm guitar in drop tuning, the other in standard and had the bass dropped with a slight chorus effect on it. I wanted to give the album as much balls as it could but still have it feel like it cut through the air. I felt more solid on the drums with this album and I did my best to put fills all through the songs to help create dynamics and bring it all more alive. I really wanted this album to sound like a band. I also focused on putting multiple backing vocal tracks on the songs to help fill out the singing.
Lyrically the songs were stories from my life, except for Six Shots by Moonlight. I've always been a huge fan of the Re-animater movies and I wrote the song based on the H.P. Lovecraft book version. It's kinda funny with Bangkok Woman. There's a guy where I work that talks with these Chinese ladies online and is sending them money all the time. Another co-worker of mine kept telling me for months to write a song called Bangkok Woman about the guy. Some people think it's about a massage parlor but it's just a silly song about a hopeless romantic and his wallet. I guess it's kind of like prostitution for conversation.
MTS: You say you feel like a guitar player looking for his band. What band, past or present, would be your dream gig? Also, if you could put together your very own supergroup, yourself included, who would be the other players?
GFE: Man, that's an interesting question. I use to say if I had a time machine I would go back and become the bass player for AC/DC. To me they are the greatest rock n' band of all time. That would be the band, I would never get tired of playing their songs. Now I don't feel I'm good enough to belong in the same list as guys. But if I had to pick my own supergroup, for me it would have to be: Freddy Mercury, Malcolm Young, George Lynch, Cliff Burton and Neil Pert. I can't say I would wanna be on the stage with those guys, because I think I would much rather sit back and enjoy the show.
MTS: Now that sounds like one incredible band! I can't say I blame you. Thanks for taking the time, Guy. Good luck on your release!