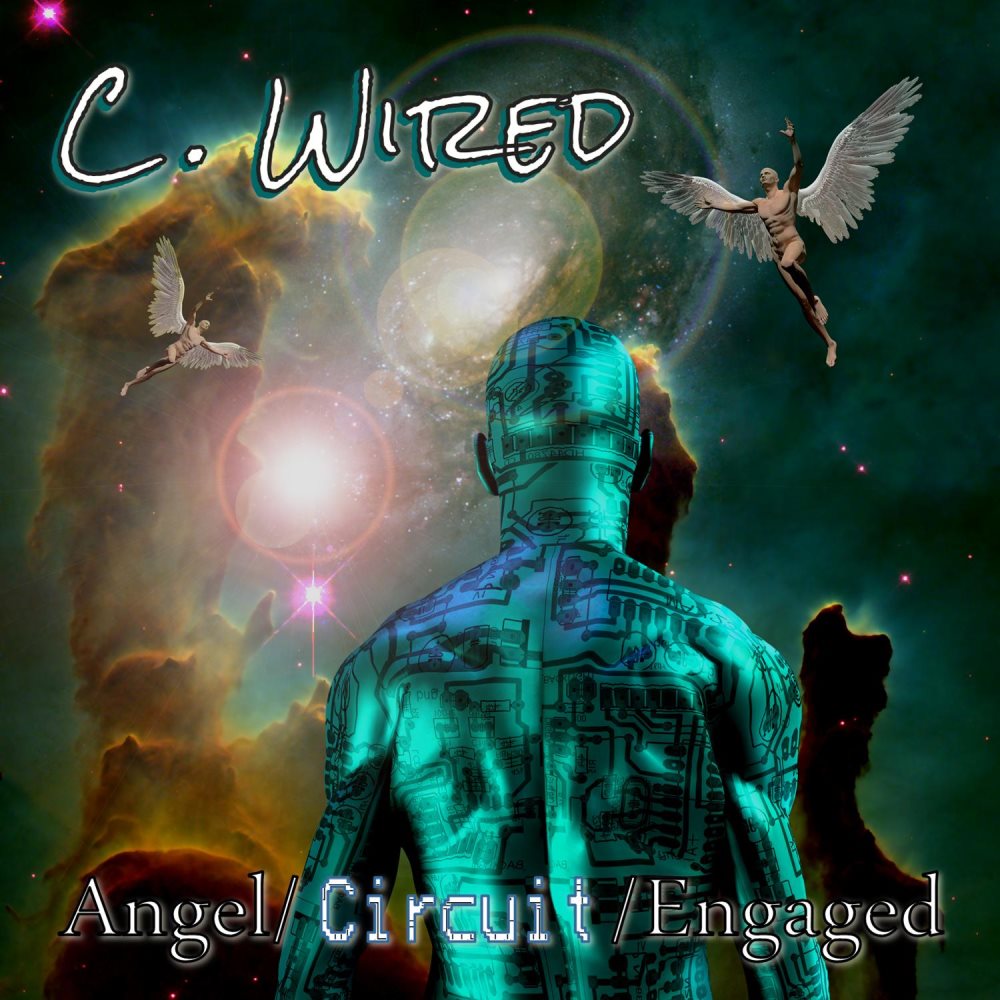 Ripping away the silence on the back of a guttural strand of feedback, electrified six-strings come careening into a stampede of drums as we descend into the first stanza of verses in "Climb the Mountain," the third of the six tracks in C Wired band's new record Angel Circuit Engaged. The riffs are primed to tear through anything that gets in their path, but this isn't the only flex of musical muscle that C-Wired plans on throttling us in this EP. This indie stalwart is dishing out enormous grooves and vicious harmonies to match in this offering, which stands as the best released so far under his much-buzzed moniker.
Angel Circuit Engaged is full of guitar-focused material such as the title track, "Climb the Mountain" and "Angels Are Not Afraid of the Dark," but there's also plenty to be said about how well the vocals are woven into the fabric of the strings in this record. In addition to C-Wired himself, Gary Pigg, Bonnie Keen and Kristy Kay all lend a hand with the backup singing and together they make  magnetizing harmonies.
"Persian Woman" and "Little Sisters" are all about their stylish rhythm, with the former dousing us in unwavering jarring grooves and the latter sporting a Ramones-style beat that has been slowed down for maximum destruction. "Botticelli Baby" is more centered on its lush lyricism and the angry riffs that frame it. AngelCircuit  gives us a hearty sample of everything that C Wired is capable of. There's an experimental undertow to all of this music, but it never becomes so avant-garde that the narrative in the poetry present here gets lost in translation.
SOUNDCLOUD: https://soundcloud.com/user-183573562/sets/angel-circuit-engaged
There are so many different influences in play in this EP, but I wouldn't say that the music itself sounds like a halfhearted hybridity (as has been the case with so many of the new records I've heard in the last few months alone). Everything about Angel Circuit Engaged is organic, constructed with a severe attention to detail, and littered with a smart, inspired melodicism from its star singer that you just don't find every day in this business. Though bolstered by its pop polish, I think that this is as muscular a release as  could produce without making a straight-up live record.
You can't beat the action that this hard-hitting collective is bringing to the forefront of indie rock through Angel Circuit Engaged,  Every element in this EP feels and sounds epic, and in this chapter in pop music's storied history, it stands alone as one of the last authentic slabs of solid rock n' roll that doesn't come to us augmented with modern technological frills. It's a record that I would not recommend missing out on right now, and that's putting it very mildly.
Loren Sperry