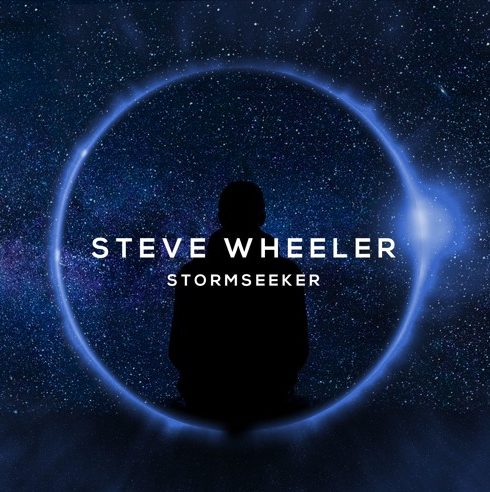 On the back of a galloping percussive beat, we ride into a vicious melodic assault that encompasses the opening of the title track in Steve Wheeler's new album Stormseeker. Horns, strings and a synthesized harmony made up of effervescent grooves start to converge before us, creating a towering wall of sound that is at once intimidating and yet unspeakably beautiful. Blast beats come alive and create a rhythm for a jarring jazz interlude before breaking away into straight EDM, firing a thousand colors at us at the speed of light, all to culminate in a metallic conclusion that clears the way for the urbane "Seas of Blood" to pummel us with its machismo. In this track, the drums are subject to the savagery of the synth, but nothing can dissuade us from continuing on this unparalleled adventure into Wheeler's latest (and likely greatest) soundscape thus far.
"Destroyer of Worlds" comes blaring out of the silence with a gut-wrenching minor key that twists a pulsating knife into the otherwise surreal instrumental backdrop. It's as if heaven and hell are doing battle in our speakers, but the violence is soon quelled in the stirring "By the Fire," a song that gleefully indulges in an eastern tonality that, to be totally honest, I would love to see Wheeler design an entire album around. The glow of this melody has the same fabled energy that makes old folk tales so enchanting for children, and no matter what your age is, you'd be hard-pressed to resist the urge to swing with its playful beats.
SOUNDCLOUD: https://soundcloud.com/stevewheelermusic/sets/stormseeker1
We return to the cryptic darkness of "Destroyer of Worlds" in "Unearthly Mover," a lumbering, bass-heavy piece that suggests danger is lurking in the shadows all around us. This song is a lot more understated in tone than "Destroyer of Worlds" or the title track is, but that doesn't stifle its swarthy dynamic at all. The haunting "The Call of the Gallows" prepares us to meet our fate, but its long, drawn-out melody feels more bittersweet than it does dooming. Wheeler is about to throw the hammer down on us, and after some four and a half minutes of contemplation that psychedelically slips into the silence from which it once arose, we enter "Until the Light Leaves Their Eyes."
Stormseeker comes to a poignant, epically anthological end in "Until the Light Leaves Their Eyes," churning us in an epilogue of orchestral might for slightly over ten minutes before finally concluding in a powerful blitz of synthesized strings that reach out and grab hold of our hearts for dear life. I had some very high expectations coming into the review of this record, and though I've never been disappointed by Steve Wheeler's output in the past, I was blown away by how incredibly well-executed this latest album is. Terminal Velocitysold me on his personality as a songwriter, but this is an unchallengeable confirmation of his status as a heavyweight in modern music today. I highly recommend fans of all genres give Stormseeker a spin; if they appreciate erudite music as much as I do, they won't regret it.
Loren Sperry