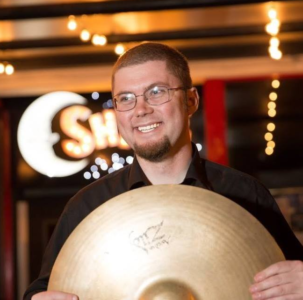 Steve Wheeler releases EP
SOUNDCLOUD: https://soundcloud.com/stevewheelermusic/sets/terminal-velocity-ep
Nine minutes and fifty five seconds. That's how long it will take for you to become addicted to Steve Wheeler's music. Terminal Velocity, his first solo EP, is an instrumental juggernaut that starts out strong and finishes in a misty haze of surrealism, but don't think for a second that this is inaccessible noise music. Wheeler is the best at what he does, which is creating soundscapes, and now he's about to be the best at what a lot of pathetic, ineffectual DJ's have been doing: soundtracking the most powerful moments of this unpredictable 21st century.
In the three songs that Terminal Velocity presents us with, I feel like I'm witnessing three wars unfold before my very ears, the clashing of two sides willing to fight each other to the death in order to preserve what they believe to be right. Wheeler's passion and commitment to making music that doesn't just leave an imprint in our minds but stirs our souls is evident and expressed in every mammoth note. There's too much going on for Terminal Velocity to lose our attention for even the slightest fragment of time.
There's so much imagery embedded within this music that honestly, I feel like adding lyrics would have made the entire record too overwhelming to digest. Instead, we're able to take everything in, as forceful as it may be, and absorb all of the amazing sonic waves that are dispatched in our direction one at a time, appreciating even their smallest of nuances. Artists of the instrumental persuasion are sometimes thought to have difficulty connecting with a larger audience due to their experimental approach to making an album. I'm confident that Steve Wheeler's situation is a little different.
The fact is, Terminal Velocity is the most interesting and evocatively styled release that I've had the pleasure of reviewing all year long, not to mention the most original.Compared to the incompetence that a lot of other stars in pop and rock music have been producing as of late, it's impossible not to find Wheeler to be one of the most talented artists of his generation. As much as this EP is unique to this very open minded chapter in the history of pop culture, it's hard to imagine these haunting songs ever sounding dated.
Some of you might think that the suggestion is a bit premature, and while you could be right, I'm going to go out on a limb and say that Steve Wheeler is going to have a major impact on music in the next few years. His abilities seem endless, he's young and he's enterprising, which are three things I can't say for his contemporaries. This is one of the most important artists to watch as we enter the 2020's, and when he's gone from soundtracking video games and sports shows to conquering concert halls and nightclubs, try to remember where you heard it first.
Eric Jarvis