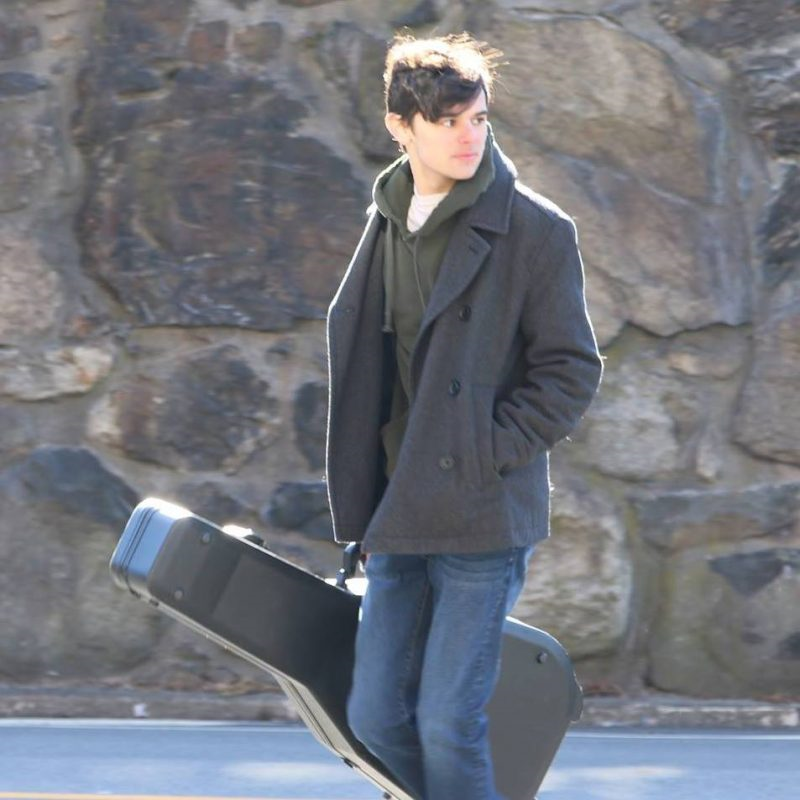 Amongst the brittle acoustic guitars that come alive in the introduction to Sam Levin's new single "Bookmark," a rich vocal track from Levin himself penetrates the opulent wall of sound with a cutting lyricism that is imagistic and begging for us to embrace its dreamlike poetry. "I'm wastin', wastin', wastin' away," he croons midway through the chorus of the song, a light but aching elegiac tone infecting his voice with somberness. The guitars are there to comfort him – if anything, they're the only bit of major key harmony for both him and us to cling to in the churning confluence of melody and mood that is hypnotically pulling us asunder and into the weighty master mix. "Bookmark" isn't saturated in reverb, but its lustrous grooves tend to echo in all who consume them after only a single listen.
Sam Levin has described this new track as a song he wants his fans to relate to on a personal level, though it was definitively designed to highlight his newfound skillset on the guitar (and it certainly does). That said, we never get the vibe that these lyrics were meant to be throwaway verses only included to help showcase the limber fretwork that supports them. Theirs is a story of regret and acceptance, and to some degree, they extend something that the strings are already telling us through their own mash up of textures, which are then in turn distributed evenly across the whole of the single. Levin doesn't sound like a prodigy here, or even an experimentalist; actually, he sounds more in control of his artistry than ever before.
SOUNDCLOUD: https://soundcloud.com/user-684279379/bookmark
Wickedly ripping us to the left and right from the very instant that they first enter the fold, the percussive elements in "Bookmark" ply us with conceited urgency only to break apart after the second chorus, ushering in the song's final act and gripping us with their suffocating tonality. Sam Levin's reputation is billed as an emotional singer/songwriter in the tradition of the new alternative pop movement that started some fifteen years ago, but there needs to be more discussion of his arrangement skills, which are employed here liberally with fantastic results. There's nothing simple about "Bookmark," and yet it's devoid of the overstated beats and reckless rhythm that has begun to plague the aforementioned genre with inauthentic material from the top of the spectrum-down.
Those who can't get enough of a sweet, old fashioned harmony reimagined in brilliant high definition sound with a touch of shy but provocative lyrics need to hear what Sam Levin is doing in this latest single. There's really no other way to put it; despite the fact that most everyone keen on indie music is aware of what this young man can do in the recording studio, Levin isn't anywhere close to resting on his laurels and embracing the complacency of success. He's determined to break into the international pop scene regardless of what it takes, and for me personally, it's hard to imagine a track as smooth and effective as this one not accomplishing that exact goal.
Loren Sperry