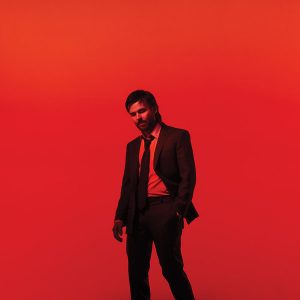 1. Toby Driver – They Are The Shield (Blood Music)
Toby Driver is the mastermind of maudlin Of The Well and Kayo Dot, US avant-garde metal bands and "They Are The Shield" is his third solo album in thirteen years. Known for his unconventional writing, this album is based on minimalist approach, the core of the arrangements being built around violins, guitars, and keyboards. Very noir-esque and reminiscing the vibes of chamber music, Toby's voice is very elegant and the music very expansive and cinematic.
"They Are The Shield" might not be for everyone since it can be quite hermetic at times and lyrics being rather abstract and mysterious. But once you get in the mood for it, the eeriness of it becomes sophisticatedly warm and welcoming. The album has the melancholy pop of early Talk Talk, crooning side of Scott Walker or Jeff Buckley and calmer, darkly romantic introspective side of Dead Can Dance for instance. The gothic/noir atmosphere of retro/futuristic Blade Runner is also present in a way of vivid neon haze. Highlight of the album is "470 Nanometers" with its very dynamic structure and a great emphasis is placed on the drum performance. The synthesizers always sound amazing although they are mostly in the background building the foggy architecture.
"They Are The Shield" might be Toby Driver's best work so far and the easiest album to get into, which is perhaps the most amazing thing about it. Being a starting point for many potential fans who are already into proggy electronic influenced music of newer Ulver for instance, this might be a rewarding challenge and a mystic revelation for all of them. For the rest of us who are fans of Toby Driver's art for years, it surely is.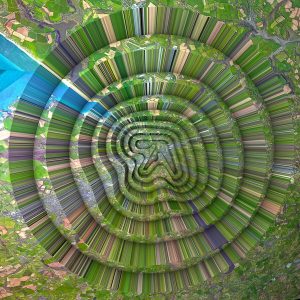 2. Aphex Twin – Collapse EP (Warp)
Aphex Twin aka Richard D. James is electronic mastermind. He broke his 13-year hiatus with 2014's "Syro" and a bunch of EP's followed, including "Computer Controlled Acoustic Instruments pt2" (2015), "Orphaned Deejay Selek 2006-08" (2015), excellent "Cheetah EP" (2016), limited edition "London 03.06.17" (2017) and beautiful "Orphans" (2017).
"Collapse EP" is, however, probably his best since the hiatus and almost certainly the closest to the style he was loved for so much during the 90's heyday. "Collapse EP" is very dynamic. Opener "T69 collapse" is a dizzying techno track on the surface but the constant unpredictability and the ever-changing arrangement of synth pads vs. percussive elements makes it a thrilling ride. Richard is as restless as ever and it shows. "1st 44" is a drum track skeleton with so much going in between the beats. Richard is a master of eerie-yet-wonderful synth pads. That was evident so much on his famous "Selected Ambient Works" albums and whenever he throws the ambient pieces to chill out the beats it feels like a lush wash of heavenly liquid. Fans of Richard's work have heard a snippet of "MT1 t29r2" during his Field Day and Primavera performances and the microtonal melody of the intro alone is something that will haunt you for some time once you hear it.
Aphex Twin stands for everything great about music. It is something you can dance to, chill out to, sometimes eerie, melancholic or joyful plus everything in between, and most importantly, always enjoyable. This would be definitely album of the year if only it was a LP full of Richie goodness.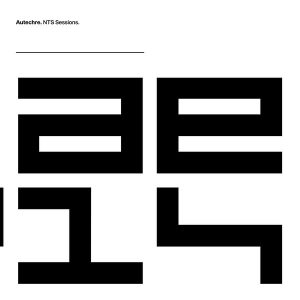 3. Autechre – NTS Sessions 1-4 (Warp)
Autechre are duo of electronic masterminds not unlike Richard D. James. NTS Sessions were held in April over the course of four weeks when they broadcasted a two hour session per week. Autechre have been breaking the bonds of LP and CD medium since 2008's "Quaristice" releasing bonus CD's with completely different versions of the same tracks. 2013's masterpiece "Exai" was a double album (double CD but quadruple vinyl) and Autechre, being the guys that always expand and search for something new to improve and explore, made their next "elseq 1-5" (2016) in five different parts available for download only since there was no medium capable of holding 27 minute tracks without compromising it, for example cutting it in two parts thus breaking the flow of it; cramming a 27 minute track on a single side of LP would probably result in audible differences and alas, it is known that Autechre's modus operandi goes beyond perfect when the sound is concerned. Because everything Autechre do is sound concerned. Plus the fact that the 4 hour album would probably result in 8 vinyl package and the price of it would be probably too much even for the biggest of Autechre fans. And NTS sessions? Well, they are 8 hours long.
Autechre don't do interviews often but when they do it's a rewarding experience for all the fans involved. The way they architect their sound is so unique that lots of fans who enjoy and love their music probably have zillions of questions regarding their favorite sound and how they made it. One of the best treasuries is google sheet of Ask Autechre Anything that was held in 2013 on the WATMM forum. One of the main reasons I'm writing all this is that the fans always yearn for more Autechre music and Sean and Rob always find the way to deliver that with every new release. I was one of the fanboys who religiously waited every April Thursday for a new 2-hour fix. Cause to me, Autechre albums are not just albums, they are events.
That's why it is difficult to explain Autechre to someone who's never heard of them. Rob & Sean have made beautiful IDM ambient albums in the past – "Incunabula" (1993), "Amber" (1994), "Tri Repetae" (1995) and if there weren't for their "LP5" (1998) there would never have been Radiohead's "Kid A" (2000) for example. Yep, it was that influental. But after those albums they went into so abstract musical territories it was sometimes borderline music and "only" sound. Every Autechre fan has their own favourite record. Mine might be "Untilted" (2005) for the reasons that are only known to me but the fact is that Autechre are not for everyone. But for those who get it… there is no experience like that. Again, getting it isn't anything intellect related. There's a unique mindset and the vibe one needs to get in to be able to open up to the Autechre world and vice versa. Lots of Autechre stuff might seem not interesting, but that's on surface level only. As lying in wait for the big stuff to arrive. Like in life.
NTS Session 1 opens with "t1a1" and "bqbqbq" which are kind of Autechre signature stuff. "debris_funk" sounds kind of cold and metallic, something reminiscent of "Draft 7.30" (2003) and recent works (post-Exai). "l3 ctrl" is like being attacked by AI with synths instead of knives. "four of seven" is one of my favorites and has that dangerous groove (for the lack of better term) that Autechre excel at. The sound design of "xflood", "e0" and "turbile epic casual, stpl idle" is so vast it resembles planets, galaxies and one's own inner self amongst them. Session 4 is almost solely based on ambient music which is a revelation for fans of drone and Autechre's earlier stuff. "all end" is an hour long closer that's made out of "Exai"'s "bladelores" (one of my Autechre all time favorites concerning sound design, beautiful reverbs, depth and dynamics of it) being stretched out to infinity.
NTS Sessions are another great work of Autechre. It might work both ways – as a great starting point for a newbie or a disastrous one concerning its length. There are no rules applied to Autechre cause the impression they make on someone is completely down to the circumstances one is at the time and place while discovering them. Feel free to dive in but be prepared for all kinds of stuff.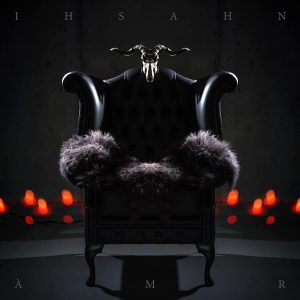 4. Ihsahn – Ámr (Candlelight/Spinefarm)
Ihsahn was a mastermind of Norwegian black metal band Emperor in the 90's. When they broke up he went on his musical journey of making solo albums. "Ámr" is his seventh solo album so far and perhaps the best yet.
Musically Ihsahn's art evolved into something that is more progressive than black metal, yet still more of its own kind. Not unlike the music of bands such as Enslaved and Opeth, bending several genres into their own thing. It's hard to pinpoint Ihsahn's music other than "prog" because there are several metal and non-metal styles happening together. But always with style. The atmosphere of black metal is there; be it the raspy voice or the synth pads whirling around, the uplifting vibe of traditional heavy metal is certainly there, the ear for a good melody is present and the vibe of, say, one Devin Townsend is also there in a sense of adventurous spirit.
"Ámr" is definitely a metal album of the year. What makes it so good is both the catchiness and the level of integrity it has.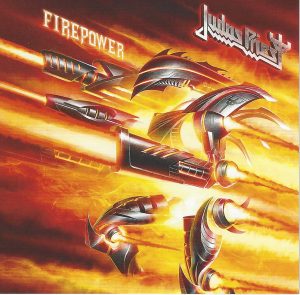 5. Judas Priest – Firepower (Columbia/Epic)
Wow, well Judas Priest surprised everyone with this one. "Firepower" is Priest's 18th album in almost 50 (!) years and it's a hell of an album. Their best since 1990's "Painkiller" easily. "Never The Heroes", "Children Of The Sun" and "Spectre" are mid-paced hits but they hit all the right spots.
"Firepower" as a whole is kind of restrospective album in a sense that it marries the whole rich discography of the band. It even has some heroic "Turbo" (1986) meets "Defenders Of The Faith" (1984) moments. It has the power and urgency of "Painkiller" and the hymn-like immediacy of "British Steel" (1980) and "Screaming For Vengeance" (1982). Fourteen songs in and about hour long and yet "Firepower" never seems boring. Simply put, "Firepower" is everything every Judas Priest fan has ever wanted and then some. The very definition of heavy metal.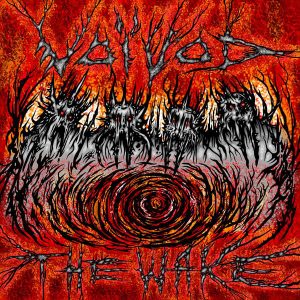 6. Voivod – The Wake (Century Media)
Voivod are from Canada and they have so many fans all over the globe. They are this cult progressive thrash band that influenced nearly every metal band on the planet, including Opeth, Tool, Meshuggah, The Dillinger Escape Plan, Dream Theater or Dave Grohl. They were always too weird to break into mainstream but also very unique; there isn't a band on this planet that sounds anything like them.
"The Wake" is their 15th studio album and the second one without guitarist Denis "Piggy" D'Amour who died of colon cancer in 2005 and was replaced by Daniel "Chewy" Mongrain. Chewy was always a fan of Piggy's playing style and he nearly perfected it, so that you can't even tell if it's Piggy or Chewy playing. Talking about a dedication, eh? Voivod's music might be hard to get into, but the opener "Obsolete Beings" really opens things up and makes it very groovy and intriguing introduction of things to come. The following songs show the thrashier side of Voivod, including proggy and jazzy chords and even some symphonic touches in "Iconspiracy" that came a bit shocking upon a first listen, resembling Dimmu Borgir's 2001 "Puritanical Euphoric Misanthropia" album even, in a way the strings have been arranged to fit the song. "Always Moving" has a beautiful solo that reminded me a bit of Cynic's Paul Masvidal fame, another cult band that toyed with fusion music. Snake's voice is as weird as ever and it might still be a stepping stone for gaining some new fans. But then again, after all these years it is questionable if a band like Voivod really needed any newcomers. Although "The Wake" might be a great place to start with.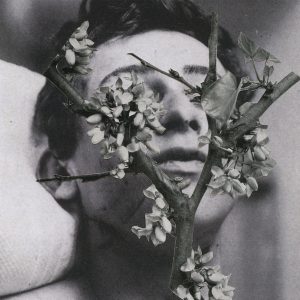 7. Manes – Slow Motion Death Sequence (Debemur Morti Productions)
Black metal aside, Norway always had great experimental metal bands that were willing to push boundaries of genre and incorporate different elements in their music, be it Pink Floyd and psychedelia (In The Woods…), ambient music (The 3rd And The Mortal), acoustic folk, triphop and electronica (Ulver) or hiphop, classical music and whatnot (Solefald). Back then it was considered avant-garde metal. Manes are one of those bands, although a little late to the game (post-90's and 2000's).
On their fifth album "Slow Motion Death Sequence" they are still into eclectic stuff. Willing to explore left-fieldism of 90's avant-garde metal crossed with electronic touch, there is a dominant vibe and influence of two bands and albums who defined the doom/goth scene and at the same time broke free into more alternative rock territory – Anathema's "Alternative 4" (1998) and Katatonia's "Tonight's Decision" (1999). Yet "Slow Motion Death Sequence" is not just a homage. It works great as a homage to the time and place of those times, but it surely gives authentic feel of the band that still lives and feels that kind of music today. There are some Cure and Depeche Mode influences, like they were on Paradise Lost's "One Second" in 1997 and there are some psychedelic vibes of Tiamat's "A Deeper Kind Of Slumber" (1997) yet not so dense-like; traces of radiant voice of The Gathering's Anneke van Giersbergen on "Nighttime Birds" (1997)… Nostalgia is a strange thing but Manes not only do that, they make you feel both happy and sad, familiar kind of melancholic, introspective adventurous-like.
It is hard to say if "Slow Motion Death Sequence" or Manes as a band could speak to the audience that came outside of metal milieu. Music does have the potential and the vibe is there but the question is how does it appeal to today's metalheads even, to start with. This album is for us, children of the underworld who devoured everything goth metal related back then. For some it started and ended with Type O Negative, but for the rest of us that was only the beginning. This album is definitely a late nighter.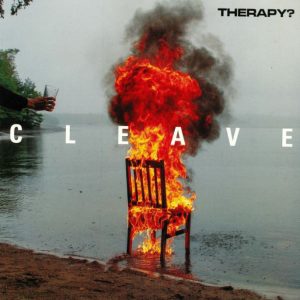 8. Therapy? – Cleave (Marshall Records)
On their 15th studio album, Northern Irish trio delivers yet again! "Cleave" is a strong album full of metal, melodic punk and alternative rock riffs.
Therapy? had a breaktrough in 1994 with excellent "Troublegum" and somehow never succeeded to reach the same heights sales-wise unfortunately. I was only eleven when "Troublegum" came out and while still being a pre-teen the vibe of the album clicked with me instantly. The follow-up "Infernal Love" (1995) I loved even more, which was a darker, more serious record with Nick Cave-ish poetic vibes that clashed with teen angst and questions of lust, love, loss, and erm, murder (famous cover of Hüsker Dü's "Diane"). Similar strong feelings I had at the time for Faith No More's "King For A Day, Fool For A Lifetime", Ugly Kid Joe's "Menace To Sobriety" and Skid Row's "Subhuman Race", all great records that happen to be misunderstood by most fans. Therapy's 1998 album "Semi-Detached" was also a great record; not as strong or serious as "Infernal Love" but rockier, punkier and a tad lighter. Early 2000's were kinda strange for Therapy? but their perseverance payed off in the end when they got back on track with making great records again with 2009's "Crooked Timber", 2012's "A Brief Crack Of Light", 2015's "Disquiet" and now 2018's "Cleave".
Helmet influences are still there, the drummer Neil Cooper is still killing it and Andy Cairns' infectious hooks are still all over the album, especially the tracks "Callow" and "Kakistocracy". This album sounds great and do yourself a favor and catch these guys live. You won't believe how many of their songs you actually know. They are playing Europe and Ireland in January and February 2019 so don't miss it!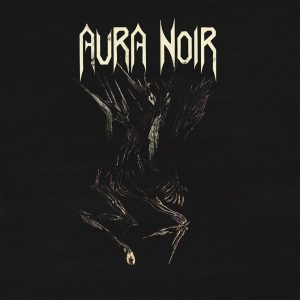 9. Aura Noir – Aura Noire (Indie Recordings)
Black metal had some very good moments in 2018 but the most special was Aura Noir's style of blackened thrash metal. Or is it thrashin' black? Either way, "Aura Noire" brings the spirit of both 80's and early 90's metal in the picture. Back then when metal genres were all intertwined (is Sepultura's "Arise" death or thrash metal?) and crossovers were a natural thing (Suicidal Tendencies, Faith No More), "Aura Noire" brings to mind Celtic Frost and Overkill but also some Mayhem, Ved Buens Ende and Darkthrone.
What is so good about this album is that it really feels true and old and not nostalgic at all. Not meaning old in a bad way; the production sounds old in a way of "the great good metal records of old" and it sounds freakin' great. A lot of post-2000 metal has an issue with loudness war and metal albums sound brickwalled/squashed so much it hurts the dynamics of the instruments/songs/playing and it's also causing fatigue to the listener. The pureness of "Aura Noire" probably lies in the fact that the arrangements and the playing are stripped down to the bare essentials and it's exactly what this kind of album/style/genre needed. "Aura Noire" is 33 minutes of pure metal greatness. It might sound dark and weird but it also sounds goddamn enjoyable too.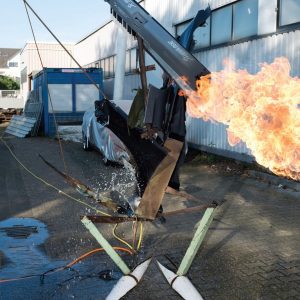 10. Tim Hecker – Konoyo (Kranky)
Tim Hecker is Canadian ambient/experimental/drone musician. I've been following his work since the beginning; since awesome "Mirages" (2004) via breakthrough "Ravedeath, 1972" (2011) thru recent experiments where Tim has been looking for new inspiration by changing his locations. Previous two albums "Virgins" (2013) and "Love Streams" (2016) were largely made in Iceland while "Konoyo" was made in Japan, where he collaborated with traditional Japanese gagaku ensemble.
Both bleak and majestic, Tim Hecker's canvas seems ever changing. Not unlike Fennesz, his digital manipulations of sampled material, being wind instruments, chimes or percussion, it all can be destroyed in clouds of distortion or stretched out to the sea of ambiance. Tim's love for proper synth sounds usually saves the track from becoming too droney or noisy in a way. "Keyed Out" is the best example of combining all the proper ingredients – Japanese instruments add some spirituality to the fog and the glitchiness of bouncy samples is saved by the drone. Another late nighter of an album.
honorable mention: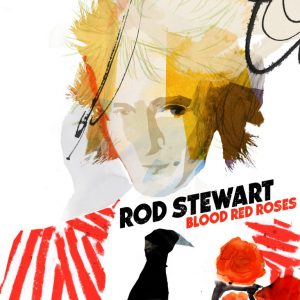 Rod Stewart – Blood Red Roses (Decca)
2018 was the year in which I rediscovered Rod Stewart, Phil Collins and Bryan Ferry. Rod Stewart was always a guy my mom liked and rotations of "Blondes Have More Fun" (1978) and "Foolish Behaviour" (1980) made a rather subconscious impact on me during my early childhood. That's probably the reason why I prefer Rod's 80's albums like "Tonight I'm Yours" (1981), "Body Wishes" (1983) or "Out Of Order" (1988) over his stuff from the 70's that lots of people actually prefer – I'm a child of the 80's after all. I was truly excited when I found out that Rod is getting his new album out this September.
"Blood Red Roses" is his 30th studio album and a fine collection of songs. 16 songs in total. Gentle, charming, poppy, enjoyable, funny, it's all there. One of my favorite tracks is actually closing "I Don't Want To Get Married" cause it has a little of that "What Am I Gonna Do (I'm So In Love With You)" marimba vibe going on. Rod Stewart was always a gentleman and it shows. "Didn't I" is dedicated to his daughter's drug addiction and "Farewell" is dedicated to his late friend who has been with Rod from 60's through 90's. "He saw me from when I had absolutely nothing and totally unknown, all the way through to the success I had later in life" explained Rod in the press and a lot of the album puts his reflective thoughts in the spotlight. Honest and sincere like he's always been, "Blood Red Roses" is a nice collage and it shows the proper aging of a true star.