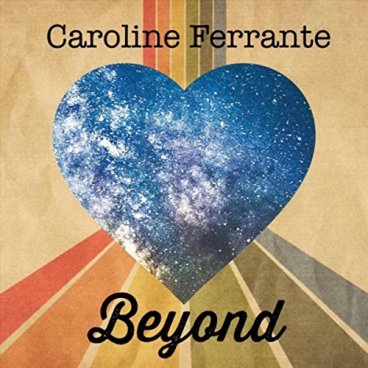 Although Caroline's songs oftentimes get categorized as folk music, the tracks collected for her Beyond EP encompasses so much more than that broad generalization may suggest. These songs incorporate good, old fashioned gospel sounds, as well as traditional, old school worship elements.
The project begins with "River Flow," which is a choir-ly, handclapping upbeat tune that speaks to the Biblical river of life, which flows "deep down in my soul." It also describes the Holy Spirit, which goes just where it needs to go. In a sense, it's a song about submission to the move of the Spirit. When you're in a river, you can never tell it where to go; instead, you're going where it chooses to go because it's the one in control. There's also an element of spiritual cleansing contained in this lyric, as Ferrante lets it "wash all over me." Water is such an essential Biblical metaphor. Jesus is described himself as living water, and one for which needy mankind is thirsty. Ferrante's song is one satisfying drink.
 "Peace Be Still" builds upon Jesus' ability to calm storms. Just as he calmed a literal storm back during his earthly stay, Ferrante calls upon Jesus to settle the "storm within." Ferrante sings these words with a motherly-like spirit, as though a mom singing a bedtime lullaby to her young child. It paints a picture of Jesus' shepherd-like love for his flock. "Won't you whisper to us, peace be still, and calm the storm within?," Ferrante sings. It's a wonderful benefit to our relationship with Christ.
SOUNDCLOUD: https://soundcloud.com/caroline-ferrante/sets/beyond
Ferrante ups the foot-stomping gospel vibe again with "A Little More Faith." She sings this one in a call and response formant, where she preaches with the choir about mankind's need for faith. Jesus cannot calm our inner storms, the way he does in "Peace Be Still," if we don't trust him to do so. Jesus doesn't force his will upon us; he's there for the asking, though. If we put our faith in him, he's always ready and willing to come to our rescue. Ferrante's voice is a little different on this one. There is a soulful, R&B scratchiness to it that she doesn't reveal elsewhere.
 The project closes with "Hear Your Love," which finds Ferrante singing with a kind of warmth that brings to mind the Carpenters at their peak. Ferrante has a truly beautiful, natural singing voice; one that just infuses the room with peaceful hopefulness. It's a rare gift she possesses.
All four of these tracks are winners. Caroline Ferrante may be known on the folk circuit, but it's also easy to picture her leading worship during church services, too. It's been said that music can be medicine, and Ferrante's Beyond is the perfect example of this truism. Much like the river Ferrante sings about on "River Flow," this set of songs flows naturally, lovingly and peacefully, straight from speakers/earbuds to one's heart. You can't say this about – oh, I don't know – Cardi B, for example. Unlike many of today's pop artists too busy focusing the spotlight on themselves, Ferrante points to the God's healing waters. Get baptized here. You won't regret it.
Dan MacIntosh