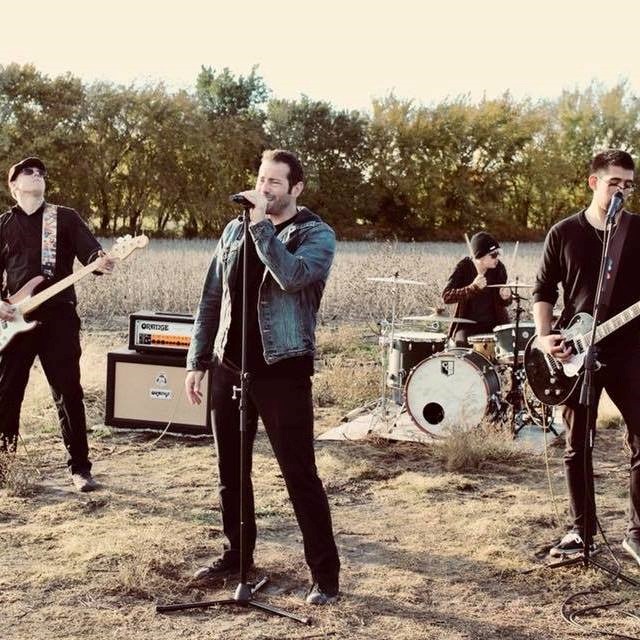 The theory of evolution teaches that a small set of molecules came together and, over a process of time, morphed into life as we know it today. The theory posits that there were multiple changes along the way, evolutions in creation that have led to what we see today. That process is not unlike the growth of Kansas-based rock outfit All From Nothing, whose name even hints at the mystery of creation, in a sense. Born out of a history of different backgrounds and evolving as a band, even in name, the collective is set to unleash their own big bang on the music world with their debut EP, Eyes To The Stars.
Forming two years ago, All From Nothing was then All Or Nothing with lead singer and guitarist Jeff Kitselman alongside three other musicians. The ups and downs of life and creativity would lead to a revolving cast of musicians until Kitselman was joined by Gabriel Maruda (lead guitar), Josh Pavlik (bass), and Sage Thurston (drums) whose pop punk history plays heavily in the band's evolved sound. Thus, with that collaboration set, the new name was chosen and the band got to work on their art, merging their individual musical experiences into one, the sounds of which can be heard on this debut.
Packed with six infectious, high energy tracks, Eyes To The Stars is a compelling listen throughout.
SOUNDCLOUD: https://soundcloud.com/all-from-nothing
"Space" sets the tone early with big heavy guitars and Thurston's stirring drum work while Kitselman shows his poise as a front man, his voice rich and nuanced, delivering the emotionally wrought lyrics of love, shame, guilt, and more with ease. And while the song registers as somewhat heavy, there's a melodic note in the harmonies achieved that lends it something special, setting it apart from the run of the mill rocker. "Party Song" follows with some lighthearted fun, a "modern rock meets pop-punk" vibe rolling throughout the high energy arrangement and provides some relief from the heavier topics on display here.
Those topics, largely relational in nature, again rear their head on the searing "Blame Game," Maruda's scorching guitar work setting the tone for Kitselman's melodic lyrics, seeking to find peace with his loved one with pitch-perfect vocals on a track that shines bright. But shining even brighter is the heavy, almost angry rock of "Burning Trees," which finds the band tackling the issue of environmental concerns, Kitselman's lyrics taking ownership of his own part in environmental decay while rocking out throughout. A guest spot from Austin Drake Spencer-Androes, who provides some screamo vocals, amps up the angst of the track, making it one of the real highlights.
The band's pop-punk sensibilities again shine on "Down On Me," melodic vocals mingling with more high energy deliveries while singing of battling criticism and growth as a person and as an artist, packing a solid hook, while "Jump" kicks in with continued energy and ripping guitars as Kitselman sings of never being able to please a loved one, seeking peace but never finding it. The vocal harmonies are tight and close out the collection with a hopeful note asking, "Will you remember me?"
Thoughtful lyrics, great musicianship, rich vocals, and high energy are the hallmarks of the sound that All From Nothing brings to bear on their debut. The evolution of their sound, at this moment, is at a great place and in answer to the contemplative question asked on "Jump," whether we'll remember them, the answer is a resounding yes. And for all the right reasons.
Andrew Greenhalgh