LA based experimental art-punk/deathrock band Egrets on Ergot has released  their long-awaited, debut album, Surfeit of Gemütlich, today with Cleopatra Records. Today, the band has premiered the video for the track "Sister, Please."
Egrets On Ergot's sound has been described as versatile, from moody, gothy art-punk to funky rhythmic, pseudo-no wave with a smattering of industrial clamor. They have a self-released EP, 
Serve Us Tender
, and the newly released 11 track LP, 
Surfeit of Gemütlich
, with their new label Cleopatra Records. Both records are produced by Paul Roessler of The Screamers, Nervous Gender, Nina Hagen Band.
Chris Stamm Of the Willametter Week describes the band "Egrets on Ergot borrows just enough to map a way to strange new forms of dark power, and the result is often legitimately unsettling, which is what happens when bands pursue essences instead of appearances. If this is nostalgia, it is nostalgia for something more ancient and evil than old records."
Egrets on Ergot will be performing an record release show in Echo Park at Blank City Records on November 3rd. Visit http://bit.ly/2lloZl9 for tickets.
Purchase or Stream Surfeit of Gemütlich: 
Surfeit of Gemütlich cover art: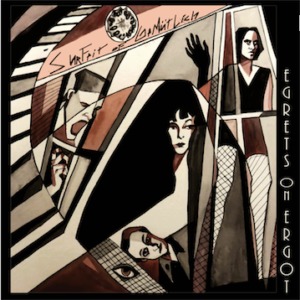 Surfeit of Gemütlich Tracklist:
1. Mangkakulam
2. Sister Please
3. Occult Matters
4. Praxis
5.. The Pits
6. Not Recommended
7. Plastic Shaman
8. Wrapped
9. Spit of Liason
10. Plantation Pudding
11. DDD (Drilling's Drugged Doppelganger)