In 2016, Emarosa released their fourth studio album 131, a collection of delightful alternative rock hits that it is—delete easy to sink your teeth into. This year, the band has decided to put out a new-ish offering in the form of a four-track EP 131 Reimagined. The title leaves little to the imagination; this record is four "fan favourites" from its predecessor, reworked and revitalised for fans to enjoy anew.
They aren't the first band to do "reimaginings" of their own songs. Acoustic recordings of popular hits have been around for decades. More recently, bands such as Twenty One Pilots and FVK released their own reworkings of well-known tracks. When done well, it can be an easy, effective way of providing new, good quality content for fans between albums.
The originals of Emarosa's songs are fast-paced, and strike the balance between hardcore and alternative that makes them overall satisfying listening experiences. 131 Reimagined transforms these songs and gives them an entirely different feeling. There's a clue to this EP's style before you can even listen to the first song, as even the artwork is a weathered, faded version of the original album's.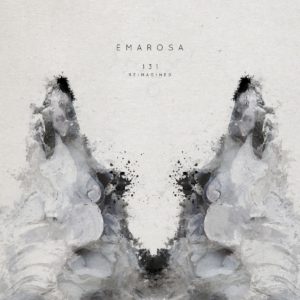 "One Car Garage" is a synthed-up, huskier version of the rock song. Comparing the two versions allows you to see the scope of Emarosa's musical skill, as they are able take one song structure and manipulate it to give two so very different vibes. The reimagined version is more mournful, and resonates deeply with the listener.
"Helpless" is stripped back to vocals accompanied by piano and contrasts from the original's complex, layered instrumentals. If the first version is someone being angry at their helplessness, the second is numb acceptance. It demonstrates how important each element of a song is, and how a musician can mould their songs to fit their own purposes.
My favourite from this record is definitely "Miracle," although I am biased towards effective use of vocal distortion and synths. The song kicks off with a modulated drumbeat, and immediately you're drawn into the rest of the song. It's not reliant on electronics though; they're pushed into the background to bring Walden's vocals into the spotlight.
"Blue" concludes this EP in a relaxing but eerie fashion. It differs a lot from its heavier and more angst-ridden album counterpart. It's the musical equivalent of a cool down after a work out, and a calming end to the listening experience.
Reimaginings are always fun, and fresh takes on beloved songs always seem to open up a new realm of possibilities for fans. It's especially interesting when rock bands such as Emarosa take their relatively heavy songs and make them so easy on the ear.
131 Reimagined might be the perfect EP for people wanting to play music in front of friends or family less inclined to rock music, or if they just fancy something a little less adrenaline-pumping. It's certainly a worthy addition to the music catalogue of any Emarosa fan.
But as someone who had never listened to this band prior to this encounter, I'd say it stands up for itself without knowing the context of the original album. Although, after finding this EP so interesting and well-produced, I still might check out 131 myself.
Find Emarosa on social media:
Facebook|Twitter|Instagram|Official Site
Listen to the reimagined version of "Helpless" here:
Tickets for their upcoming shows are on sale now here:
9/23/17 Pittsburgh, PA – Cattivo
9/24/17 Lemoyne, PA – The Champ
9/25/17 Hartford, CT – Webster Underground
9/27/17 Asbury Park, NJ – House of Independents
9/28/17 Brooklyn, NY – Brooklyn Night Bazaar
9/29/17 Amityville, NY – Amityville Music Hall
9/30/17 Richmond, VA – The Canal Club
10/1/17 Washington, DC – DC9 Club
10/3/17 Greensboro, NC – The Blind Tiger
10/4/17 Columbia, SC – New Brookland Tavern
10/5/17 Jacksonville, FL – 1904 Music Hall
10/6/17 Tampa, FL – Orpheum Theatre
10/7/17 Orlando, FL – Backbooth
10/9/17 Houston, TX – Walter's
10/10/17 Austin, TX – Come and Take It Live
10/11/17 Dallas, TX – Dirty 30
10/13/17 Mesa, AZ – Nile Half House
10/14/17 San Diego, CA – The Irenic
10/15/17 Anaheim, CA – Chain Reaction
10/16/17 Sacramento, CA – Holy Diver
10/17/17 Portland, OR – Analog Theatre
10/18/17 Seattle, WA – Chop Suey
10/21/17 Des Moines, IA – Vaudeville Mews
10/22/17 Chicago, IL – Subterranean
Compositions - 7.5
Brekaing Ground - 8.5
Engagement - 8
Lyrical Voice - 8
Production - 7