Hard rock band, The Dead Daisies, are building on the success they achieved with their last studio album, 2016's Make Some Noise, by releasing a live recording called Live & Louder and hitting the road again to bring their music directly to the people.
The band has just returned from a successful European and South American run, and on the eve of their first US headlining tour, bassist Marco Mendoza spoke to Music Existence about the band's current tour, plans for new music, as well as their desire to meet their fans wherever they go:
MUSIC EXISTENCE: Welcome back to the States, because I know you guys have been busy since June over in Europe, Japan, South America, and Mexico the other day. How did the overseas tour go?
MARCO: I can't tell you, man, it's been overwhelmingly over the top great. This Live & Louder album has been so well received, and it's a compilation, a little bit of the history of The Dead Daisies…which is what we wanted to do… at the same time document what we do live, because the audiences the past couple years have been growing and growing and growing, and we're getting a great reception everywhere we go around the planet. And we've literally traveled around the planet.
So this year we started in Europe…the Live & Louder album came out in May…so we were off and running a few weeks later, and we've sold out a lot of the shows. And there's a lot of interest, and definitely we're getting on the map which is a great pat on the back for us to continue and give us motivation…not that we need it, because we love what we do and we're going to do it anyway. It's nice to know that you're doing something that's appreciated and the fans out there are really receptive to what we're doing. We're not inventing the wheel; we're just kind of making it our own wheel, representing the 70's and 80's of music…that classic rock era.
So over the top, Europe was just insane, and then we went from Europe, we went and did a lot of the bigger festivals…Download, Grasspop, and Hellfest, and Wacken, to name a few. And then we went off to Japan, we did a few headliners there and it was great.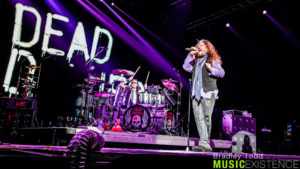 MUSIC EXISTENCE: What was the reception there like?
MARCO: in Japan? Well, we played there last October, we played Loudpark and there was a lot of anticipation for us to come there. If you can imagine, I hate to talk about ourselves, but the fact is that we all come from a good run of bands, having been with the Whitesnakes, the Foreigners, the Billy Idols, The Thin Lizzys, the Nugents, the Motley Crues…so individually we offer a little bit of curiosity for the fans…a bunch of cats doing something new, but these guys come from a bunch of different bands we all love…so that's what opens the door.
Again, without sounding pretentious, we deliver. We have good songs. We have a good time on stage. We have the cream of the crop…talking about my brothers here: Doug Aldrich – he's definitely one of the top guitar players of our era: Brian Tichy – drum wise, also quintessential. As a bass player, I love to play with those cats. David Lowy: he's at the helm, the founder [of The Dead Daisies], the riff meister, he runs this thing very tightly and keeps it together for all of us; and then John Corabi fronting the whole thing, who kicks butt!
So it works, and I don't think we've had a bad show! It's almost like we go out there and win every time. We leave a good mark and the fans are getting hip to it…there's a lot of fan clubs opening up all over the planet. It's a trip. It's a very good time for us.
Overseas was just great. Japan was the ultimate reception. We went from there to South America, and it was equally insane and beautiful and over the top. I hear from management that we're getting invited to do all these things again next year. But, having said all that – the pearl for us is to come to the States and have the fans in the US support us as well as they do overseas. So I'm telling [everyone] to come out and support us. I promise you this – you will see a bunch of cats that perform well on stage, that are great players, and we try and have a good time on stage, period. Bombastic, classic rock 'n' roll at its best…what else can I say?!
MUSIC EXISTENCE: Personality wise, it seems you have a good mix of guys in the group…
MARCO: I think all of us individually, and as a group, we're in a different place in life. We've been around, we've found the peaks and valleys in our careers and we appreciate this opportunity. I gotta say: you get five guys that are creative, and any of us very easily could run our own ship…so you're gonna have your occasional ruts, but they're so minute, and we look at it and we go, "Ok, next."
The common denominator that we all know and that we all shoot for is to create the best music in the studio, to create the best shows on stage, and to deliver. That's it. That's what we're all doing. We all love what we do. We're in it for life. This is what we do.
I think there's a lot of mutual respect. I feel it from the other guys, and I make sure that I express it to the other guys as much as I can because it's true…this is a great bunch of guys. We have a lot of experience, and I think if we've learned anything, it's what not to do. And having personalities conflict with one another is a no-no…we just don't need to do that.
Everybody knows their job, everybody brings the best they can to the table…let's just do that, man. It's like a real band. If I could talk about the points a real band would be, this is it. We all have the opportunity to put our input in, and sometimes it sticks and sometimes it doesn't, but we're all working together as a team: our manager is the coach; we have our quarterback – that's John; we have our receivers, the front line of David, Doug, and myself; and we have the fullback with Brian. It's a team of cats, and we want to make a difference. And that's our motivation.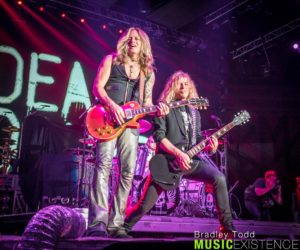 MUSIC EXISTENCE: The band's social media is very engaging with all the live videos from the road. I get notifications on my phone when you're broadcasting live and watch them.
MARCO: Yeah, the feedback I get from my circles is, "Man, I feel like I'm there with you guys!" David Lowy couldn't put it better, "It's a journey that we're all taking together, the fans equally involved with us." Without the fans we can't pull this off. So we're trying to include every event, and every bit of dynamic energy that goes on out there, and there's a lot of stuff. So that's great to hear from you, so we will continue [the social media], absolutely!
MUSIC EXISTENCE: What do you do for fun when you're not out on the road?
MARCO: I got home on Sunday night and I'm at home spending time with my kids, with my wife. We are going paddle boarding in a couple hours because the sun's coming out here in California. I'm a very physical kind of cat. I try and stay in shape and take care of myself, and spend time with my kids as much as we can [during] summer break.
My daughter, she's starting high school this year, she's 14 and I can't say enough about her. She's amazing. She's a straight A honor student for the second year. I'm so proud of her. I told her when I came home, "Whatever you want to do, we will do," and [paddle boarding is] what we're doing.
We ski. I try to snow ski even though I had a bit of a knee surgery here recently, so I missed this season, but we do that. We like to go camping, we like to waterski…we're a very physical family.
But for me, that's what it is – I spend time with my family.
MUSIC EXISTENCE: And you're off again, heading to Poland right before the US tour?
MARCO: We're going to Poland on Saturday (interview took place on 7/25/17). We're going to do this real cool thing – we're going to be recording our set with this 65-piece orchestra, and we're going to be playing this festival that I hear brings 500,000 folks.
We're getting ready for that, and we set the arrangement, the conductor's doing all the work. We get there and rehearse for a few days. And the cool thing is we're going to document the whole thing. From the moment we leave the airport, we have cameras documenting the whole thing – our trip to Poland when we arrive, then rehearsals, the actual performance. So that brings you into what we're doing. So it's a journey that we're taking together and we want to include the fans.
(See The Dead Daisies recap of their Poland trip here: http://thedeaddaisies.com/concert-freedom-woodstock-poland-gorzow-philharmonic/ )
And then, we come back and we start at the Full Throttle Saloon in Sturgis, August 9th.
MUSIC EXISTENCE: I like the cover songs you guys have incorporated into your set.
MARCO: Yeah, like The Who and Grand Funk Railroad and The Beatles, etc… because that's where we come from. And it's about having a good time, and we want to have a good time with the fans.
MUSIC EXISTENCE: The upcoming US tour is your first headlining here, right?
MARCO: It is. We've been lucky, [because] we've been out with KISS, and Def Leppard, Bad Company, Skynyrd, to name a few, and we've had a great time…Whitesnake as well.
MUSIC EXISTENCE: How long will your sets be now that you're headliners?
MARCO: It varies. It all depends on the fans. We can definitely deliver 2.5-3 hours of music, not a problem. Some of the joints have curfews, and we have to limit our set.
Also, every show that we do, without exception, we do a Meet & Greet and you don't have to pay for it. We are out there to make friends. I believe you have to be one of the first 100 people to show up to get a bracelet so you can hang out and say hello and take pictures, at no cost, which is very cool.
MUSIC EXISTENCE: Well that is something that nobody's doing!
MARCO: We are kind of breaking all the rules because we can [laughs]. Because we can, and as fans ourselves, we understand what it is. We understand that not everyone has $200-$300 of disposable income. That's just what it is. So we are more interested in developing a relationship with our fans…more interested in building a fan base. And they love it [the Meet & Greet], man!
Sometimes we get off the stage and [have] a "QTO," a quick towel off. We're sweating top to bottom, and we're signing, and there's sweat coming out of my forehead on the posters. But we understand what needs to get done and we're doing it. And we look at any possibility to gain a friendship from our fans.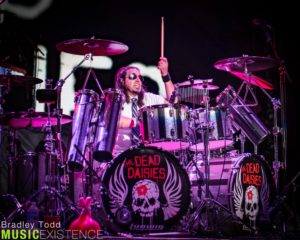 MUSIC EXISTENCE: Is there any timeframe on the calendar for the next record?
MARCO: Yes. We're looking at November/December. We're going to get together at the end of October and look at all the writing and all the song ideas that have been floating around, and pick the ones…and then we'll go into the studio and record, and hopefully get it done by mid-December.
That's been our history [recording quickly]. Face I Love [EP from 2014] was recorded in one day [laughs]. I'm not kidding you. We went in there with the songs, we worked it out, we recorded…no, maybe two days – one in New York, and one in LA. [2014 album] Revolucion was done in 4.5-5 weeks, a little over a month. And Make Some Noise was done in about 5-6 weeks. Live and Louder was done in 11-15 shows. So that's our track record.
And part of it is we want to adhere to what people did in the 70's and 80's, you know? I think we got too far away from the target. The target is to document the vibe between the band…it's a photograph, it's a moment. If you have good songs, that's all that matters, really. You can polish something too much, to an extreme, and that's part of what's wrong with the business.
But anyway, what we record is what we play live and I really take pride in saying that, because that is what we do. And to have people dig that, that's cool. Why change it? If it works, don't change it, man.
MUSIC EXISTENCE: You have some solo dates overseas after the Daisies tour ends. What can you tell me about that?
MARCO: Thanks for [asking]. Pick up Live For Tomorrow, which is an album that came out a few years back through Frontiers [record label]. I have some of my friends playing on that album, like Ted Nugent, Steve Lukather, Richie Kotzen produced, Doug Aldrich playing guitar. Brian Tichy and Tommy Aldridge are on drums. And my son, Marco, my oldest son, played some bass.
And it's a collection of songs with all my influences. I'm a southern rock fan from way back. I'm a Nugent, Skynyrd, Grand Funk, Allman Brothers guy from way back. So, you can hear some of those influences there. I wrote some songs and people are digging it. That's one.
The other one is an eclectic album that I did, it's Casa Mendoza. That's got a little bit of the Afro, Cuban, gospel, funk, R&B, blues, and rock 'n' roll in there.
MUSIC EXISTENCE: That sounds like a good mix!
MARCO: Yeah! The label said, "We want you to do what you want to do." And so I said, "Ok, I will!" [laughs]
So those are the two albums. In addition to that, I'm doing a Latin jazz thing that I played earlier this year…we did some festivals in Dubai, Abu Dhabi, Sri Lanka, Capetown, and Johannesburg. I do that whenever I can. So I'm doing a lot of stuff.
But [for my upcoming] European run, go to www.marcomendoza.com. I'm adding dates as we speak…they're coming in. So it's going to be like 5-6 weeks of gigging in Europe.
I am also going to be releasing a new album before the year is over. I'm thinking about giving it away, to be honest. I'm going to release a single, and give the single away in October or November. That's what I'm shooting for.
But my priority number one is The Dead Daisies. That's number one.
CHECK OUT THE DEAD DAISIES AT THESE LINKS:
Band Website: www.thedeaddaisies.com
Facebook: www.facebook.com/thedeaddaisies/