Luscious green plants boldly adorned the stage at Boston's House of Blues as Masego made his memorable entrance, looking cool as ever in an unbuttoned red jacket and a stylish pair of shades. Backed by drummer Jonathan Curry and multi-instrumentalist Brian Washington, Masego is currently headlining the "You Never Visit Me" tour in promotion of his self-titled sophomore LP which was released earlier this March. Mere seconds into the opening song of the show, "Navajo," the audience, as if possessed, instinctively knew to commence the night-long dance party. This fan-favorite single from 2017 is a quintessential example of "TrapHouseJazz," Masego's signature genre that has ultimately earned him a Grammy nomination, an RIAA platinum certified hit, streaming numbers over four billion, and an extremely loyal fanbase.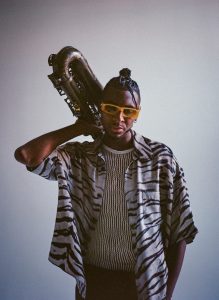 Performing songs that spanned nearly his entire career, the night was simultaneously serene and revitalizing. Alluring melodies, funky beats and energizing electronics filled the venue. A sense of peace and belonging was palpable as fans sang to their hearts content. A standout track from the first half of the show was "Two Sides (I'm So Gemini)," first released as a single from the new album. The crowd was utterly entranced, swaying arms side to side as Masego sang the clever chorus "Two sides, choose your fighter/ I'll be your type, it's a fine line/ I'm so Gemini, Gemini/ Who you tryna see tonight, see tonight?". A moment later, he busted a move in which he began to spin in slow, deliberate circles around himself. This act was obviously met with copious amounts of applause, to which he cracked a smile and facetiously tried to hush the crowd, shouting "I'm rehearsing, I'm rehearsing, Shut up!" 
Transitioning next into "Black Anime," another tune on the new album, Masego was seen jovially tossing a rainbow of faux money into the air. This splash of color, in combination with the inspiring saxophone solo and the flashy videos of palm trees in the background, created a truly uplifting and carefree environment. The crowd emphatically chanted "money, money money!" back to Masego as he guided us through the Money Dance- which was essentially the smoothest pseudo-cha cha slide of our collective lifetimes. 
Sure, Masego is exceptionally gifted when it comes to singing, songwriting, and seducing the souls of those who have an affinity for scintillating saxophone solos. If these accomplishments aren't already enough, he also has the pleasure of being funny as hell. During the song "Yamz,"  he appeared on stage juggling three yams until about 20 seconds later when they triumphantly tumble to the floor. Masego later rescued a yam and holds it lovingly before his face as he belted the lyrics "Can I get to the yams?/ Sweet yams!/ Show me the way." His lighthearted nature and excellent sense of humor spawn a welcoming energy for all in attendance, whether day-one fans or those who just recently hopped aboard. 
The show's second half proved to be every bit as entertaining as the first, especially after Masego proclaimed "You made it to the nasty section of the show. Glad you're all here." One lucky lady was hand-picked to sit on stage and experience the euphoria of being publicly serenaded during the beautiful song "Good & Plenty," featuring Alex Isley and Jack Dine. At this point, someone threw their t-shirt on stage, inspiring Masego to head to the keyboard. He spent several minutes leading an impromptu jam session with Curry and Washington joining in as he ad-libbed "I got the t-shirt, I got the t-shirt, yeah." This spontaneous interlude perfectly transitioned into one of the most epic moments of the evening when Masego paid homage to his Jamaican roots. Curry played an infectious drum beat as Masego proudly danced around the stage with the Jamaican flag draped over his shoulder. The crowd roars, living vicariously through Masego and therefore feeling every ounce of his vivacity and pride as the groovy song "Yebo/Sema" picked up. 
"Thank you all so much for saving money to be here," Masego said earnestly before Curry, Washington and himself exited the wings of the stage. It was obvious that everyone in attendance at the House of Blues was grateful to witness such a magical performance, and we all waited in anticipation of what was to come next. Masego, Curry and Washington reemerged to perform an astounding encore of "Eternal Sunshine" and "Tadow." The former, being the closing track from Masego's self-titled album, provides a few moments of gorgeous, relaxing vibes before kicking the energy all the way back up for an earth-shattering performance of "Tadow". Masego, Curry and Washington gave their performance everything they had left and the audience fully reciprocated. 
Over a dozen shows left on Masego's North American tour are already sold out. One doesn't have to put much thought into how this is. Perhaps it is because he is a multi-talented, musical mastermind, or perhaps it is because he generously showers fans in roses, faux money and possibly a yam or two. One thing is indisputable: when Masego sings "You Never Visit Me/ You never come and see", it is crystal clear that he is not addressing his fans. This artist has cultivated a passionate following that only seems to keep growing with the expansion of his unique repertoire and genuine personality.
Masego Online: Website | Facebook | Instagram | Twitter | TikTok | Spotify | Apple Music