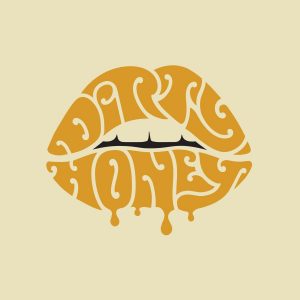 When the pandemic hit and Dirty Honey had to cancel their plans of recording their new album in Australia, the classic rock revivalist band from Los Angeles had to get creative and find ways to still make music, despite borders being closed. After hunkering down and writing more songs, they decided to record in L.A. and have their Australian-based producer Nick DiDia (Rage Against the Machine, Pearl Jam, Bruce Springsteen), streamed in live during the recording sessions. Thanks to modern day technology, DiDia was able to hear what the band was tracking live and could give feedback directly to the group. The result, is Dirty Honey's debut full-length self-titled LP. Music Existence spoke to the band's guitarist John Notto and bassist Justin Smolian, on recording the new album and what fans can expect when the band hits the road this summer.
Music Existence: The album has been out for a couple weeks now, how did release week go?
Justin: Well, I was pretty much sitting in my apartment.
John: Yeah, it was pretty boring.
Justin: It's been really cool to see how positive the response has been and all our fans seem really happy with it! Man, we just want to get out there and see the fans, you know? When "When I'm Gone" was doing really well we felt that on the road with people showing up to the shows and the reaction, so it's a little bit different this time because we don't feel it as much because we're not meeting people in person.
ME: So let's go back a little bit, you guys were supposed to fly out to Austrailia to record your next release with Nick Didia who also did your EP. Was the plan always to do a full-length album? 
John: I think we were going to do another EP, we kind of had this, "All killer, no filler" approach to releasing our songs and we thought initially we were just going to keep doing EPs…so when we got the extra time, it just became the only priority that we focused on, so it was pretty cool in that sense. That was probably the only silver lining of the pandemic.
ME: John, you've said "You're hearing the band play live, rather than hearing a skilled producer," and I thought that was interesting because I think some bands get caught up in over-producing an album, yet this one has a real rawness to it.
John: I think it's part of the identity, you know? We write these songs that have a loose greasiness to how they're played and a certain swagger to them. We needed a production style to match that attitude and Nick Didia gets it. It's funny because he's the kind of skilled producer that you don't hear his skill in that sense, like in an overt way. You don't hear him throwing a bunch of techniques on there but he's very skilled in knowing how to capture that sound and preserving it all the way through the master. 
ME: I couldn't help but notice that the source of this new album is Dirt Records, which I'm assuming is the label you guys started to release your own music. When was that decision made to say, screw signing with a label let's just continue to do it on our own?
Justin: When they didn't offer us money. 
John: I think we'd love to say this was the design from the beginning but I think that would be a little inaccurate. We decided, no matter how we're doing it, no matter how it has to get done, we'll get it done. The mantra from the begging was, 'F-it let's just do it and we'll figure out how to pay for it later.'
ME: Is it fair to say, the offers were coming in but essentially they weren't lucrative enough? 
John & Justin: Yeah. 
Justin: We took meetings, we just didn't want to flat out say no. We want to retain as much creative control as we can…
ME: …and money?
Justin: And money! 
John: I mean right now I can't imagine more cooks in the kitchen to be honest. We've got passionate and hardworking, strong personalities right now. 
Justin: Yeah, I don't know how many labels could handle our manager. 
ME: You guys recorded the album at Henson Studios in L.A.. When the guys from Greta Van Fleet recorded at Henson they'd run into everyone from Justin Bieber to Elon Musk at the studio. Did you have any interesting encounters like that?
Justin: Well, Bieber was actually making a record right next to us but we didn't meet him. We did meet John Mayer who was there the whole time and we hung out with him a couple times. Billy Bob Thornton was there, he told us a good story about hanging out with the drummer from Def Leppard. 
John: It's a legendary studio!
Justin: I mean, we made it in the room that Rage Against The Machine's 'The Battle Of Los Angeles' was made, Carole King's 'Tapestry' was made in that room. 
John: It's just an amazing place. 
ME: Let's talk about the name of the album because it's a bit unheard of to have a self-titled EP and now the debut LP is also self-titled. What was the conversation like in deciding to do another self-titled release? 
Justin: A lot of arguing (laughs). You know we were throwing around the idea of doing like 'Dirty Honey II.'
John: Yeah, we were going to do 'II' but then some people thought it was sacrilegious. 
Justin: Yeah, only Zeppelin can do that. 
John: So on the digital platforms it just says Dirty Honey next to both of them, I think the idea was that the first one was 'EP' and the second one is 'LP'. So after ix-naying a whole bunch of bad titles that didn't really encompass what we were doing, it just seemed like the most continuity was like, well that was the black album and this is the cream album. 
Justin: Yeah, maybe all our albums will just be different colours and that'll be our thing.
John: I think it's cool right! We're not closed off to any ideas. 
ME: Can you guys talk about "Gypsy" because I think it's perfect for both an outdoor festival stage but also in some grimy club where your feet stick to the floor, it's so good! How was that one written and recorded? 
Justin: Well, it started off with the main riff that John wrote and he was kind of playing it during his solos sometimes. I remember at one gig we were playing it and we kinda joined in and we held up the 4-signal which means to go to the four chord and I had this bass riff that I had been trying and sticking into any song that I could. 
John: Well, actually it started long before that. I used to just play it in soundcheck, sometimes I do that with my riffs, I just play them and see if somebody in the band reacts. It took a long time to write, we finished out the chorus and everything in rehearsal, that one was a real rehearsal written song. I thought what we were missing was something up tempo, exciting, drive your car fast, kinda kick ass riff, and I didn't let that one go. You think it'll open the show well? 
ME: Oh my god, yes! 
ME: Why did you decide to end the album with "Another Last Time," opposed to a huge, loud, rock number? 
John: I like ending with ballads! It was my idea to end the EP with one on the vinyl with "Down The Road." Plus it's like the first EP ends with "I'll see you on down the road," then the second one ends with "Goodbye". Literally the last word on the record is "Goodbye." I thought it was perfect. 
ME: Over the past 18 months a lot of rock records have been pretty heavy and very political, but this album just seems like a party. Playing it live will probably be like a party too.
Justin: Man, that's what we're hoping! We just want to come out of this whole pandemic and –
John: Go freakin' nuts! 
Justin: Yeah everyone wants to have a good time, every one wants to forget about the crappy past year. Hopefully when they come to our shows they can escape for two hours and have a great time and remember what having fun is like. 
Dirty Honey's debut LP Dirty Honey  is out now and tickets for their California Dreamin' tour can be found here.
Dirty Honey Online: Website | Facebook | Instagram | Twitter | Spotify | Apple Music