Montreal rockers The Damn Truth didn't let a global pandemic get in the way of completing their staggering new album Now or Nowhere, out today. When covid prevented the band from traveling to complete the album, recording sessions went virtual and the band did what needed to be done to get new music out to their fans. Having recorded this album with legendary producer Bob Rock (Metallica, Bon Jovi, Mötley Crüe), Now or Nowhere sees an eclectic mix of Woodstock inspired rock n' roll, with a heavy and modern twist. Music Existence spoke to the band's powerhouse lead singer Lee-la Baum, on their new album, working with rock legends and the inspiration behind the band's new music.
ME: I know you guys have been sitting on the new music for a while so how does it feel to know that the album will be out in a few days?
The Damn Truth: Wow it's really, really exciting! I mean, yeah we've been holding on these songs are a few years now, the whole writing process happened on tour, started almost 4 years ago! You know, we were touring extensively until covid hit and a lot of these songs were born on the road, and born to be played live, and born to be actually performed, so it is extremely exciting and it's a real weight off our shoulders to be able to finally release this to the world! 
ME: Is that typical for the band to normally write on the road? 
TDT: We definitely all write a lot of the time. I don't think there's really any sort of recipe for it, right? We just found ourselves on the road for so many years, since the release of our last album until covid, we were all road. It feels like a lot of times we write about what inspires us and with this album we really took a step in a different direction. We just really wanted to focus on positivity and on hope and on love after finding and meeting so many people in different parts of the world. We really felt this connection with our crowd, with our community of rock n' roll lovers.
ME: Is it kind of bitter sweet knowing you can't tour on this album at least for the time being? Especially with rock n' roll relying so much on live shows.
TDT: We were in the studio with Bob Rock in November 2019 and then covid hit and we were supposed to go back and finish in March. Finally after a couple of months of crying and moping, we're like 'Alright, let's just finish it.' Let's make it an album, we don't want to release an EP, we don't just want to release the stuff we did with Bob, so we went back and we used the studio once we could. Our fans needed new music and we needed to put this out so it's just kind of like the title of the album; Now or Nowhere. There's no holding back, we just need to get it out there and we're hopeful that we can tour! We just booked a UK tour in February, things look like they're opening up in that part of the world so hopefully Canada will catch up and we'll be able to get on the road before hand. We're really, really hoping.
ME: Let's talk about working with Bob Rock on this album, because his work is the foundation of so many incredible and historical rock albums. What was it like recording at least part of the album with him?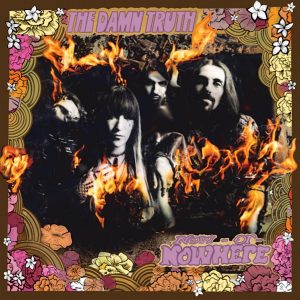 TDT: From that first moment, that we heard he was even into working with us we all were like giddy teenagers! Just screaming our heads off because yes, he's so legendary and so many incredible records have gone through this man's hands. When we had our first conversation (with Bob) we were all super nervous, not knowing what to expect. We all sort of sat around the phone and were just excited and scared to talk to the man, and within seconds he just put us all at ease. We talked about the vision, we talked about Led Zeppelin I and how when he heard our demos he got that vibe from us! The moment we really stepped into the warehouse in Vancouver, it was just calm and easy. There was no frustrations, you know, his whole psychology with the way he works on an album was really something we've never experienced before. He just knows how to get the best out of you, without you even knowing it. 
ME: One more person I want to talk about is Nick Didia. He's been really great with this kind of newer class of rock bands on the rise but was also really incremental for bands like Pearl Jam and Stone Temple Pilots, so why did you want him involved with the mixing process? 
TDT: Absolutely! Well all the names you just brought up but also when we were touring Europe, it was the time Dirty Honey had just launched their EP at the time. We really liked that sound, it was really cool and really refreshing. He just has a great vibe to him and he's such a great guy too. It was sad that we couldn't travel to mix with all these incredible legends but we did it through Zoom.  
ME: You were quoted as saying, "I realize that people see us as a hard-rock band and we are, but we're also deep-down rock 'n' roll hippies."  I think when people hear this album, they'll totally hear the influence from the mid-late 60s and early 70s as well. Who are some of your favourite bands from that era?
TDT: Well for me I guess my love affair started when I was really young, I was like 4 years old and my Dad was a huge Beatles fan. He had all this vinyl and I remember he sat me down and was like, 'Here listen to all this' and I really fell in love with it! But it wasn't until I heard Grace Slick, you know, Jefferson Airplane? White Rabbit, I think I was 9 and I hear that song and I heard the resonance in her voice and I was just blown away! Not only by the psychedelic part of it but also the mystery. Listening to those bands, they take you on a journey! Oh man, I get goosebumps just thinking about the 60s and the 70s. I also absolutely adore Woodstock and the whole constellation of those four albums, sorry not four, four double albums! Watching the footage from that festival, it's just like a magical time in music where there are no rules, where you could really do anything you wanted and an album could have like a heavy blues riff on one hand, then kind of turn country folk on the next song and everything could live together and coexist inside of rock n' roll, you know? I love records that take you on a musical journey. 
ME: Well I think your album totally falls in line with that, because even opening the album with "This Is Who We Are Now", there's this sonic shift halfway through the record and you get so many sounds throughout it which I love. What was the decision having that song not only open the album but also be the single?
TDT: I mean for us "This Is Who We Are Now" it was our slogan on one of our tours. This was a song that came magically to Tom while he was driving in the middle of the night in Texas, the riff and the melody and that chorus came to him…and then it turned into a motto throughout that tour. No matter what things, good or bad happen to us, this is who we are now, this is who we are now! It just made sense to us. 
ME: I think "Look Innocent" will resonate with a lot of fans, can you talk a bit about how that one was written and recorded?
TDT: That's a special one, eh? First of all I think it's probably the hardest song for me to sing, I think it's the highest in my register, so from a very personal standpoint, I always start the song in this weird fear of 'Will I be able to hit these notes?' That's like the first thing that goes through my head when it starts. Then it's like 'No!' excuse my language, but 'fuck that!' I'm going to take care of this, I know how to do this and I have something to say and I'm going to say it. If my voice cracks a little bit, you know what, that's okay! For me it's almost our ode to Janis, there's something in the progression of the chords and something in the groove that is very Joplin-esq. I adore her, she's a goddess to me. 
ME: From the new album, what song are you most excited to play live? 
TDT: Hmmm, I think I'm really excited to play "Tomorrow" because it's just such a positive anthem, you know? The chorus just rings out, I love Tom's guitar line, the hook, it grabs you from the first instance. I'm really excited to play that. The energy of that song, I think it's going to blow up. It's really, really fun. 
The Damn Truth Online: Website | Facebook | Instagram | Twitter | Spotify | Apple Music
This interview has been edited and condensed for publication purposes.