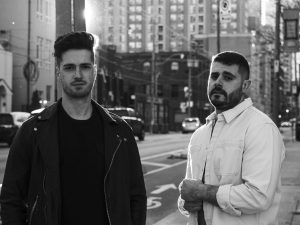 When The Blue Stones were nominated for their first Juno Award in 2020, the Breakthrough Group of the Year nominees were planning to have an exciting spring devoted to touring Western Canada. They planned a stop in Saskatoon, Saskatchewan for Juno Week festivities but first had one more show in Winnipeg to complete before the awards. After driving to Manitoba, the band started hearing rumours about tour cancellations due to the pandemic and shortly after the award show was called off. Not much longer after that The Blue Stones also had their tour pulled.
"We were just coming off a full 24 hour drive to get to Winnipeg and sound checking for our show that night. We got the news that would be the last show of the tour, so I mean really there's nothing you can do at that point other and just play the show and make it the best it can be" explained guitarist and frontman Tarek Jafar. 
It was also during this time the band was completing the mixing and mastering process of their new studio album. Now almost a year later, The Blue Stones finally get to drop their punchy new rock record with a groove; Hidden Gems. 
"It was rough because we had an initial release date in July (2020) I believe… eventually you just can't wait anymore, you know? You want to put this music out so you just put it out!"
The duo worked with producer Paul Meany (Twenty One Pilots, LANY) who encouraged the band to experiment in the studio, up their lyric game and get creative with sampling. While instrumentation and big guitar riffs are still at the forefront of the new record, the band wasn't afraid to slip in a few surprises here and there. 
"Paul is a genius when it comes to that! He's just so well versed in the sampling world and he knows how to add samples in a subtle way and in a very tasteful way. So because we had this weapon on our side how could we not use it?"
Fans of The Blue Stones will be happy to hear that Hidden Gems is expansive yet still holds onto their electro-rock roots. While dramatic riffs dominate tracks like "Spirit" and "Shakin' Off The Rust," the band isn't afraid to get melodic on "One By One" or the blues driven "Make This Easy." The album's biggest stretch is "Careless," which pulls influence from the world of R&B and pop music. 
When talking about "Careless" Jafar explained, "We were just kind of like 'what are people going to think if we put this song out?' Are they gonna think we're a pop/R&B band now? But then we realized it doesn't really matter, because we made this song, this is us… So we just put it out into the world." 
Another change from the first album comes with Jafar taking more time to pen the album's lyrical content. He used personal experiences and life lessons to invest more of his emotions into each song. He admits that on previous releases he valued the music over words, but now sees the importance of each on an equal playing field. 
"I just never thought of them (lyrics) as important as music but now I definitely do … there's a lot of strong lyrical content on this album and a lot of which was taken from my personal experience."
"Everybody goes through things, even myself I've been through a couple things and it's just nice to infuse that into your creative process because in a way, it's kind of therapeutic."
Therapeutic is right. With the absence of live music still ongoing, fans have no choice but to explore the deep dives of their favourite band's catalogue of work. While Hidden Gems is a great spin for a Saturday at home, these songs belong on the stage. So here's to hoping we can all catch a show with The Blue Stones soon. 
Quick Questions with Tarek
Song you're most excited to play live?
Spirit
City you're most excited to play again?
Seattle
If you could play any festival, which one would it be?
Reading & Leeds in the U.K.
The year is 2030, The Blue Stones are asked to headline the Super Bowl Half Time Show, who is your special guest?
Bruno Mars, 100%
The Blue Stones Online: Website | Facebook | Instagram | Spotify | Apple Music