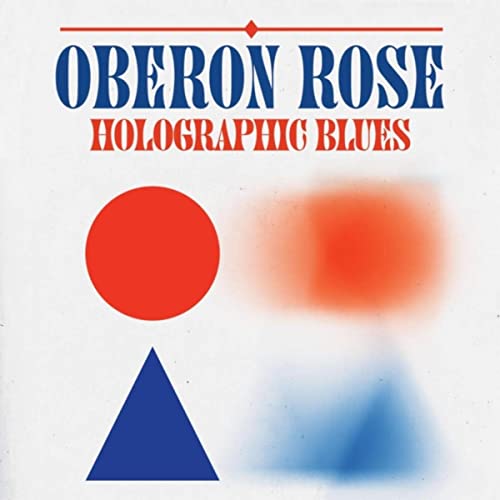 Rock is more than a genre of music – it's an identity, and not one that has to be portrayed with the stereotypical cartoonish demeanor of its greatest legends. While I don't know that it's fair to say that Oberon Rose are chasing their own version of this identity solely to be rebels in their new album Holographic Blues, there's something both one of a kind and definitively classic about what's driving their sound in this latest release.
WEBSITE: https://oberonrose.com/
In songs like "Chinese Whisper" and "Upside Down World," Oberon Rose begin to reveal parts of themselves through both the music and the lyrics that simply weren't accessible to us previously, all the while making a point of leaving the audience unsheltered from the sonic carnage entirely. "A New Song" and "Losers of the Year" do indeed wade into alternative waters akin to something from the old guard, but even with this being the case, the energy behind the music feels very modern and, dare I say, a bit angry in this situation. This band is desperate to get out of the studio and back on the road, and their angst is what gives this LP so much edge.
"Falling Up" and "American Avenue" simply wouldn't be the same without the intensity of their guitar parts, and had the ol' six-string been replaced with anything else – from a piano to a synthetic melody – I just don't know whether or not these two songs would hold the same meaning. There's a pop sensibility to the vocal in "Demoniac" and "Miss Lonely Heart" that I want Oberon Rose to try and expand upon more than they have, and in some ways I think they show off a bit more courage in their creativity just by including these two songs here. The former is the record's star single, while the latter could easily join it in such a capacity, and though they're no more powerful than any of the other tracks in this LP are (in all actuality), they certainly don't hide the general priorities this group has right now. They want to stay raw through the rhythm, even if it means sacrificing some element of commercial acceptability.
True to the framework of its predecessors but still demonstrating that this band can step outside of their comfort zone when they have to, Holographic Blues is as intriguing and evocative as its psychedelic title would imply. Oberon Rose still have room to continue growing as a band, but tracks like "A New Song," "Sinner," "Falling Up" and "Chinese Whisper" show them owning a signature persona no one else can claim as their own. It's hard trying to distinguish yourself and your sound from that of the many other talented groups in the American and international undergrounds these days, but after a lot of years hard at work both inside of the recording studio and up on the stage, Oberon Rose have something that no one else can take from them, and it's available in nine distinct movements via Holographic Blues this January 15th.
Loren Sperry