Anxiety and depression are on a lot of our minds right now. From a deadly virus causing a global pandemic to a violent insurrection in our nation's capitol, things are pretty tense right now. Which could lead to some mental health issues. Luckily Orlando Pop Punk band Outatime! is here to help!
The band has released their new single "Husky Fight!", a track deals with anxiety and depression, "The song is about the constant struggle with anxiety and depression that sometimes can lead to thoughts of suicide and abandonment," explains the band, "We have all been there at times and we wanted to release the song with a message that tells whoever is experiencing these hardships that they are never alone and even though it doesn't seem easy, it always gets better."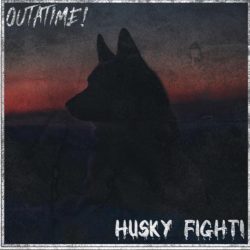 The single is a great blend of old and new Pop Punk with great vocals. Outatime! has also released an accompanying music video for "Husky Fight!"
"The Music Video we wanted to aim to towards a PSA on Domestic Violence and Sexual abuse that has plagued our lives by the deaths of close friends, but also the rampant abuse that has been going on in the music scene for years now." the band explains, "No one deserves to be put through a situation where they are being taken advantage of or abused by a loved one or friend. There is support for victims and their voices must always be heard and acknowledged! Love Should Never Hurt!"
Outatime! is a Pop Punk band from Sunny Orlando Florida! Formed in 2015 by Mike and Justin after forming a friendship over hockey, dad jokes, and Pop Punk Music. Over the years they linked up with James, Nikk, and Tony to form what is now known as Outatime! The band brings together a nostalgic feel of the genre with riffs reminiscent of the old Drive Thru Records days, but lyrics that deal with real life situations and relatable issues. Outatime! brings an energetic aura to every show and the energy can even be felt through their recordings!
You can catch up with them at the following links:
LINKS:
https://linktr.ee/Outatimefl
https://instagram.com/outatimefl
https://facebook.com/outatimefl/

https://youtube.com/channel/UCQ8gSeYB8RaoUjomQJpJNHw