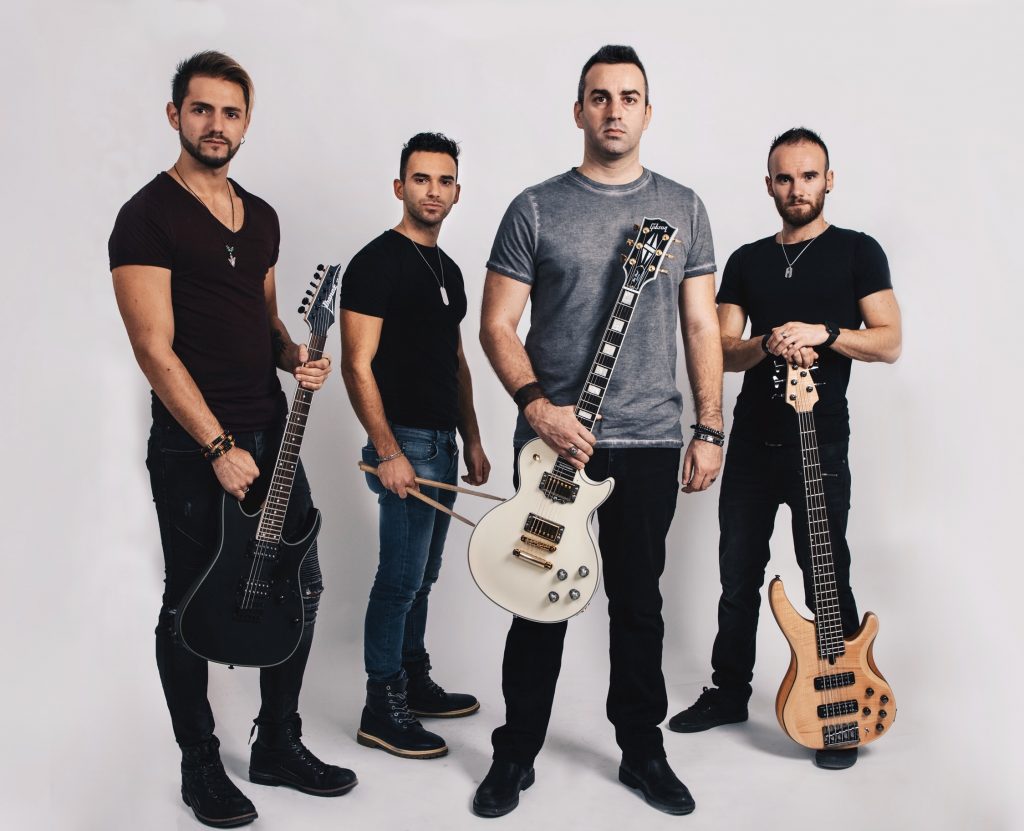 Sonic Crush is an alternative metal band from Italy, formed in 2016 near Manfredonia (south of Italy). They play groove and power music with melodic singing. The band is composed of 4 musicians:
Miro – lead voice/guitar
Smoke – solo guitar/vocals
Athlos – drum
Caine – bass guitar
Sonic Crush is about to release their new album, "The Midnight Zone" including the title single. The band took time out to answer a few questions in this EXCLUSIVE interview…
How did the four of you meet? Any funny/interesting stories about your first rehearsals you can recall?
It was 2015. Not all of us come from the original members of the band: Miro (lead singer) and Smoke (lead guitarist) are the two who brought up the project ever since. Then we got lucky to meet Athlos (drummer) and finally Alex ( Bass guitar player).
We are all from the same city in the south of italy, Smoke and Athlos were closed friends for years and played in the same band before the SC, Miro and Alex used to work together for a while. This is how we got together at some point. Our first reharsal was a total disaster, we played with Athlos (drummer) for the first time and a bass guitar player who never showed up again after our first gig. We had a gig the very next day, it was mid summer, we had no other chances but that one to reharse. Athlos did not understand we were bringing a setlist with a few Foo Fighters songs  (Miro is FF biggest fan) because our Sonic Crush repertory, at that time, couldn't cover 2 hours gig. So basically we went to play a gig with a lot of anxiety and high pressure feeling.
All we remember is that we had nothing that went good beside the music, Miro got a ticket because he parked the car on a wrong place, Smoke lost his amp  power a couple of times during solos and intros (of course), Athlos …well unbelievably he did right,… the club did not pay anything because they thought we were playing light rock or pop instead of heavy rock and metal. We pay the rent for the speakers, for the drinks… People loved us. It is all we really cared and we keep caring when we gig. Well, when we used to gig: this epidemy sucks.
How has being from Southern Italy influenced your music, and do you think it has helped or hurt you, as a band?
We come from total different backgorunds. Miro (lead singer)  is a heavy rock and alternative metal guy, Athlos (drummer)  is a Techno and an industrial metal guy , Smoke (lead guitarist) is a classical music and a heavy metal, nu metal guy, Alex (bass guitar player) is a pop rock guy. This is the right formula to find the sinthony, the common language: diversity. We all want to bring our personality to our songs. Our Country, Southern Italy, gives us the geographic and social reality we struggle everyday.  It is not easy for a kid to raise in the south of Italy if you want to pursuit music as a real job. It is a battle every day to play our music (alternative metal) in front of people because in the southern Italy people expect to listen to italian pop culture music. We keep doing what we love to so we play alternative metal. We have lost hundreds of gigs because of our music genre. Clubs do not even listen to metal, they just say "no"… f@&k them 😉
Tell us about your most recent songs, the recording process… what the fans can expect?
We have now completed our second album: "the midnight zone". It took almost 14 months. Covid did not help. We had a lot of obstacles during our recording session related to the epidemy restrictions like the closure of the recording studio, the lost of the sound engineer's father due to covid, the cancellation of our tour (always due to covid)… it is being a rough year, some of us lost our dears, our heros and even our jobs. We have a lot of lyrics coming out of our feelings though, …Miro and Smoke are digging a lot about this (lol).
With the incoming album "The Midnight Zone" we moved to some heavy rock ("Dark Sunrise" LP)  to our alternative metal sound: we want to spread our energy through all our means and energy. And we love it. We keep playing some ballads because in our opinions, the best ballads come from metal. Most of the songs are some kickass alternative metal songs. Smoke (lead guitarist) got more space in the songs to solo and put his creativity using different instruments. Miro could finally explore different ways to adapt his voice since is focusing on the feelings he wants to pass on.
"The Midnight Zone" is an experience; each song wants to turn you upside down and then, when all the feelings are shaken, put you back in your still position to watch your feelings floating in the air and slowly falling like coloured feathers.
Dear fans, we thank you for giving your precious time to us by listening to our voices and guitars. It is because of you that metal rules and rock will never die.
Who are your biggest musical influences? Have you had the chance to meet any of your music heroes?
SOAD, Trivium, Metallica, Iron Maiden, Linkin Park the most. We had some influences from Guns and Roses, Muse, Mudvayne, Tool and some others.
Since we do not have a specific common hero, it is easy to answer per each member of the band:
Miro (lead singer): Dave Ghrol (for his energy), Gary Moore (for his passion), Joe Bonamassa (for his modern blues) and Adam Jones (for his creativity);
Smoke (lead guitarist): Matt Heafy (Trivium lead guitarist and singer), John Petrucci, Eddy Van Halen;
Athlos (drummer): Nick Augusto (former Drummer from Trivium), Christopher Schneider (drummer from Rammstein);
Alex (bass guitar player): Bruce Springsteen, Chris Wolstenholme (bass guitar from Muse).
What's next on the horizon for Sonic Crush?
We feel the need to gig, to get bigger and play our music. No more delays, the world must spin and go on. We have lost too many opportunities after the lockdown in Italy and the post imposed restrictions.
We have songs to fill in another album (it would be the third one) but first we need to publish our second one: The Midnight Zone. Our projects are like a long path as well as a lifetime walk. We grow up with them, we fight them, we love them but at the end of the day our projects and songs are ourselves. It is like having history records telling about us. So we will keep rocking until we can.
There is a lot more to play. We like to stick to this sound now. Who knows about the future. Sonic Crush is us now.
Thanks so much for taking the time and good luck!!