Tampa Bay, Florida hard rock band VOXX is back with their brand new single 'Being Human'. The track seamlessly blends heavy guitar riffs, atmospheric clean guitars, drum loops and a head bobbing bounce before ramping up to a soaring chorus, ready for modern rock radio. With this formula hitting on all cylinders, 'Being Human' is reminiscent of hits from artists like Linkin Park and Breaking Benjamin.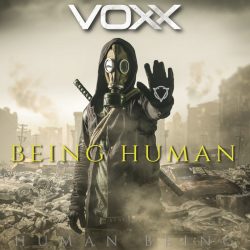 What sets 'Being Human' apart from other songs of the hard rock genre lies in the lyrical content. While many of their contemporaries fill their songs with masculine braggadocio, VOXX's vocalist Regis Lima observes current events while looking inward:
"We say we are human beings
But are we are being human?"
With the state of affairs in our divided nation, these lyrics seem more timely than ever.
"The lyrics were written a year ago, and we feel like right now is the right time to express ourselves and share it we our fans, especially because what Humanity as a whole has been going through the last 6 months," says Lima, "This is the time!"
VOXX is a hard rock band from Tampa Bay,FL playing high energy music with catchy melodies and great guitar riffs! The band is always looking for sounds and melodies that are memorable, also using meaningful lyrics that listeners and fans can relate to.
VOXX has also released a music video for 'Being Human', which you can view below:
'Being Human' is available on all major streaming platforms now!
Connect with VOXX: