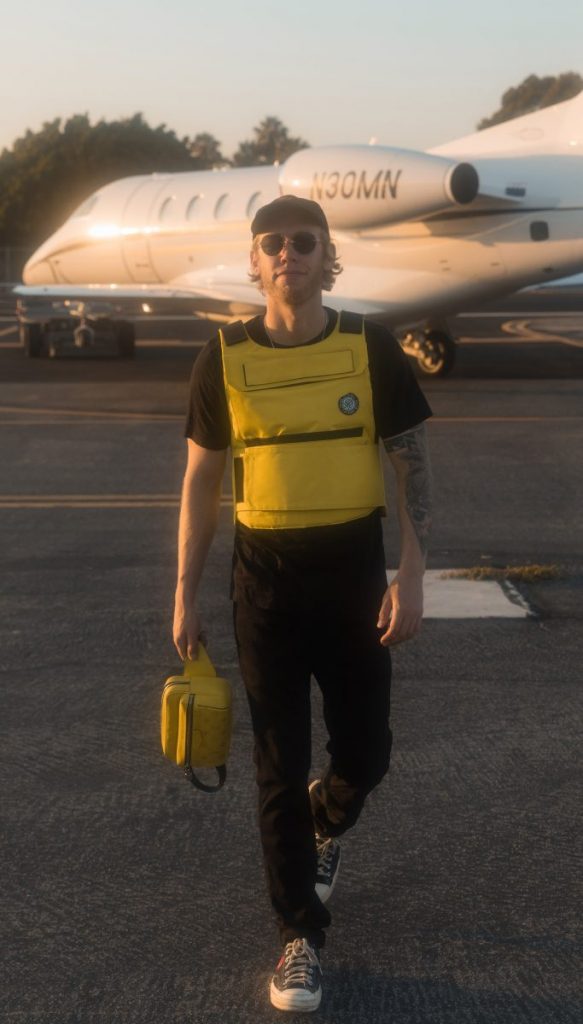 Wingman is a Los Angeles-based singer/songwriter and producer making a name for himself blending a unique mix of rap and energetic electronic drops. He came out swinging, dropping a debut album as his very first release. Weird New Feelings, the eight-song debut, has already garnered a few million streams online since it dropped in August to incredibly positive critical reception.
But it's not just his presence in the LA music scene that's making waves, it's the brand he's built as a daring aviator. Wingman pilots a small, yellow, helicopter-like aircraft called a 'gyrocopter', often seen cruising the LA beaches or circling downtown. His Instagram, for example, is littered with clips and stories of epic flight adventures, often accompanied with songs from the Flume-inspired Weird New Feelings project. So what makes this eclectic combination work? The feeling that it creates. Wingman pairs the literal feeling of taking off down the runway with beats that charge up like a helicopter rotor before flight.
Though a songwriter for as long as he can remember, Wingman got acquainted with aviation in his early twenties.
"I was grabbing lunch with a friend in LA, and he invited me to go fly 'little personal helicopters' after lunch. Before that day, I had never even considered becoming a pilot. I was focused on music and starting to define a sound. I didn't want any distractions. But the second I was in the cockpit and feeling the flight controls, it was over. Sold."
He saved up for a few years to put a down payment on an aircraft of his own while continuing to hone his production and songwriting talent. Eventually, everything came together. He was flying a new gyrocopter coast to coast when the stage name "Wingman" came to him. It was an obvious opportunity to fuse different themes prevalent in his music and lifestyle.
Notable flight journeys found him discovering meteoric craters in the Arizona deserts, and chasing sunsets over the oil fields of east Texas. While bogged down in Georgia due to nasty weather on a cross-country flight, he wrote Hurricane, a crowd-pleaser single on the Weird New Feelings project. He even filmed a music video for the title song, "Weird New Feelings", from the air. Wingman rapped from the cockpit over downtown LA and spiraled over cloud-covered Palos Verdes, creating a truly unique feeling to pair with the song.Wingman released a debut music video for his song Distracted (also on the Weird New Feelings album) tuning his audiences into thoughtful lyrics over a soaring beat.
So what's next for Wingman?
"I've been filming a ton, both in the copter and outside of it. Got some wild music video footage on the way. Definitely pushing more electronic drops on my upcoming songs. And as the beats get bigger, my aircraft starts feelings smaller. Maybe one of these days I might look for the next size up."
insta: @wingmanfly