The 90s were good to Big Sugar, as their reggae/rock approach to music helped the band dominate radio stations with hits like "Turn The Lights On," and "Diggin' A Hole". Throughout the years, the band has maintained a loyal fan base and will be giving them a brand new studio album with the release of Eternity Now this Friday. To celebrate the new record, Big Sugar will host a special livestream event via YouTube on May 8th at 10pm ET, that will give fans a special inside look at the band's new music. Music Existence spoke to Big Sugar's Gordie Johnson on recording an album during hardship, the band's evolution over the years and how he's been spending his time during self-isolation.
ME: Why was it important for the band to still release Eternity Now during the current state of affairs, when many artists have chosen to push back their release dates indefinitely?
People are stuck at home consuming entertainment like crazy! We want to give them something to take their minds off of life. The album has also been beset with delays and revisions. Enough already. We march forward.
ME: This album was "recorded in the aftermath of many tragic life-changing events." Was the writing and recording process a positive experience or did you find it difficult processing your emotions onto these songs?
Very positive. Having a focus really cleared the road for inspiration to take over. The process was also very cathartic and freeing because at the end of it you have songs and recordings that continue to express those feelings for you. Now we can let them go do the work and move on.
ME: With it being five years since the last studio album, were there any new techniques or experimentations that went into the recording process that fans might be interested to hear about?
The production was completely different from any previous record.
We built our own studio and partnered with UNIVERSAL AUDIO who got me set up using the UA Apollo hardware and software. Recording technology has made a giant leap forward recently and I decided to dive deep. I've always been our own producer but now I don't need any assistance with engineering or editing. Mind you, Jeff Pelletier (our sound engineer, live and studio for many years) is always on the other end of his cell phone when I need a lifeline! He also built the studio with us from the ground up so he's an amazing guardian angel. 
ME: How did the collaboration with Alex Lifeson of Rush come into fruition?
We've been pals for decades so all I did was call him. The title track ETERNITY NOW was heavily influenced by my love of Rush so it seemed like the time to make the call. I figured if he was involved I wouldn't have to explain myself later. I asked him to play a guitar solo (he agreed) but he also sent a number of overdubs that made the song even Rush-y-er(?) He's a total sweetheart and a mentor. We love Lerxst!
ME: Word is the band had a pretty epic album release party planned that will now turn into a livestream event on Friday. Why was it important for you guys to still go ahead with a release event, despite it being online now?
Yes we did. Life goes on man. We are adapting and rolling with it. What else are ya gonna do? We have the technology to broadcast from our studio with great sound and just keep on entertaining folks. That's why we do it.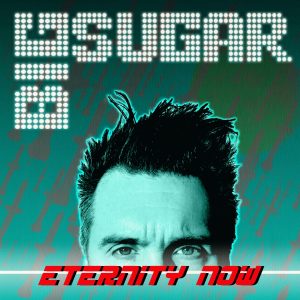 ME: Have you been watching any other artists livestreams recently?
Our favorite is called THE SQUIRREL SHOW on Facebook live. It's a guy (Oliver Steck) playing accordion and trumpet and singing whilst wearing a pink bunny suit. It's total improv humor, song parody, stream of conscience, musical genius and madness rolled into one (did I mention the bunny suit?) broadcast live from his garage, playing to his entire neighborhood sitting on their front lawns. So bizarre. It reminds me of cable access programming from the late 70s and early 80s when TV first began broadcasting 24/7. 
ME: Other than promoting the new record, what have you guys been up to since self-isolation has started?
Creating. Writing and recording, making reggae dub mixes of everything. Making videos and talking about my guitar collection, check out GJ IN THE SOUNDSHACK on YouTube! I may even get into filming some of my culinary skills. Our food posts on social media always get the biggest responses and I'm cooking like crazy everyday anyway.
ME: What is the first thing you want to do once life gets back to normal? 
Dinner party! Actually, to look at the positive side, being cooped up with our kids has been really fun. It has forced us to slow down a bit and prioritize. Rock and Roll doesn't seem quite so important when people are risking their lives to help the sick. All we wanna do is make life bearable for others, one song at a time.
Check out Big Sugar's album release livestream this Friday at 10pm ET on YouTube
Big Sugar Online: Website | Facebook | Instagram | YouTube |  Twitter