Mike Patton and Anthony Pateras combined their skills with violinist Erkki Veltheim and drummer Will Guthrie and created a 13-track long album Necroscape. The sound of electro-acoustic rock blended with otherworld grooves, soul, and industrial noise will make you feel both thrilled and confused. Each song will let your imagination run wild and take you to many different places, making you forget you're in quarantine. 
Some songs are mostly focused on the instrumentalization, but don't let that distract you from Patton's vocal arrangements, especially in "Cutlass Eyes" and "All Signs Uncensored". The whole team managed to turn the noise into something deeper and get the listener to observe small details. 
One of the highlights of the album is "Haunted On The Uptake". According to Pateras, "(It) sounds like The Melvins' tour van broke down in the Balkans, and instead of going home, they decide to open a mountain laboratory dedicated to possible hybrids of Rembetika and hardcore." The song changes its vibe multiple times, but the mix of different beats is what makes this track enjoyable to listen to. 
Probably the catchiest and the most energetic song is "Wait Till Mornin'". It was the first song tētēma wrote for this album and it's the only one with a drumless chorus. 
The band took so many elements from different influences while making "Soliloquy". Pateras refers to it as the combination of "microtonal buchla with hyperactive drumming to serenade Paganini and Leonard Cohen passed out in a hot tub".
"Dead Still" really stands out because it's the only song on this record that will make you pay more attention to the vocals. "It's a meditation on facile internet culture and misplaced ambition delivered over close-sic'd prepared piano, giallo synth/pizzicato lines, and stratospheric children's rounds," says Pateras.
The album closes with "Funerale Di Un Contadino" which is sang in Italian. It has a slightly slower beat and it's the right choice for the ending.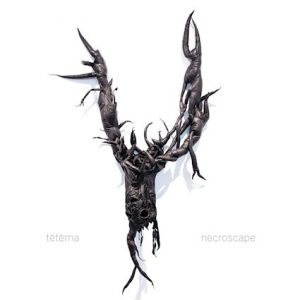 Tracklisting: