I don't strive to start a recap of a show with a gripe, but LA Guns have brought this on themselves. It started earlier in 2019, when the band saw fit to release one of the best, catchiest, most consistent, most rockin' albums of their career – The Devil You Know.
The album is 10 tracks (11 if you get the version with the bonus track, which I recommend) of gritty, trashy, perfectly played hard rock that's hook laden throughout. It's aces from the opening notes of the lead track, Rage, a rave up rocker, to the melancholic, yearning heartache of the closing ballad, Another Season In Hell. And what lays in-between is excellent grooves and guitar work, and sing along choruses that harken back to the best of 80's style hard rock/metal…without feeling dated.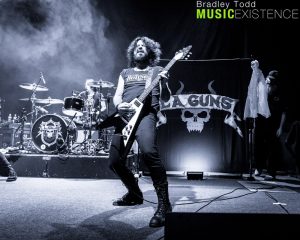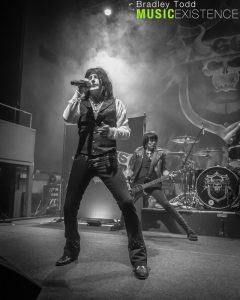 So what's the problem with the show? The only played two songs from this gem of an album – the album title track, and the fantastic Gone Honey. They ignored the previously mentioned album opener, Rage, and coulda/shoulda played Stay Away, Loaded Bomb, and Needle To the Bone. I know, I know…most fans of bands whose most popular days were decades ago mainly go to the shows because they want to hear the hits they know. And when a group's new material sucks, I feel that way too. But when it doesn't, give it to me! This is the kind of album I'd like to hear in its entirety. At the very least, this album deserves more exposure than it got (see setlist, and full gallery below).
The good news is LA Guns still have magic left in the tank, and the old fans got the hits they desired. The show at the Apollo in Belvidere showed the band to be loose and seemingly having a good time on Halloween night, despite a stage monitor problem on guitarist, Tracii Guns', side of the stage that started during the first song and was still irking Guns at the end of the night, when he took matters into his own hands and tried yelling across the venue to the soundboard engineer to get his attention.
That gremlin notwithstanding, the show was notable for the exceptional performance by the band, which consists of the aforementioned Phil Lewis and Tracii Guns, along with rhythm guitarist Ace Von Johnson, bassist Johnny Martin, and drummer Scott Coogan. Phil's unique vocal tone and inflections and Tracii Guns' leads and solos were highlights, as were the group's strong backing vocals that added great texture and punch to the choruses. The band played with good energy, especially bassist Johnny Martin, and singer Lewis had fun with the crowd, donning a few Halloween inspired masks throughout the night.
SETLIST (Gallery Below Setlist)
Over The Edge
Mercy
Sex Action
The Devil You Know
Electric Gypsy
Some Lie 4 Love
Kiss My Love Goodbye
Gone Honey
I Wanna Be Your Man
Never Enough
Crystal Eyes
The Ballad of Jayne
One More Reason
Speed
Rip And Tear