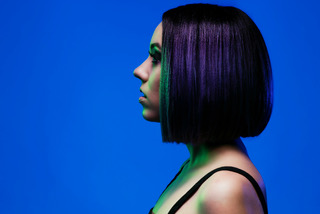 Your Oct. 2 music video release 'Alien' has a strong anti-bullying theme. What prompted this and what message are you hoping to spread to your fans?
'Alien' is an anthem for those who feel misunderstood, strange, and like they don't belong. So many of us have been bullied and mistreated for being different.  So many of us are hurting. I felt like the music video was the perfect way to emphasize this united struggle and bring light to our collective pain.
I made a video on social media asking my followers to share their personal stories of alienation, bullying and abuse with me and promised to write all of their stories on a bodysuit. I wore it in the music video to show that they don't have to go through their pain alone, I can wear it with them.  
This song came out of a place of personal pain.  As a human being and as an artist, I've felt so misunderstood. It's exhausting dealing with the constant judgements.  It can feel very lonely. I wanted to turn that feeling around into something strong and positive. With this video, I'm hoping to help others celebrate the things that make them unique. I want them to see that suit full of pain and realize it no longer weighs them down, they can remove it and blossom into the extraordinary human beings that they are. We are all in this together, and together we can rise above it. The music video includes people from all walks of life coming out of the shadows and embracing their inner light. This is an anthem for all my fellow aliens out there. It's our time to rise.
Who are your top 5 musical influences? 
There is no end to what can influence an artist, but if I had to name a few… Enigma, The Phantom of the Opera, Moby, U2, The Rolling Stones, The Eagles, Coldplay, and David Bowie.  Okay, I know, that's 8, but I could keep going. 
What do you want fans to take away from your music? (Generally speaking) 
Hope, strength and love. If they take away that, then I've done my job on this planet. 
What's it like living in Nashville as a pop/EDM artist? (ie: not country)
To be honest, it's one of the reasons I wrote my new single.  I feel like an alien here. It can definitely get a little lonely as a pop/EDM artist in this town.  While there is a growing pop scene, I still feel like I don't quite fit in with that crowd. On the other hand, it can also be really exciting to not fit in. I've always loved the things about myself that make me different. I like to stand out.  Being unique should be celebrated. The reason I stay here is because the songwriters are insanely talented. It's the perfect place to grow your craft. Nashville is a town that is founded on the belief that, "it all starts with a song."
What is the best concert you have been to? What do you like most about performing live? 
BY FAR, the best concert I've ever been to is Muse's Drone Tour. I can't even describe it in a way that would do it justice, you just had to be there. I loved their use of projections, props, and theatrical interludes.  I was completely enveloped in their world. 
I love how I can just get lost in the music when I perform.  Nothing else matters in that moment. I'm using my whole body to convey these songs, so I have no choice except to be fully present.
It's freeing.  And it's so exhilarating to share in that experience with people and to connect with each other's energy. When the music really hits, it can be electrifying.
Which of your songs stand out as your personal favorite, and why?  
"Death of a Star" has a special place in my heart. It's such a personal and sad song to me and I really feel the emotions everytime I perform it. It's about my father no longer being a part of my life. My heart really opens up on this one.
How have you evolved as an artist over the last year? 
I've become more comfortable in my own skin.  This past year has been such a journey of self discovery. I've tried to hone in on what I can offer as an artist, and that is a message of hope.  I want my music to be uplifting and to paint a wonderful world you can get lost in. I've also embraced my love of 80's music and have incorporated my favorite elements into my own recordings. 
I've had to take a chance on myself as a solo artist and step away from collaborating with DJs.  It took letting go of the need to please everyone else (especially the music industry) in order to focus on the music that naturally comes out of me.
If you could meet, play a gig, co-write a song, have dinner, have a drink with any band or artist (dead or alive) who would it be?  
Bono.  Yep, I would give anything for that hangout. U2's music has always had a huge influence on me.  I can't seem to describe his choruses any other way than the fact that they make your heart feel like it's completely OPEN.  I also admire all of his philanthropic work over the years. He's using his platform for good.
You've already seen success in the EDM world. What's the accolade, press quote and/or achievement you're most proud of thus far? 
Honestly, it's getting to witness how the music connects with people.  Performing "Moments" with MitiS and having the whole crowd sing along to every single word is the most amazing feeling.  That connection is what I'm most proud of thus far. I write music for the audience, and when they fall in love with a song, I've reached the highest level of success.
What's next for you, Adara?  
I'm releasing my music video for 'Alien' today! (Oct. 2) I've got some shows coming up that I'm really looking forward to and new music in the works. I could sit here and list off all the exciting things coming down the pipeline, or all the irons i've got in the fire, but to me music is really about getting someone through a bad day and inspiring them to keep going. Through making the 'Alien' music video, I've learned that what I do can be an outlet for other people as well. I'm hoping to spread the messages in this video far and wide.