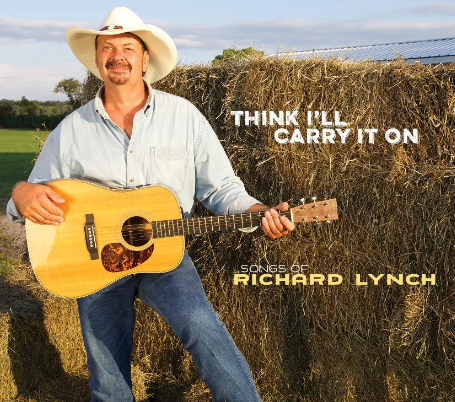 The worldwide release of the album is scheduled for May 25th, 2019. It contains no less than 4 Top 40 country singles, including "Keyboard Cowboy."
Make no mistake friend: this isn't today's 'country. This is PURE country. TRUE country. REAL country…the way it was intended, with songs that will last a lifetime…"— Michael Stover, President of MTS Management Group
Back in 1962, when Richard Lynch was born into this world, country music was just that…country. It was a year when George Jones, Jim Reeves, Patsy Cline and Johnny Cash ruled the airwaves; their aching and emotive voices echoing from the car speakers of your dad's '62 Chevy Impala. These were true-to-life songs about love and living, heartache and heartbreak, drinkin' and thinkin', with honest-to-God "every-man" stories in the lyrics. Flash-forward 50-plus years, and country music just isn't what it used to be. You turn on the TV and see some of the acts being called "country" and you wonder, how that can be? Where is the wailing of the pedal steel? Where are the fast and furious fiddles? Where are the cowboy hats, worn by men who actually know what it's like to put in a hard day's work on a farm? I'll tell you where all those things are…in Richard Lynch's music.
With his May 25th, 2019 album release, "Think I'll Carry It On," Richard Lynch is doing just that…carrying on the traditions of "real" country music. Traditions that were passed down to him from his father, who was both a country musician and mentor. Richard has put his personal stamp on each and every song, having written or co-written them all. While there's a deliberate feeling of nostalgia wrapped in the words sung by Lynch, he has a way of bringing the ghosts from the past into the living present, turning "classic" into "contemporary." He's not pretending to be something he's not…he's pure cowboy country, from the sweat on his brow, to the dirt on his boots.
"Make no mistake friends, this isn't today's 'country,…there's no cornfield parties, 'girl get in my truck' lyrics, tailgate drops, bumpin' bass and rap, or 'bros' to be found," said Michael Stover of MTS Management Group. "This is PURE country. TRUE country. REAL country…the way it was intended, with songs that will last a lifetime, building bridges across time and from generation to generation. They have heart, soul, and substance."
Watch the album preview video at https://www.youtube.com/watch?v=4JEwvkg8D3Q.
Track listing:
We're American Proud
Love Tattoo (duet with Ronnie McDowell)
Pray on The Radio
Another Honky Tonk Song (duet with Leona Williams)
You Can't Stay Here
The Old Feed Store
Back in 1953
Keyboard Cowboy (featuring Donna Lynch)
Fast Times and Easy Money
Daddy's Guitar
One Breath Away
They Don't Play 'em Like That
ABOUT RICHARD LYNCH: Richard Lynch is a Waynesville, Ohio-based country music artist, who has compiled a long list of country hits and chart toppers in the world of traditional country music. His single, "A Better Place" topped the New Music Weekly AM/FM country chart, the IndieWorld Country Record Report, and spent an incredible 32 weeks atop the Roots Music Report True Country chart. His next 4 singles also topped the country airplay charts, including a duet with Grammy Award Winner, Rhonda Vincent. Richard's single, "Country Music Isn't Country Anymore" went Top 25 on the iTunes Canada sales chart. His last single, "Pray on the Radio" received Christian radio airplay and charting, also reaching the US iTunes Single Sales chart. Lynch has appeared on WSM Radio Nashville, RFD TV, Fox TV, and countless other media outlets.Richard is a member of the Ohio Country Music Hall of Fame, The Independent Country Music Hall of Fame, and he is a Billboard Magazine Emerging Artist. He is also the host of "Traditionally Lynch," airing on TV and radio, and he's the founder of the Love Tattoo Foundation for veterans. http://www.richardlynchband.com
https://en.wikipedia.org/wiki/Richard_Lynch_(musician)
Richard Lynch "Think I'll Carry It On" Album Preview