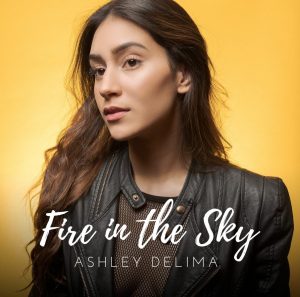 INSTAGRAM: https://www.instagram.com/ashleydelima/
Lush Latin grooves and pristine pop hooks come together to comprise the juggernaut single "Fire in the Sky" from up and comer Ashley Delima, which is out now everywhere that new music is sold and streamed. In this latest cut ahead of her debut extended play, Delima paints a powerful portrait for us with her sensuous serenade, and builds on the sleek template of tonality that she introduced us to in songs like "Cigarette" and "Stay in America." Her melodicism is exploited for all that it's worth in "Fire in the Sky," and as a result, we're treated to her most complete and well-rounded performance yet.
There's a lot of tension building in the bassline as we come towards the chorus, and once we make contact with the track's central hook for the first time, all of it is released in a single sweep of cathartic textures. "Fire in the Sky" has a much more experimental framework than any of Ashley Delima's previous work has, but I wouldn't call it an all-out stab at left-field pop dynamics. The focused nature of the rhythm never lets us lose sight of this song's smooth beats, and that alone keeps it from wandering too far from the mainstream model.
The acoustic guitar melody flanking Delima's verses is as expressive as the lyrics she's singing are, and that really says a lot when we isolate the words from the music and appreciate just how emotional they are even at face value. Unlike the more buoyant "Stay in America," "Fire in the Sky" embraces a multidimensional profile that is spurred on by its physical arrangement and slickly produced vocal track. In more ways than one, I have a feeling that this could become one of Ashley Delima's most requested songs in any given live performance.
This master mix brings all of the understated nuances in her vocal palate to the surface for us to absorb. From behind the soundboard, we're offered a bridge in this single from our own homes into the recording studio, and furthermore, afforded the rare opportunity to hear the potent singing style of a phenomenally gifted vocalist without anything to get between the artist and her audience. It's an experience normally reserved for intimate stage shows exclusively, but thanks to the keen attention to detail exhibited by producers in this song, it's one that we can engage in anytime that we press play on "Fire in the Sky."
Fans of smart pop music really need to check out this new single from Ashley Delima, as it not only sports some of the most charismatic melodies that you're going to hear this season, but it encapsulates the artistic identity of its performer better than anything else she has released in her career so far. As surreal in its instrumentation as it is lyrically cutting around every one of its many twists and turns, "Fire in the Sky" is a hybrid of decadent indulgences, but it's a far cry from the excessive postmodernity of Delima's closest competitors. It's some of her very best work, and it definitely makes me eager to hear more from her before the year is out.
SPOTIFY: https://open.spotify.com/album/6RZFA6HwmjNVz1PpZL5eML
Loren Sperry
Photo credit – Matthew Lyons/Culture Theatre