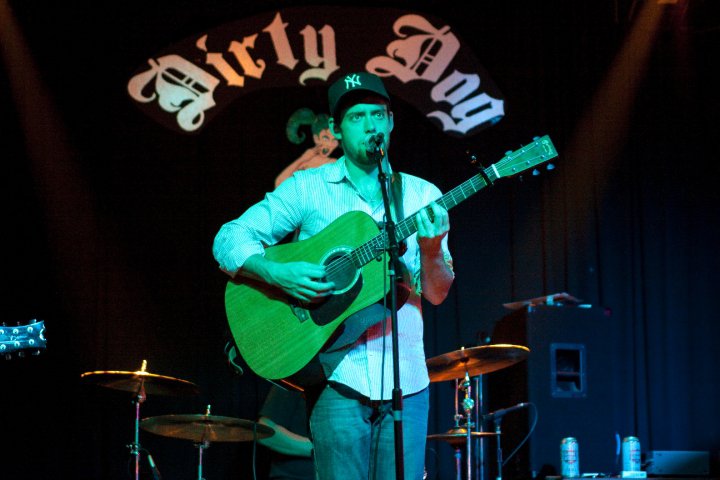 Making an impactful record in 2019 is no easy feat for any artist to achieve in today's fast-paced, internationally-accessible music culture, but Derrick Davis makes it look and sound all too simple in his brand new LP Anti-Social. Anti-Social isn't your typical pop record; in all ten of its beautifully arranged songs, Davis shows off the complexities in his sound and uses every sonic weapon at his disposal to launch an assault on the boredom on modern rock music. Fundamentally simple, though stylistically anything but, this album gets rolling on the whim of a colorful bass wallop in "All I Need to Know," keeps us on the edge of our seats with danceable beats in "Best I Can," reverent melancholy in "Blow Song" and confessional poetry in "Carry Me," and finds its stride in the folk-rocking glow of "Clark Kent," "End of Days," the eccentric "Hunter" and stimulating ballad "Life of the Party." If the final explosions ushered in by "Light It Up" and the 80's rocker "Livin," don't haunt your consciousness long after the record has stopped playing, then quite frankly, I don't know what possibly could.
Half of this album is a lyrical showcase, with Derrick Davis placing his provocative poetry right in the epicenter of all the action in songs like "End of Days," "Light It Up," "Hunter" and "Clark Kent," while the other half is more focused on surreal, instrumental exhibitionism that seems to come natural to Davis and his supporting cast of players. "Livin" is a force to be reckoned with, and that's even without considering the evocativeness of its prose. "All I Need to Know" and "Best I Can" have the most infectious hooks of anything present in this tracklist, but they aren't built around them exclusively.
URL: https://www.derrickdavismusic.com/
Derrick Davis is the archetype Austin singer/songwriter from a critical perspective in that he's always looking for ways to expand his palate and develop the most intricate of details within his skillset, and what's even more endearing is the fact that he isn't self-righteous about his ethos. He takes his music very seriously, but thankfully, not so seriously that he abandons the capricious nature of indie rock at its most unpolluted.
Put simply, Anti-Social is a well-rounded, structurally well-defined addition to an already gripping discography of releases by Derrick Davis, and personally I find it to contain more substance than anything currently gracing the top slots on American Billboard charts. The commercial plasticity of contemporary alternative pop is absent from these songs, and in its place we find nothing but rich tonality and signature serenading from Davis in abundance everywhere we look. Anti-Social boldly crosses the often perplexing lines between rock, R&B, pop and folk music with a seamlessness that is all the more breathtaking when compared to the dreadfully boxy output of Davis' peers outside of Austin, and, for all intents and purposes, it sounds more modern and cultured than any other so-called hybrid records released in the last year plus. He's definitely got my attention, and after hearing this album, I think he'll have yours as well.
Loren Sperry