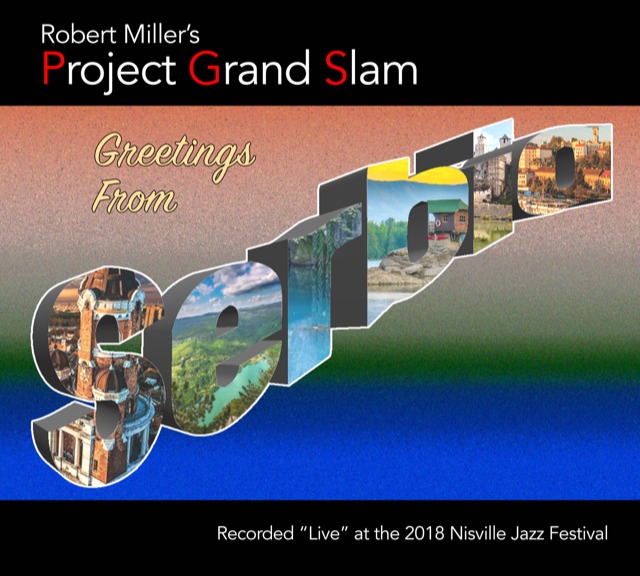 Project Grand Slam, over the course of six albums, has established themselves as one of the pre-eminent forces in American music with their bold invocation of jazz rock fusion and willingness to take chances. None of this, however, would matter much if their membership didn't include musicians and a singer capable of further growth with each new offering. For those, like me, who haven't experienced the pleasure of the band in a live setting, their seventh release Greetings from Serbia offers listeners an important aural reminder of where a band truly exists – on the stage, not the studio
PRIMARY URL: https://www.projectgrandslam.com/
The proof of this statement is obvious from the first. "You Started Something" burns with energy Project Grand Slam bring to nearly every cut on this album. Joel E. Mateo and Robert Miller compromise a formidable rhythm section on drums and bass respectively and the addition of percussionist Guillermo Barron Rios brings another layer to their sound that sets the song apart. "1972" is a musical bulldozer in the best possible way as the band barrels their way through a stunning take on the powerhouse stylistic touches of early Seventies fusion, an obvious nod to bandleader Robert Miller's own musical influences, but there's no question this instrumental reflects the remaining members same passion for the form.
More of Miller's influences are felt with the cover of "I'm So Glad", a stunning rework of a Cream classic nodding to another pivotal figure in Miller's development, Cream bassist and vocalist Jack Bruce. Ziarra Washington's singing proves to be a more than pleasing counterpoint to Bruce's original vocal, obviously respectful of the original yet veering off in such a way that her own talents are given a chance to shine. "No No No" is equally potent with Washington's voice leading the way, Mario Castro's sax playing more than holding up its end, and Tristan Clark providing a scintillating guitar solo in the second part of the performance. This is a band with the talent to elevate anything they touch and this song is stamped with a fierce identity few other bands can match.
"Gorilla" brings out their instrumental talents once again, but Project Grand Slam go in a different direction with this one as they mix thrilling tempo shifts with some punchy rock style, but the balance is flawlessly maintained throughout the entirety of the four plus minute track. Tristan Clark's slashing guitar work, surely sans windmills, makes its mark on a cover of The Who's "I Can't Explain", but Ziarra Washington's vocal more than holds its own with its satisfying  spin on the song's original phrasing. Robert Miller does a stunning job of channeling his inner John Entwistle with his bass playing.
I-TUNES: https://itunes.apple.com/us/album/greetings-from-serbia/1444792159
"The Queen's Carnival" and "Fire" close the show with quite a contrast. The former track is a Latin influenced romp with memorable tempo and rhythmic fireworks convincingly latching onto the style and making it their own. It's another instrumental, but the instrumentals this band serves up are every bit as enjoyable as the songs with Washington on vocals. "Fire" brings Jimi Hendrix back to life in a completely different guise while still more than faithfully invoking his music for a modern audience. Their obvious familiarity with his music includes a tip of the hat to "Voodoo Child", led largely by Miller's bass, before launching into a version of "Fire" that brings Greetings from Serbia to an end.
Loren Sperry