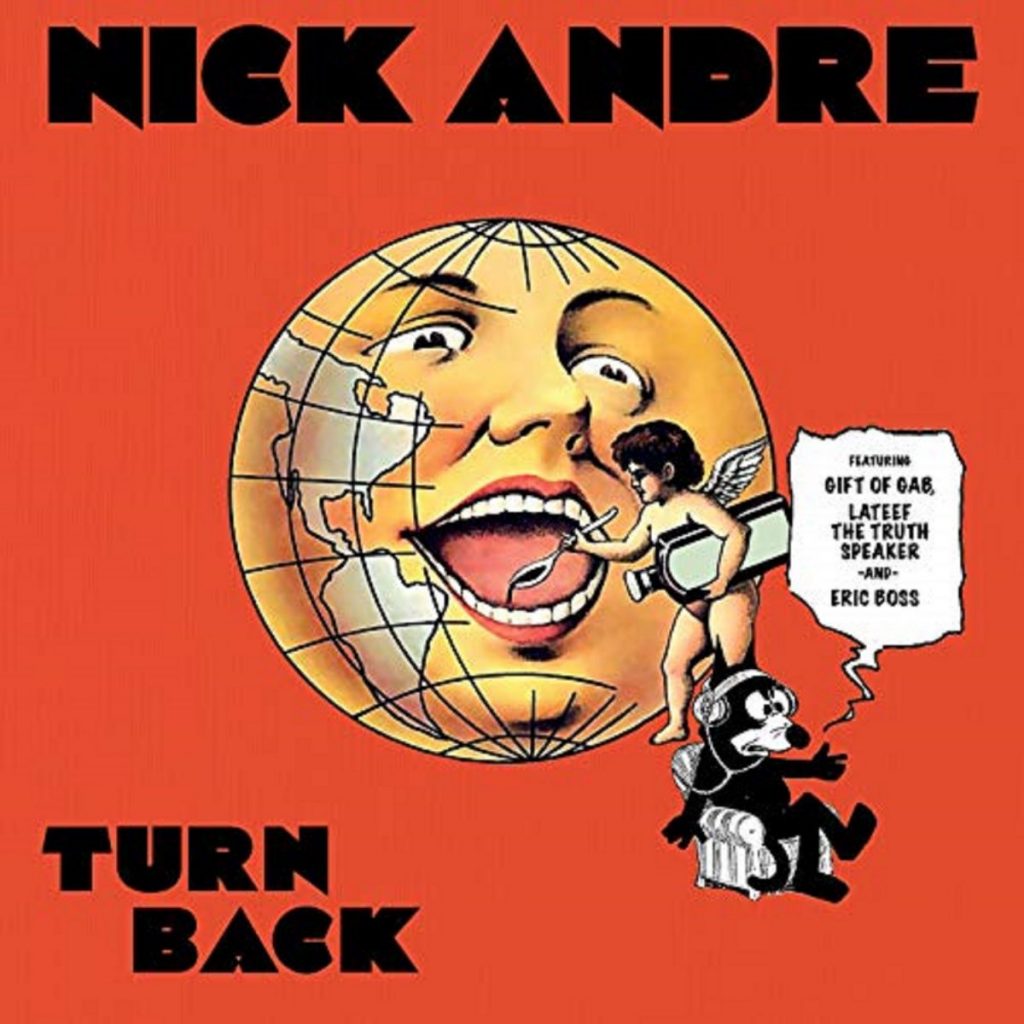 Accented with a lush bassline and evocative lyricism dexterously dispensed by Nick Andre and his featured guests Gift Of Gab, Lateef The Truth Speaker and Eric Boss, Andre's single "Turn Back" is a contemporary rap thrill ride that takes us into the depths of G-funk rhythm before catapulting us into the future of the genre on the whim of a glistening groove. Not many hip-hop singles sport the sonic profile that "Turn Back" does, but then again, not many rappers are Nick Andre. Simply put, Andre pulls out all the stops in this track and unleashes a versatile flow that is hard to resist once you've been exposed to it.
This collaborative effort doesn't particularly focus on one player over another, rather spreading out the spotlight across Boss, Andre, Lateef and Gift equally. But that being said, there's never any question as to who the real star of the show is. The master mix centers on the rhythm of the instrumentation, but it's Andre who's adding the most color to the beats with his trademark vocal timbre. His penetration of the tight lines in between the percussion and the bass is quite impressive, but at the same time he doesn't go out of his way to be gloating or self-indulgent with his contribution to the track.
"Turn Back" is saturated with a smooth confidence that really makes the energy of the song so much more sophisticated and cosmopolitan than it would have been otherwise. On paper, this is a very simple composition, but as it's executed by these gentlemen through this unabashedly beefy mix, it becomes a nightclub anthem of retrospection and realization. Its physicality is rooted more in minimalism than it is the assaultive drum and bass grind of other pop-friendly rap/R&B songs, but that's partly why I think it's as special as it is. This single doesn't try and put up a front for us – it's perfectly content to wear its sly, ominous identity on its sleeve.
DEEZER: https://www.deezer.com/us/track/590476752?autoplay=true
The raw, unvarnished equalization in the vocal harmonies we find in the chorus is unapologetically gritty, but I wouldn't go as far as to say that it's so unrefined that it would repel more casual, radio-oriented rap fans. "Turn Back" stays within a melodic context, even during the spitfire verses that adorn the opening and middle stanzas. You can tell that tonality is a serious consideration for Nick Andre when he goes into the studio; it's evidenced in this single repeatedly. Every detail, no matter how small, is given its own space within the arrangement to shine, and by not overproducing the song these details are subsequently more cutting and focused than what most of today's hip-hop has to offer.
Fusing organic funk textures with defined, swaggering verses, Nick Andre's "Turn Back" is a fresh nugget of hard-swinging urban pop perfect for the eclectic times we live in. While boldly experimental in ways that most of his peers might not feel brave enough to explore on their own, "Turn Back" isn't so willfully avant-garde or left-field that it loses sight of its solid, funk-laden center. Andre, Gift Of Gab, Lateef The Truth Speaker and Eric Boss let us have it with everything they've got in this song, and with any luck this won't be the last collaboration they share with us this year.
Loren Sperry