We attended Myles Kennedy show in Leeds, on the second leg of the Year of the Tiger Tour and shared the whole meet greet experience that allows the attendees to watch sound check and includes a Q&A session with Kennedy.
The staff is amazingly welcoming and you start feeling it is going to be great since the moment you check in. Before a few rules, everyone is lead inside the venue to sound check where Kennedy is already working and does not seem to be affect by the fact many people just got in the room. As soon as it happens, he greets everyone and continues working in a contag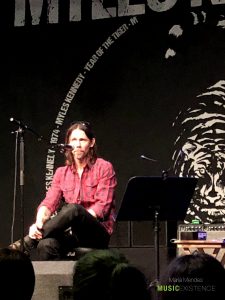 iously good mood.
During sound check, everyone is able to walk around and take pictures before the Q&A sessions that takes place with him sitting on stage. In a very civilized way, fans kept asking questions ranging anywhere from music techniques to private stuff. What is stunning is how Kennedy deals with that: he shares personal stories, guitar techniques, and it is so comfortable doing that, that at some point feels like he is talking to his friends. His humbleness is overwhelming and it often shows when he refers to other musicians. He turns out to be an amazing storyteller and the mutual feeling around is that we could be there listening him talk for hours.
After the Q&A, everyone is allowed to take a picture with him with their own cellphone before lining back up outside for the early admission to the show. Even the picture experience is slightly different from other artists we attended, as he makes sure he welcomes everyone in his characteristically good mood.
If you are a fan, you do not want to miss this very personal experience. If you are not, you will become one.
Kennedy takes the stage on time with a guitar in hand, singing to an audience eager to watch him perform. He is so at ease in his own environment that he takes everyone with him since the moment he walks in.
The setlist is made up of songs from every one of his projects: from the beginning of his career at Mayfield Four, to Slash and the Conspirators and of course, Alter Bridge along with some other artists covers.
"The Devil on the Wall", from his solo album is the first song on the list gathering the audience that sings along from the start.
"Standing in the Sun" (Slash & The Conspirators) is up next and I have to say that Kennedy alone owns it (sorry Slash fans).
Between songs, he keeps telling stories about either the songs he is playing or bringing up some of the questions from the Q&A in the meet & greet, involving everyone.
There are so many different emotions during the show, either touching moments with songs like "Starlight" (Slash &The Conspirators), "Blind Faith", from the solo album and "Life Must Go On" from Alter Bridge folio or even "Mars Hotel" (Mayfield Four). Kennedy's genuine spontaneity interrupts "Mars Hotel" to, in a goofy way, make jokes about his start as a lyricist.
Alternatively, lively, spirited moments during "The Trooper" (Iron Maiden), "All Ends Well" (Alter Bridge) and "Songbird" ignite good vibes.
Tim Tournier joins Kennedy on stage for a couple of songs like "Haunted by Design" adding a new cadence to the show.
The encore delivers a splendid and heartfelt performance of "Love Can Only Heal".
"Year of the Tiger" joined again by Tournier, the song that names his solo album, turns off a flawless show.
What is fascinating is that Kennedy owns each one of these songs and his performance is very different from whatever you may have watch him do. It is clearly in his blood (or in his DNA as he states). He breeds music and talent and besides his acknowledge vocal skills he is an amazing guitarist. Besides this all, he gets the pleasure of doing it and you grasp it. It is very hard to believe when he says that when he started as a frontman he had to work on his performance, as you feel it is part of his being.
The recurrent feeling over this show is that we could be watching him playing in his living room and it would be the same.
Pure, authentic, bright music.
It is a man and his guitar and it's all it takes to be stunning.
Make sure you still have time to catch him before the Year of The Tiger Tour is over.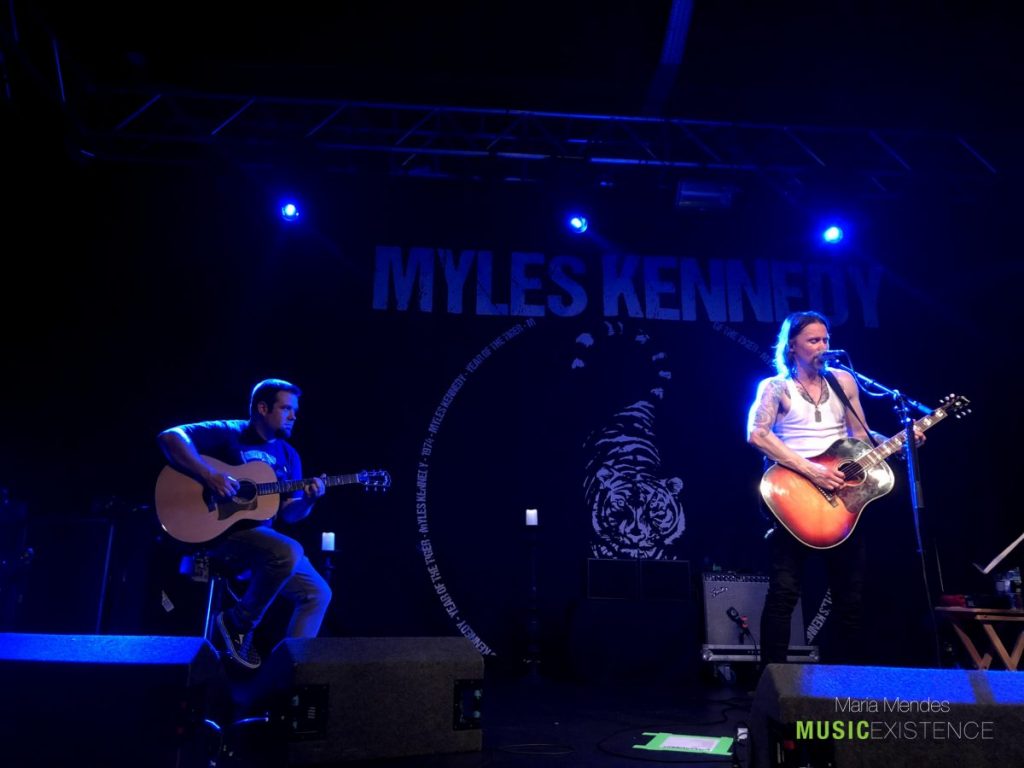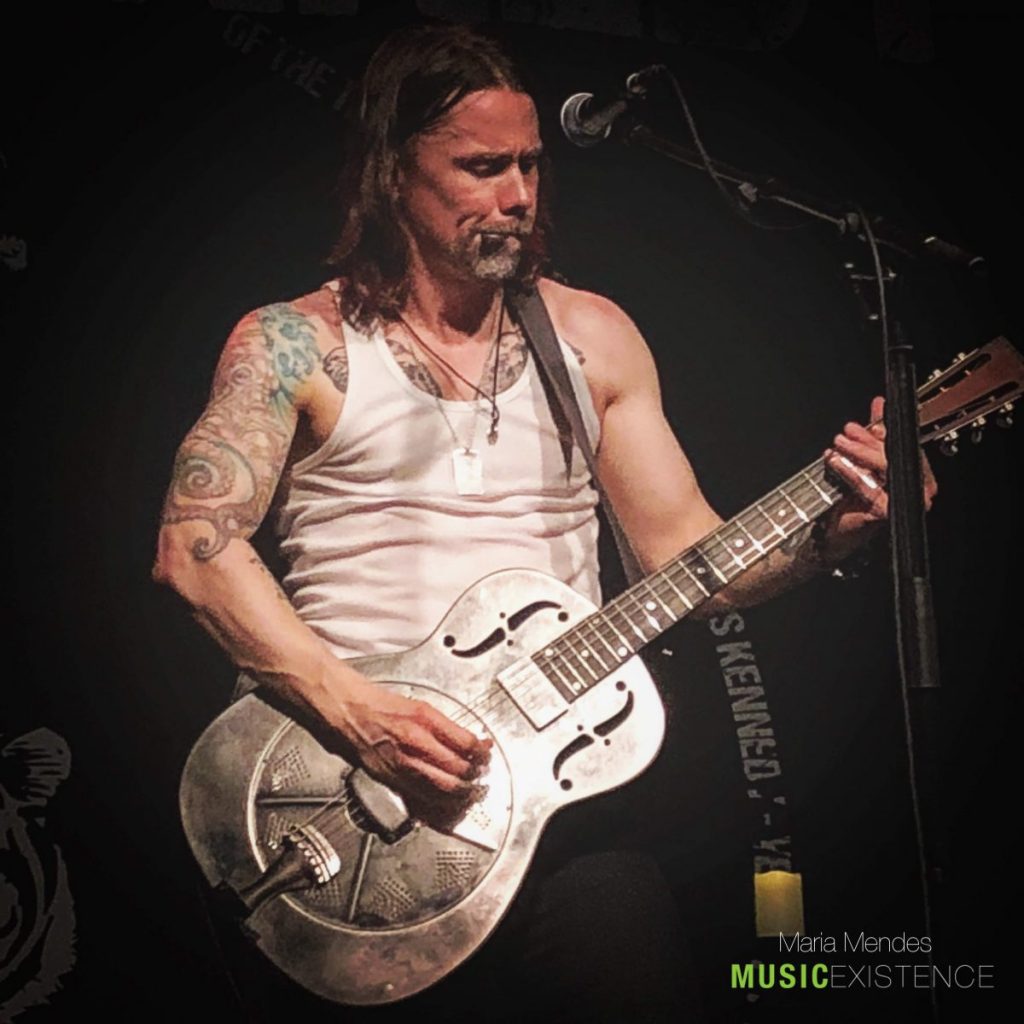 SETLIST
Devil on the Wall
Standing in the Sun (Slash feat. Myles Kennedy & The Conspirators cover)
Mars Hotel (The Mayfield Four cover)
Addicted to Pain (Alter Bridge song)
Starlight (Slash cover)
Blind Faith
Life Must Go On (Alter Bridge song)
The Trooper (Iron Maiden cover)
White Flag (The Mayfield Four cover)
Haunted by Design
All Ends Well (Alter Bridge song)
Songbird
Watch Over You (Alter Bridge song)
Travelling Riverside Blues (Robert Johnson cover)
World on Fire (Slash feat. Myles Kennedy & The Conspirators cover)
Encore:
Love Can Only Heal
Year of the Tiger
Follow on https://myleskennedy.com/