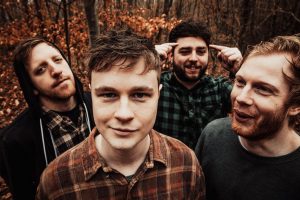 A debut EP gives a new band the chance to share their music further than just their own music scene, to show who they are across the world, and make their mark on their genre. And as Brighton quintet, I Feel Fine are about to release their debut EP  4th May, their chance to do so is imminent. And with this fusion between indie, punk, and emo, is this one to watch?
The EP starts with "Long Distance", an intro that lasts for about a minute. It sounds unusual, but it engages the listener, and gets them intrigued into what this EP is all about. Next is "Beached Community", showing the bands focus on instrumental in full, which is an interesting style, with some nice clean guitars, and an interesting use of call and response vocals. It isn't crazy, but it doesn't need to be. Third track, "Everyday Safari", which is simplistic, but does sound nice as well, however, it's worryingly similar to the last track in instrumental styling, with the only difference being that there are unclean vocals within the track, which don't do much to help the track. Thankfully, the fourth track, "Lifer", offers something different within the music, which is a welcoming change. There's also interesting unclean vocals, which sound good as well; you can tell that they're trying to use the vocals to create a juxtaposition with the music, but in reality it just feels disconnected from each other, and doesn't help to elevate the song. To finish the EP is the final track, "Pan for Gold", which starts with a gorgeous and soothing guitar part. The instrumental track is stunning to listen to, especially once the drums kick in, it does show the guys at their best, musically. However, the drawback is the vocals which, once again, do the song no favours.
Overall, this is a pretty good EP, the instruments can sound amazing in some tracks, especially in "Pan for Gold", however there needs to be considerable about of work on the vocals, especially on the production of them as they're quieter than the guitars within the mix. Has potential, but there is a lot of room for improvement.
Long Distance Celebration is out 4th May!
Social Media Links