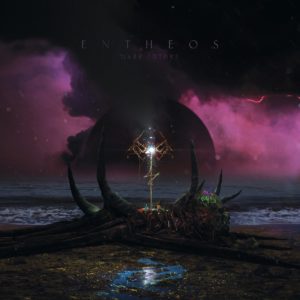 California quartet Entheos have returned with their second full-length album, Dark Future, a dense work of technical death metal that outlines the band's ambitious plans for their music. In this album, Entheos expand upon their combination of metal and electronic music that they experimented with in their debut, The Infinite Nothing, and create ascending soundscapes all throughout this project.
One of Entheos's strongest traits are their technical skills regarding their instrumentals. With precise, pinpoint guitar work on tracks like "White Noise" and "The World Without Us", and jumping, Robert Trujillo-esque bass riffs like the ones showcased in "Inverted Earth" and "Suspended Animation", it's clear that each band member is more than comfortable with their respective instruments. What's even more impressive is that the band is capable of transitioning from powerful, explosive bursts of hard-hitting instrumentals into slower breaks in the action.
At times, Entheos will create high-powered, aggressive tones that feel equally parts technical and punching. These same moments then seamlessly transition into more sedated tempos. These slower moments may reflect a more progressive rock nature that emphasize the band's unique song crafting skills, similar to an act like Between the Buried and Me. This approach is greatly strengthened by Travis LeVrier's aforementioned technical guitar skills. LeVrier is talented in putting forth both flashy, scaling riffs as well as prettier, more subtle pluckings. This juxtaposition feels neither forced nor jarring, as it creates a nice diversity throughout the album that helps it stand out more compared to other death metal acts. Along with this, Entheos are able to successfully craft their music at a slower pace while still creating a heavy aesthetic. Slightly similar to bands like Behemoth or even Ghost to a certain extent, Entheos are able to construct tracks that menacingly trudge along, leaving behind a lingering feeling of stirring emotions.
While Dark Future possesses clear technical prowess, the album contains a few hiccups within the song structures. For one, the album's combination of metal with electronic music might be offputting to some, especially listeners more accustomed to traditional death metal approaches. At times the electronic details are worked into the background and help create a layered atmosphere, as presented in "Suspended Animation." On the other hand, when the electronic components are displayed in a more forthright manner, like in the tracks "Pulse of a New Era" and "Sunshift", the transitions between the two genres comes across as unnatural. In these instances, the electronic instrumentation feels out of place. Specifically, when the electronic elements distort the vocals, the music can be fairly challenging to absorb.
Tracks like "Black Static" and "The World Without Us" feature guttural vocal distortions that feel somewhat synthetic. When these vocal stylings are layered over primarily electronic instrumentals, like in the previously mentioned "Sunshift", the music comes across as a bit too mechanical, lacking the unfiltered raw emotion that makes death metal so enjoyable. This factor is especially disappointing considering that Chaney Crabb's pure vocals are quite powerful. Without the distortion, Crabb's vocals give off a sinister tone that can send chills up listeners' spines. They're haunting and gritty, working well alongside the precise instrumentals. Given how good the vocals are on their own, there is actually little need for the distorting effects.
While the emphasis on electronic music may turn away fans of Entheos' first LP, Dark Future certainly represents a bold step for the band. Dark Future demonstrates how high Entheos' aspirations are in terms of the range of their music. It's an intrepid move for the band, but this album proves that Entheos hope to exceed expectations as to what death metal can offer.
Dark Future is out now. You can purchase the album here. You can follow Entheos on Facebook, Twitter, and Instagram.
Compositions - 8
Breaking Ground - 7.5
Engagement - 8
Lyrical Voice - 7
Production - 7