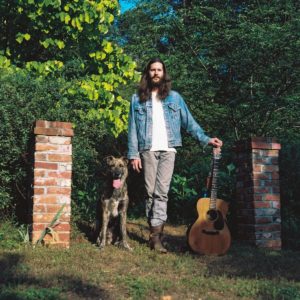 Folk music doesn't get a lot of attention this day and age, mostly due to the overshadowing nature of other genres. But is it deserved though? Diving into Into The Blue by BR Lively, not knowing what to expect is certainly a fun experience, and it did prove itself worthy to be noticed, and then some.
Firstly, the instrumentation in these songs are soft, but really nice. Nothing too out there, but nothing too safe either. This gives the album a nice calm feeling to it, especially in songs like "The Blue," "Oh These Eyes," "Fighters", and "Gratitude", just to name a few. Adding instruments like an electric guitar on "Oh These Eyes", violins in "Fighters", and a banjo in "Gratitude", it adds a unique twist to this album that is a nice touch, and helps it stand out from the rest. Secondly, the vocals really know how to give the mood and feeling needed for each song. Lively's voice has a nice Bob Dylan-esque style that adds an extra layer of the calm atmosphere, like in the tracks "Oh These Eyes," "Lonesome," "Minute By Minute", and "Gratitude!", but it can also change with some of the different styles explored within the album, for example, with "Summertime Sky" and its more jazzy style, and "The Day That I Die" with its more country feel. It also mixes well with other elements, like the female harmonies in "Oh These Eyes", and the guitars in "Coyote". Finally, the lyrics have this poetic element that really works in folk music, and especially in this album. Ethereal, but poignant as well, like in songs "The Day That I Die," and "Gratitude". They're the main focus when it comes to the track "Minute By Minute", and it really shows Lively's talent for storytelling through music.
Only criticisms are firstly, in the songs "Are We In It For The Gold?," and "Free Of," whilst the production on the rest of the songs is really good, there's slightly too much reverb on the vocals; it becomes jarring and noticeable that it's all you can hear in the tracks. The other problem is in "Free Of" again, with the percussion instrument used as the back-beat – it's an interesting choice for sure, but it really doesn't fit in with the rest of what the song is trying to convey, and it's one of those instruments that takes the listener out of the moment, which is sad as the other elements of that track.
Aside from those critiques, this is a standout album among the other folk albums, and one that should be listened to by everyone, no matter what genre they're used to. It's relaxing, poetic, and simply put, beautiful. It'll be interesting to see where Lively goes from here, but he's definitely delivered this one with a bang!
Into The Blue is OUT NOW!