Despite the stereotypical Scottish weather, fans of all ages settled in outside Edinburgh's La Belle Angele last week in anticipation for the nights lineup. Frank Iero and the Patience return to the UK alongside Homeless Gospel Choir, Paceshifters and Dave Haus And The Mermaid in support of September's Keep The Coffins Coming EP. I sat down with Frank before he took the stage on Wednesday to talk about the release, family life, and answer some of your questions.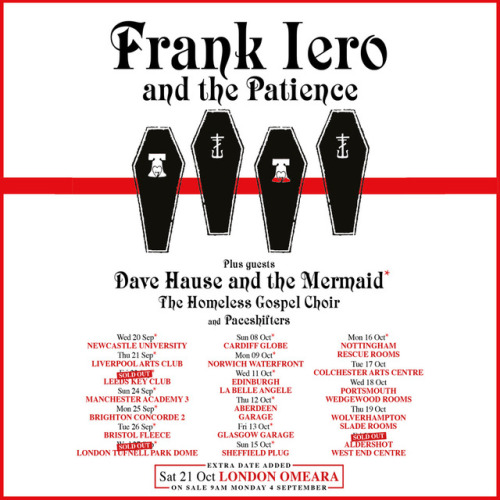 M.E: You are right in the centre of your UK tour alongside The Homeless Gospel Choir and Paceshifters. How does it feel?
Frank: It's great, yeah. I mean, I feel like when you come out from the states on tour, there's usually a threshold, right? I think that three and a half, four weeks is where you're feeling strong, but when you hit the fifth week that's when things start to, like, "Oh my God".
You start to miss home and go a little crazy?
Frank: Yeah, but I think the way to combat that is to surround yourself with people and bands that you like.
I noticed that with Homeless Gospel Choir, you guys are with them constantly!
Frank: That's the thing, you know? Having Derek around and having Dave and the mermaid around; I mean, we just met Paceshifters but they're amazing, really really nice guys, so, I have to tell you that, that helps. When you have someone that's just a jerk, it really brings the rest of the tour down, you know? So we've been really lucky, so knock on wood.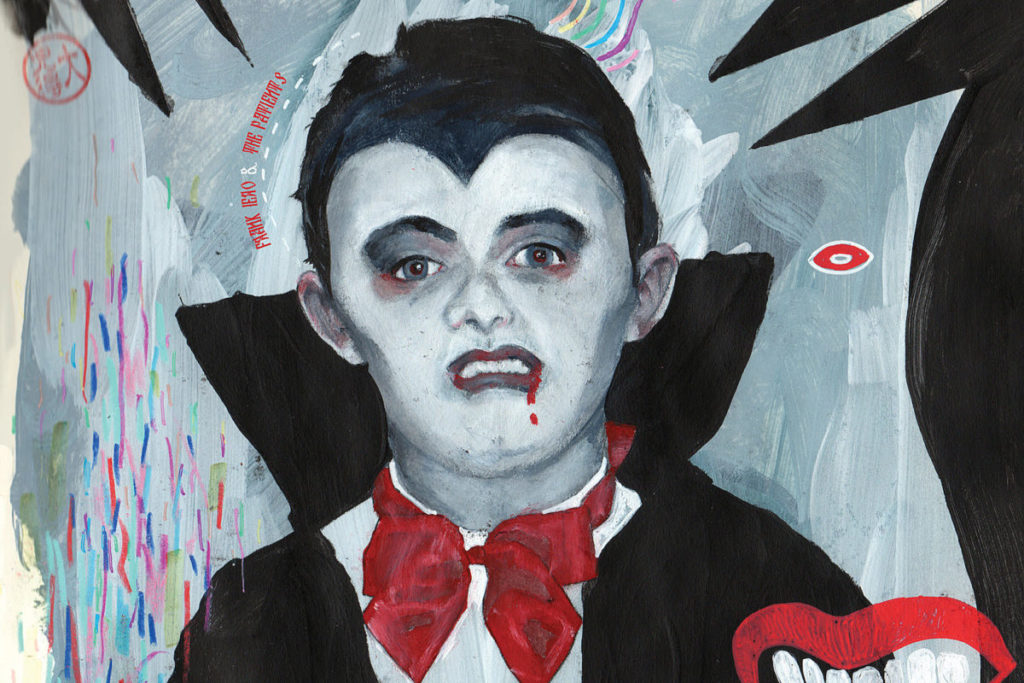 M.E: You released the new EP, Keep The Coffins Coming almost a month ago now; how are you feeling about the response from fans?
Frank: It's been amazing. I mean, I didn't expect that much attention around it because when we did the recording, I just did it for me, you know? And I didn't know if it would ever see the light of day. I heard it was going to come out and it was like "Whoa, that's amazing; people that really care are going to see the bridge between the two records," and that's awesome. It's a session that I am in love with and I had a lot of fun doing, and looked forward to dong since I was, like, fuckin' eleven, and then all of a sudden it came out and people were really enjoying it, and that makes you feel even better about it.
So, fans are going crazy for the new stuff?
Yeah! It's fun, there were songs like "Best Friends Forever".
Ah, I remember when that music video came out, it's real sweet.
That's the thing, right? We did that and people knew it, but the way we do it live is a little bit different and I think that is threw people through a loop a little bit to hear the live version because they were so familiar with the original. So, now to have the live version recorded and out there, too, kids really knew where certain segments happen and they're bouncing off of that version of the song, so that's awesome.
M.E: Do you have a favourite track from the EP?
Frank: I guess best friends, I mean, that song holds a special place in my heart and the fact that my kids kind of approved it, too, they were like "Yeah, that's pretty good".
What age are they now?!
Well, the girls are seven, and Miles is five.
M.E: What were you listening to right now, and what were you listening to writing the record?
Frank: Oh man, just right now, I was listening to new Weezer songs, which are phenomenal. The Paceshifters record just came out, I think that's a fantastic record. The new Homeless Gospel Choir record is amazing. The new Culture Abuse single, I guess it's old now, but I love that. The new Liam Gallagher, we like!
M.E: I feel like, despite being a frontman where a lot of people focus on your vocals, you manage to make every project you've been involved with so far (MCR, Death Spells, LeATHERMOUTH) sound so different. How does it feel to play with so many different genres in that way?
Frank: Yeah, I think it's because I just love making music so much and I enjoy so many different types of music that it kind of just makes sense to branch out and make things with different people and try different, new things. It keeps me interested and keeps me inspired, I like to have so many different projects because I feel like if I hit a wall with something else, like, a creative wall, I can go to something else that opens up my head and opens doors, you know?
M.E: How does having a family back home change the approach to touring and live performance, and all of those things?
Frank: It's harder, you definitely get more homesick, and you try to tour smarter as opposed to harder, but it's one of those things where I think you have to have really understanding loved ones, that, you know?
That appreciate what you're doing?
Yeah, and that get that you're doing it for the best for everybody.
M.E What is the first thing you're going to do when you get home?
Frank: Spend time with my kids, the girls are in soccer right now so I want to try to get to a soccer game.
https://www.instagram.com/p/BaJap6gH9-P/?taken-by=rhiramsay
@kayleighewing_ asked: What made you decide to do full Scotland dates, like Aberdeen and Edinburgh, whereas most people will focus solely on Glasgow? It's very much appreciated.
Frank: I think because, after this UK run, we have a couple more shows for the rest of this year and then I'm going to take some time off. I think it was important for me to try to hit as many places as humanly possible, we've always had really great Scotland shows and it's fun to go to new cities and play new venues that we've never played before.
How do you keep yourself busy/stop yourself from getting bored on tour?
Well, usually you have a lot of things during the day, but also, there is a lot of "hurry up and wait" kind of stuff. We take a lot of walks and see as much of the city as we possibly can.
You're good here, then! There's a lot of history in Edinburgh.
Yeah, I think it's really inspiring to get to walk around and look at things. I mean, where I come from everything is very new, so you feel the history in a city like this, and I think that kinds helps remind you, in my job, how much bigger the world is than just your view.
Gaby and @aya_lmao asked: How do you feel about so many people being dedicated enough to follow a tour and travel as far as they do to see you play? The queue outside is crazy tonight.
Yeah? Man, it's amazing. I feel very lucky to have that type of fan base and those type of people that care that much to want to come to multiple shows, and stay and come early and wait, and see all of the bands on the tour. That means a lot. You feel that support, you feel that love, and that makes you want to put on a good show every night for them. I know a lot of people have fanbases that aren't that dedicated and I feel very blessed to have that, it's amazing.
@penceyprick asked: What were your favourite pedals and amps to use on "Parachutes"?
On "Parachutes", I used a Fender Tone Master, head, mostly. I think some of the clean tones are through a VOX AC30, and the main distorted tone is a Keeley modded Blues Driver, and sometimes I'll have a chorus and a reverb kind of going through that as well, so, you always have that little open weave. There's a little bit of tremolo on there, I use the boss tremolo, the green one, and… I'm trying to think! There's a little bit of memory man in there in some parts, but the main tone is the Fender Tone Master with the Keeley modded boss Blue Driver.

How do you manage to get through days when you experience creative blocks? Do you have any methods to overcome those moments?
Honestly, I like to keep multiple projects going where I can jump back and forth and really explore other options and different musical stylings, that really helps. Sometimes you just have to know when to bust through the block and when kind of just leave it alone. Sometimes just living your life is a good way to get around that block.
@pussyliquorband asked: Any advice for new bands starting out?
Just don't be full of shit. Basically, do it because you have to do it, don't do it because you expect anything in return.
@fordangeroushumans on Instagram asked: Have you ever considered recording a full album on analog tape? Do you feel as though there's a difference between that and digital? I have found that a lot of musicians say that it makes music feel more human/real.
Well, yeah! Keep The Coffins Coming was on tape. The drums on Parachutes is all tape and then, that was bounced down and recorded digitally over the top of that, so the guitars- Actually, a lot of that, I think, was recorded on tape and bounced down, so yeah, both of those records are to tape, but Steve's studio is a full studio, so.
@coffeeandavocados on Instagram asked: If you were in a post-apocalyptic comic book world, what kind of character would you be? Survival/fighter/leader etc?
… Dead, I'd be a dead character.