After selling out headline tours across North America, Europe, and even appearing at Coachella as a follow-up from 2014 record Little Machines, 2 time Juno Award Winner and Canadian songstress Lights is all set to release Skin & Earth, a comic infused concept record built somewhere between LA and Vancouver this Friday, September 22.
It has been clear to see the comic influence in Lights work from the beginning; releasing paintings outside of her music career and even featuring in The Juno Awards "Art is Art" exhibition, but Lights claims that the 6 issue counterpart to the album took over a year to outline, nevermind an interactive "Skin and Earth World" Instagram account, where fans can navigate around the post-apocalyptic world of Enaia Jin, sneak into characters homes and explore what is next to come, possibly finding teasers on the way.
This absolute badassery is what makes the concept record work in music; Enaia Jin is the comic hero of gnarly pop, and it is clear throughout the 14 track release that Lights is creating from her characters perspective, which is strongly outlined in track 4, "Savage".
Tucked away on the map in En's bookcase, "Savage", the third released single belonging to issue #2, features Twenty One Pilots' Josh Dun on drums, and takes more of a rock approach, with heavy guitars in the beginning and a chorus that turns to fast paced-femininity, bringing back Lights much loved indie-pop aesthetic and, bursting into an aggressive power-ballad, it is clear that this breakup ballad is made for live performance.
Since 2009's The Listening, you can hear how the 30 year old's vocals have matured over time, with lyrics laced into every issue. But despite the overlap (although we would suggest reading the comic alongside her latest bop), it is unlikely that you will find spoilers on either side.
But let's do this in order – Alongside Issue #1, our introduction to our new era of Lights, is "Skydiving". Fading directly from "Intro" (a self-explanatory title given to the piece used to introduce the project), "Intro" is a vocal piece with a deeper undertone at the heart.
This album takes an approach rarely seen in some areas of music; "Skydiving" avoids the build and jumps right into the track from the start. Showcasing lyrics and art from her first issue of Skin & Earth, this song acts as a sort of soundtrack to the world of Enaia Jin: A euphoric look through her eyes. This song captures a part of issue 1 perfectly, and, with "Giants" (released as the first single despite belonging to issue 5), seems that this may be a theme throughout. Shattering all notions of what we formerly expected from the singer, the video accompaniment to "Skydiving" flaunts sexuality, an intensity mixed with beauty that carries the electronic element deeper into the background pushes an atmosphere of the post-apocalyptic world that Lights otherwise created inside her comic. It was here that, with the first comic, we discovered that lyrics within these tracks can also be found in the dialogue between characters.
Skydiving video is OUT.

pro tip: listen while reading issue 1. #skinandearthhttps://t.co/OAH0I9DmRa pic.twitter.com/xNSWb9pJ12

— Lights (@lights) July 14, 2017
Rumours suggest that Lights may be commenting on current social and economic issues such as classism in the comic, highlighted by the divide not yet completely explained within the storyline, though the alliances made due to this take a leading role with how the story unfolds.
The last track put out in advance of the official release, "New Fears", is our first introduction to a character teased in the "Giants" music video. Leaked 24 hours in advance, "Giants" was the first we have heard from Lights in a long time, and takes a tone far from what fans were expecting; channelling the strength of Wonder Woman in her voice, the emotionally compelling track introduces a now famous shift in tempo at the chorus with an outro reminiscent of Little Machines "From All Sides", the song slows into an intimate moment of stripped down sound before building up again. Much like this, "New Fears", though starting slow, brings something more energetic in the centre. A quiet instrumental undertone focuses all attention on the words at the forefront.
Check out Lights' official music videos attached to her Skin & Earth project below:

"We Were Here", opens with the sound of sea. Under clicking fingers and electric guitar, it seems the musician may have taken influence from past performances with alternative/hip hop artists such as K.Flay in this track, shown by a strong drum beat guiding the push and pull of sounds; where Lights forefront vocals remain at the centre of the track, distorted backups follow to bring in a fuller sound, which remains a common theme amongst this album. Reminiscent of something you could play in a club, "We Were Here" somewhat instils confidence in the listener, which lyrics also playing a part in this before looping back into the sound of the sea again.
On first listen, some tracks may come off as somewhat radio-friendly, a storytelling that could be the soundtrack to your drunken night, but listen again. As a whole, the album matures like a fine wine, "Until the Light" jumps and turns with a hip-hop or rap touch to it, adopting an opener similar to Melanie Martinez' "Carousel" and yet again, "Kicks" continues with Lights' signature synth/keyboard combination that can also be found within acts like CHVRCHES.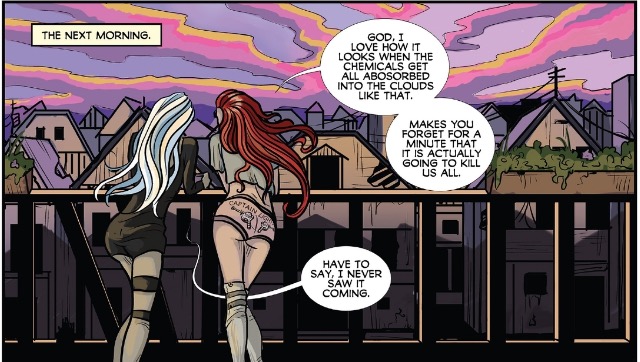 Behind the music, tracks are clearly composed in such a way that could show their full potential on stage. As we all know, Lights has quite the love for collecting weapons, and has included the post-apocalyptic style in the past via the "Banner" music video. "Kicks" makes reference to that fondly within the it's lyrics; "It's how we get our kicks, machete and the sticks, lost in the thick of it with you", whilst hinting throughout towards leading character En's future friends and acquaintances; despite being dumped by Priest (boo!), readers are over the moon at the prospect of another romantic interest, whilst her tracks give none of that away. Though, Lights did share a handy-dandy chart used to link every track to its own issue, as it is unlikely that within a concept record, these tracks would come out in order.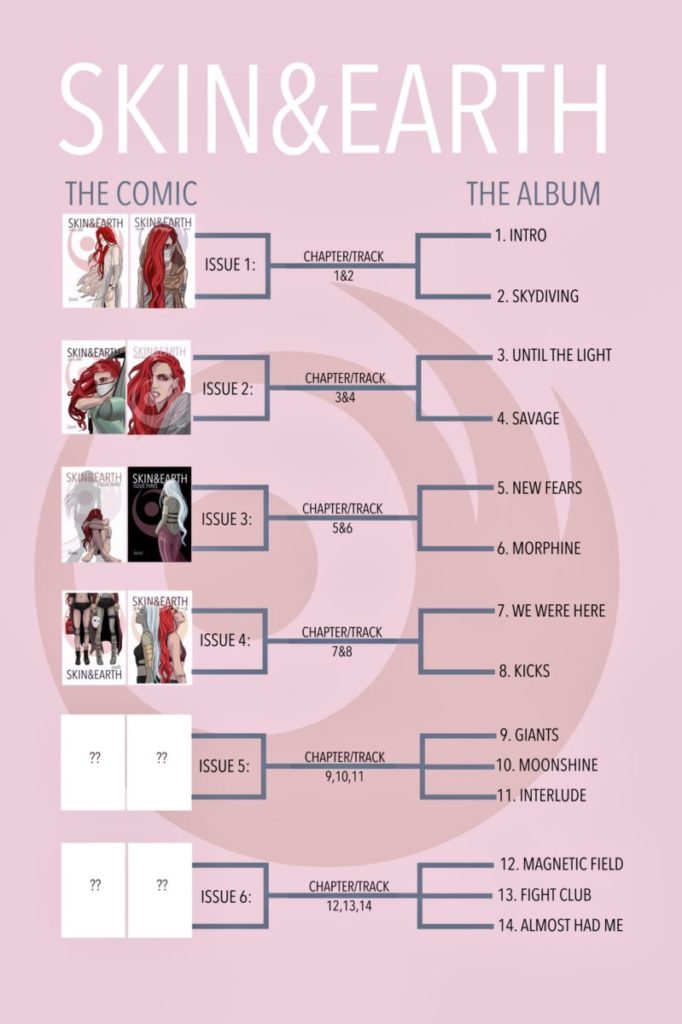 After the acoustic rendition of her last album, Midnight Machines, what is left for Lights to do now? A live-action musical follow up? Well, almost. Lights told Toronto Sun/Postmedia writer Jane Stevenson that she is also looking to turn Skin & Earth into a TV series. It seems she never stops, and that is just the way we like it.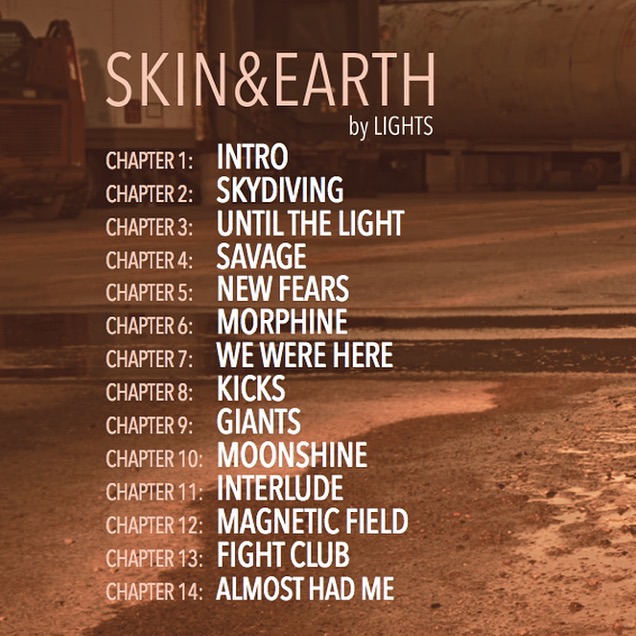 LIGHTS: Twitter | Instagram | Facebook | Tickets: Supporting PVRIS
All art published within this article belongs to Lights unless sourced otherwise.