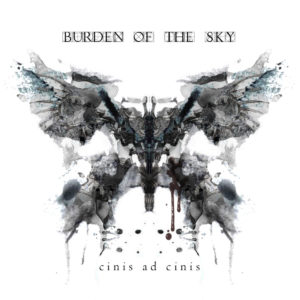 With their debut LP Cinis Ad Cinis, Illinois band Burden of the Sky look to make a big splash in the modern hard rock scene. Combining elements of hard rock and alternative metal, Burden of the Sky have created a project that draws inspirations from artists old and new and it carries an accessibility that is sure to reach a wide array of listeners.
The album kicks off with the tracks "Blame My Creator" and Solace" which feature some spacey instrumentals and solid driving guitar work. The prior track reaches a nice breakdown towards the end which shows off the band's technical skills. The band's ability to create an atmospheric yet still heavy sound is comparable to the early Deftones releases. This comparison is also found on the track "Starting Over" thanks to its harsh vocals and gritty, biting guitars. These heavier contributions can be found on other tracks like "Push" and "Kicking and Screaming" which feature some attributes that resemble metalcore, at least in terms of the guitar work. These tracks have a nice pounding rhythm that are some of the heaviest moments the album puts forth.
Cinis Ad Cinis also possesses some moments that fall closer to hard rock/alternative rock rather than metal. Tracks like "I Become" and "Chasing You" are comparable to Ontario rock act Evans Blue because they combine heavier instrumentals with clean vocals that pack quite a bit of emotion behind them. Tracks like these work well in contrast with the closing song "What's Killing You" which is arguably the most vicious moment on the entire project. The punching drums and grating guitars mixed with the rough vocals make for a rather sinister listen. This track presents a level of gruffness that would have been appreciated if it were present more consistently throughout the rest of the album.
While Burden of the Sky draw comparisons to several noteworthy artists, they also possess some unwanted similarities. Cinis Ad Cinis definitely carries aspects of rock music from the early 2000s, meaning that it's comparable to the nu-metal and post-grunge acts of that time frame. This characteristic is sometimes for the better, like the previous Deftones comparison, though it also makes the album feel somewhat stale given the slightly dated feel. Occasionally the album feels similar to acts from that era that, in my honest opinion, have not particularly aged well, such as Saliva or Mudvayne. Tracks like "Same Old Page" and "Save My Life" feel fairly safe both in their structure and production. The guitars and rhythm section all feel basic and lack many noteworthy risks.
This style isn't overly surprising given that this is the band's debut and it's fairly common for artists to play it slightly safe in their first outing given that they're likely still finding their niche sound. While this makes for a somewhat sheltered debut, it wouldn't be surprising if Burden of the Sky pick up some more steam for future projects and assemble a slightly more experimental project in the future. Though it's a safe start for the band, Cinis As Cinis is a promising beginning for Burden of the Sky. The band still has an abundance of time to work out the kinks in their sound and experiment with their songwriting to create even more diverse music in the future. As of now, Cinis Ad Cinis should please modern hard rock fans and make Burden of the Sky an artist to keep an eye on within the genre.
Cinis Ad Cinis is out now. You can follow Burden of the Sky on Facebook, Twitter, Instagram, and on their personal website.
Compositions - 7
Breaking Ground - 6
Engagement - 8
Lyrical Voice - 7.5
Production - 7.5