We had the great pleasure of interviewing someone who has such a great passion for music and to help people. Check out Josey Milner's music and all she does to stop bullying!
What motivates you to create music? I have a lot of motivation to create music. Not only is all the support that I have received motivation, but how successful my career has been already is lots of motivation. Knowing everyday that we come a little closer to reaching my main goal is a bunch of motivation.
Does your music hold a message? I try to pick songs that all have a message. Now, not every song has to have a serious or strong message, but I at least look for one that I know people can relate to.
Congratulations on the success of Cowgirls! Why do you think this song has achieved such high ranking? Thank you so much! As far as success, I think that people can just get up and dance to it. It's really fun, and the team I worked with for this song put in a lot of hard work into it. It has a good beat, which makes it catchy. It gets stuck in your head! I always catch my dad singing it . . . ;]
What was it like performing at Shriners Children's Hospitals 90th Anniversary? It was amazing. Anything I get to do that is associated with the Shriners is a huge honor. Especially the 90th Anniversary celebration because it was held at the hospital that I had surgery at. When I went to talk about my experience at the hospital, I started to cry. Not just shed a tear or two, but CRIED. Haha, it was so emotional, but it was amazing.
You are an anti-bullying spokesperson with Angels and Doves, tell us more what you do through this great non-profit. Sure! This organization goes around and talks to school about bullying. Mainly how to handle the situation, who to get involved, and what to say. They offer advice to everyone listening, and they also have a bullying book that assists people. They're a really great organization and I'm very proud to be able to take such a stand against bullying with them.
Helping others seems to be what you are all about. You helped raise funds for two charities with Dr. Plasecki MD. What two charities are these any why did you choose them? The two charities are the ones we just talked about, both Angels and Doves and the Shriners Hospitals for Children. I chose these two because for one, Angels and Doves is trying to make a huge difference with bullying, something I have always had a strong view against. I chose the Shriners Hospitals for Children because I am a Shriners patient myself. Both of them are close to my heart so that is why I chose them.
Back to your music, do you have an new singles coming out? I do! I have a new single that will HOPEFULLY be released in October. We were hoping to have already had it released but scheduling has been extremely difficult this round. It's called "Down by the Bonfire" an will be a really good follow up to "Cowgirls".
Will we see you on tour? I've been doing small fair tours of my own, but hopefully someday (crossing my fingers) I will have a huge headlining tour. That has been the goal. :]
Where can we find your music? My music can be found at a couple different place. First, you can purchase my music on iTunes. You can also find it on my website, www.joseymilnermusic.com. Also, for anyone that comes to any of my performances, you can purchase an actual CD with either of my singles that I have released.
How can we help you raise awareness for Angels and Doves? Definitely just go check them out on their website, www.AngelsAndDoves.com. You can make a donation that will help spread the word about bullying as well as just spread the word yourself. Just standing up for bullying victims can be the best thing you can do. Don't let anyone be a victim.
Thank you so much for all that you do! You have a major positive effect over countless life's and that is just amazing! Keep on doing what your doing! Thank you so much and I definitely will! :]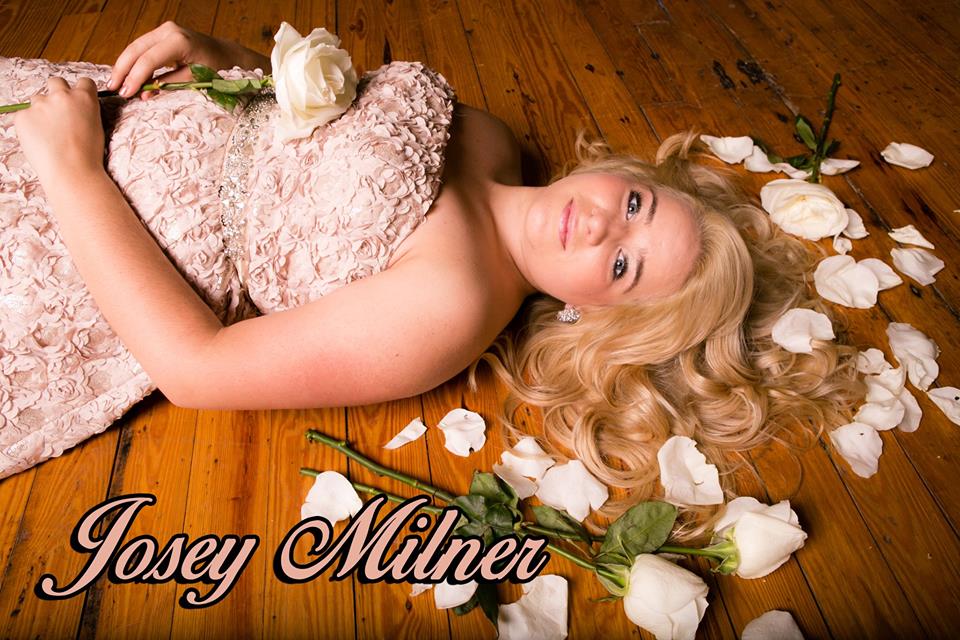 More about Josey Milner
Josey Milner is part small town teen, part road-worthy country starlet, and at only 17 years old, she turned heads and changed hearts with her debut US single, "Not Pretty Enough." The song thrust Josey into the country music spotlight, launching her anti-bullying campaign with Angels and Doves, earning her a 2013 Independent Country Music Award nomination for Promising Young Artist, a Top 10 Hottest New Artist designation, and a Number One single on the world's first independent country music chart, Indie World. Now, 18 and a recent Magna Cum Laude high school graduate, Josey has taken her initial successes to greater heights with "Cowgirls."
"Cowgirls" was recorded at Awestruck Studios with her "Not Pretty Enough" production team of Micah Burdick and Matthew Russo (Hall and Oates.) Mastering engineer, Larry Gann (John Rich, Elton John) also played drums on the track, with Jimmy Mattingly (Dolly Parton, Reba, Garth) on fiddle and Smith Curry (Jason Aldean, Randy Travis) on pedal steel. The single was released to country radio in November 2013, and it reached #1 on the New Music Weekly country charts and Top 75 on Music Row! "Cowgirls" is a boot-kicking, foot stomping dance anthem that has country radio fans singing along with this down-home darling…
Growing up on a small farm in Missouri, one might say that country is Josey's pedigree.   At age 7, she began barrel racing at local rodeos, making the rodeo arena her first stage. She started singing the National Anthem at her youth rodeos, eventually graduating to performances at PRCA rodeos across Missouri and Kansas, including the American Royal in Kansas City. These anthem performances led to the decision for Josey to hang up her spurs and follow her dreams of country music fame.
After a main-stage performance at the 2010 Pedal Steel Convention in St. Louis, Josey followed the advice of her much older and wiser musical elders: Form a band and play everywhere you can. The Josey Milner Band became one of the most sought-after live acts in the Kansas City area. Performing an ever-evolving and versatile mix of new country, classic country, country rock, and a little bit of Rock & Roll, Josey led the band through raucous sets at Buffalo Bill Days, Slater Fall Festival, Holden Street Fair, Timbercreek, The Landing, and numerous others, performing for sold-out crowds and claiming the title of "Kansas City's Princess of Country Music."
More recently, Josey has also opened standing room only shows for American Idol, Scotty McCreery, Chris Cagle, and Jon Wolfe. She has performed at CMA Fest and the Hard Rock Café in Nashville, The Teddy Bear Festival for children's charities, and the Nascar Kobalt 400 in Las Vegas, for Welcome Home Troops. In November 2013, she performed for the International Music and Entertainment Association Awards, for which she was nominated in three categories: Best Country Female, Best Country Single, and Country Entertainer of the Year. She was also nominated for Shooting Star at the Nashville Universe Awards and Best Female and Artist of the Year at the Midwest Music Awards.
With international airplay, charting, live performances and awards, and even a Facebook game using her image (A Better World) and a celebrity endorsement with Piaseci MD skincare, Josey is poised for world-wide stardom. One thing is for certain, wherever her music may take her, she will always remain the small-town girl with the rodeo spurs still hanging on her wall. For more information on Josey Milner, please visit www.joseymilnermusic.com.
Written by Michael Stover/MTS Management Group