EDM/Heavy Bass producer and horror enthusiast FIGURE (aka Josh Gard) has announced his revolutionary show TERRORVISION, an innovative, visual representation of the FIGURE musical experience.
Tickets will go on sale September 12 HERE! Go to www.TerrorvisionTour.com for more information!
Terrorvision has been a concept I've been putting together for some time now, something I thought would go really well with my annual Monsters series.
I wanted to create the ability to compile tons of custom edited clips the same way I have compiled tons of music for my sets over the years. I'm a horror buff and I've amassed an extensive collection of classic shock theatre and obscure films which is definitely an inspiration for the visual direction on this tour.
Through partnering with Rane/Serato and using their hardware I now have the ability to map these custom visuals to my music on the fly, adding a brand new element to my live show. Many artists look at visuals as a way to simply customize the blank slates of wall behind them. WithTerrorvision it's another dimension of my music. An intense visual backdrop giving my fans a window into where I draw inspiration; my vision as a producer, coming together on stage where the visuals brings it all to life. – FIGURE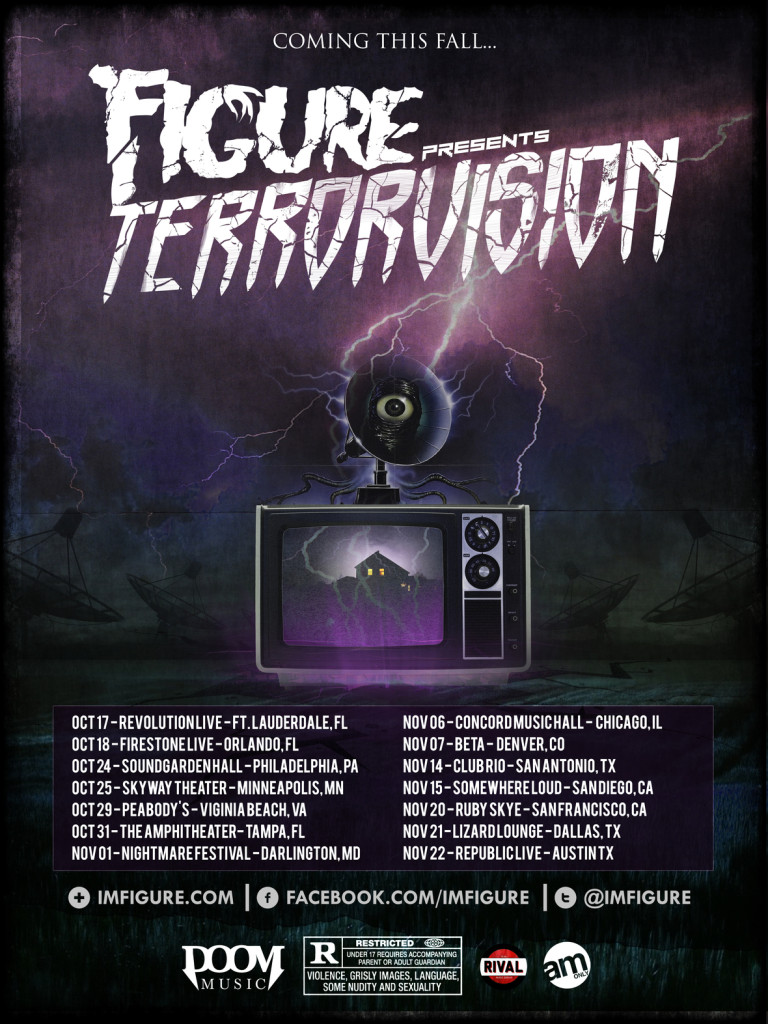 Catch FIGURE's "TERRORVISION" Live!
10/17 – Revolution Live – Ft. Lauderdale, FL
10/18 – Firestone Live – Orlando, FL
10/24 – Soundgarden Hall – Philladelphia, PA
10/25 – Skyway Theatre – Minneapolis, MN
10/29 – Peabody's – Virginia Beach, VA
10/31 – The Amphitheater – Tampa, FL
11/1 – Nightmare Festival – Darlington, MD
11/6 – Concord Music Hall – Chicago, IL
11/7 – BETA – Denver, CO
11/14 – Club Rio – San Antonio, TX
11/15 – Somewhere Loud – San Diego, CA
11/20 – Ruby Skye – San Francisco, CA
11/21 – Lizard Lounge – Dallas, TX
11/22 – Republic Live – Austin, TX
Connect with FIGURE:
Facebook | Twitter | SoundCloud | YouTube