Nobody had quite the year that Nashville-based musician Stephen Sanchez has had. Amidst the success of his mega-viral hit "Until I Found You," the singer is not ready for the curtain to close just yet. Today, he shares a brand new single entitled "Be More" via Mercury Records/Republic Records, serving as a glimpse into his upcoming full-length debut album, Angel Face, due September 22nd.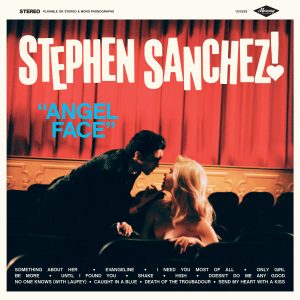 At just 20-years-old, the singer, songwriter, and guitarist has already enchanted audiences worldwide. The timeless ballad "Until I Found You" served as a proper introduction to the artist, having gone Double Platinum, reached the Top 25 of the Billboard Hot 100, and reached over 2 billion streams powered by the original, piano version, and duet with rising pop singer Em Beihold. While this may seem like the height of stardom, Sanchez is only warming up for his next act.
Following a cinematic narrative, Angel Face chronicles the life and times of the fictional Stephen Sanchez—a.k.a. "The Troubadour Sanchez"—who finds fame based on his 1958 hit "Until I Found You" only for his world to flip upside down upon meeting his love Evangeline in 1964. Thematically centered around two of his most beloved songs, Sanchez cleverly expands upon the ideals he has created so early on into his blossoming career.
Enlisting help from masters of atmospheric music and lush storytelling, Angel Face is sure to feel as romantic as it does fantastical. Creating the album, Sanchez teamed up with producers Ian Fitchuk [Kacey Musgraves, Leon Bridges] and Konrad Snyder [Noah Kahan, Rainbow Kitten Surprise]. Album track "No One Knows" amplifies his niche sound, recruiting production from Ben Schneider (lead singer of Lord Huron) and features singer songwriter Laufey.
About his latest single "Be More", Sanchez comments, "It's a dialogue between lovers, in this case 'The Troubadour Sanchez' and Evangeline. 'The Troubadour Sanchez' is saying how much he wants Evangeline and asking her to 'Be More'. For instance, 'Be More' is far more than 'I love you' and 'I need you'. Both sides are begging and proclaiming love. That's the purpose of the song. It affirms your love is far more than you could ever understand, know, or hold within your hands by yourself."
Sanchez paved the way for Angel Face with his recent single "Only Girl," which he first debuted live on his sold-out tour this spring, leaving fans clamoring for its official release. The track was produced by Fitchuk and Snyder, who also co-wrote the song with Sanchez and Stephen Day. Its accompanying cinematic visualizer notably stars reoccurring actress, Frances O'Sullivan, from the "Evangeline" visualizer and more.
Ahead of his album release, Sanchez will kick off his 32-date headline tour this fall and make stops at legendary venues across North America. Playing into his own reality with a retro spin, Sanchez's music is illuminated by a belief that the kind of romance we used to see on the silver screen is still possible in our modern era. Bringing this aesthetic to screen and to stage, Stephen Sanchez is a pleasant reminder that timeless love is only a song away.
Stephen Sanchez Online: Website | Facebook | Instagram | Twitter | TikTok | Spotify | Apple Music