---
From suave card sharks to cunning casino owners, movies based in casinos have long been popular. Casinos started appearing in movies more regularly around 1930s, with The Casino Murder Case.
However, most people's first association with casinos in movies was the movie Casablanca. The 1943 Hollywood classic has been intricately interwoven in pop culture.
Movies such as these sparked the public interest, showing many a world they hadn't previously seen. Moviegoers were intrigued by the:
Glamor
Thrill
Anticipation during games
Plush settings
Casinos represent a break from normal life for many people. This allure has never faded, with people now playing casinos games regularly.
They are seeking the same thrill and anticipation they get from watching these movies. However, they also want to play at the best casinos, which is hard to know online.
These guys have done some research on the best sites to give a real casino experience. So, what else can you do to heighten the ambiance and give yourself that casino feeling?
One way is by watching a casino movie or even listening to the soundtrack!
How music sets a scene
There is no better way to set a scene than the music in a movie. When we hear:
Two minor notes – danger

Jazzy interludes – pave the way for late night sultry affairs

Lyrical strings music – often played at poignant intervals
Directors and musical composers work together to get the right balance for their movies. This truly enhances the viewers experience and can contribute greatly to the overall effect.
Quentin Taratino is known to rifle through his own records to find the perfect vibe for his films. It shouldn't surprise any film fans to know that directors such as:
Martin Scorsese
Edgar Wright
Francis Ford Coppola
consider their score a key component of their filmmaking.
It can even be said that some film scenes are made by the music chosen. Think:
Peter Gabriel's' 'Signal to Noise' in Gangs of New York
The Bee Gees' 'Stayin' Alive' in Saturday Night Fever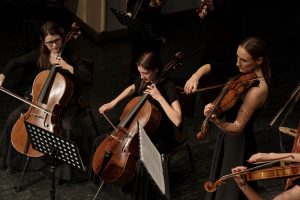 Great casino movie soundtracks
Which casino movies have the best scores? Let's take a look at the top five.
5) The Sting, directed by George Roy Hill with a score by Marvin Hamlisch. Composer Hamlisch adapted much of Scott Joplin's music for the film, a style that fit the film perfectly.
The exuberant, rousing tracks accompanies Newman and Redford's antics as Chicago con men. It is light-hearted and playful, which lent itself well to the pair's capers.
Throughout his career Hamlisch won Emmy, Tony, Oscar and Grammy awards, making him one of 18 to do so.
4) Ocean's Eleven, directed by Steven Soderbergh and scored by David Holmes. Complementing the mood of both the film and the era, Holmes produced a scintillating score for the ages.
Who can forget the earworm, 'A Little Less Conversation'? Holmes manages to merge the nostalgic with the modern with catchy numbers that nod to Vegas style.
The music is just as tongue-in-cheek as much of the script, which is what makes it so effective.
3) Rounders, directed by John Dahl, with a score by Christopher Young. The intense poker scenes are deftly scored with a mix of jazz and blues, which ups the ante.
The opening, Bruce Hornsby's 'That's Just The Way It Is' sets the scene for the movie. Darker numbers by Tom Waits and Bad Company resonate with poker players in reality.
2) Casino Royale, directed by Martin Campbell with a powerful score by David Arnold. Although the composer has long been associated with Bond movies, this is by far his stand-out work.
The theme tune, 'You Know My Name' performed by Chris Cornell, introduced us to the modern Bond. Gritty with edgy lyrics and no sense of irony, Bond is back, and he means business.
The orchestral arrangements and electronic music are both stylish and sophisticated. They rise and fall at the right times, blending the Bond theme in contemporary fashion.
Casino directed by Martin Scorsese, what else could top the list? The music is composed by the world-famous Ennio Morricone, and his exceptional talent is displayed here.
The mood of 1970s Las Vegas is perfectly encapsulated in Morricone's score. Jazzy, bluesy and emotive – it reflects the glitz, glamor and suspense of the casino world.
Music to play casino games
Every one of these soundtracks is a winner for creating the atmosphere we associate with casinos.
Maybe the closest you get to a casino is drawing your plush curtains across on a Friday night. Make your sitting room or games room feel more cinematic and casino-like by putting on one of these soundtracks.