Last summer, legendary folk luminary Joni Mitchell graced the stage of the renowned Newport Folk Festival with a surprise performance— her first full performance in 20 years. Her first Newport Folk Festival appearance since 1969, Joni was joined by some of her musical companions and gave new, seasoned meaning to some of her most hallowed songs. Her heartfelt performance touched many, and now it can be heard by all.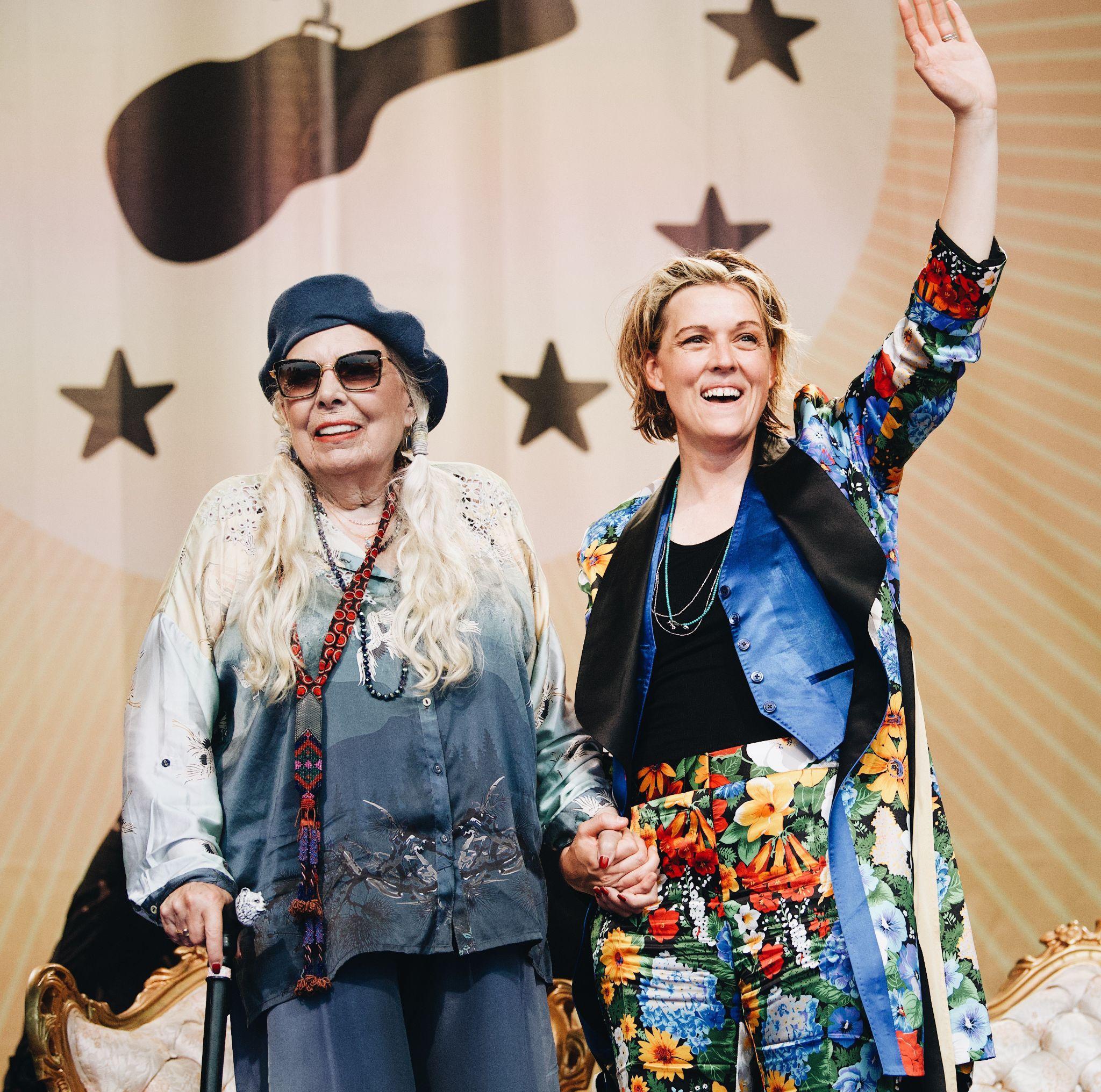 To commemorate her Newport return, this Friday, July 28 she released the At Newport live album, just in time for Newport Folk Festival 2023 weekend. The powerful live recording of her beloved hit "A Case Of You" was released as the live album's first single. Originally released in 1971 on her seminal album Blue, this new live recording features vocals by Marcus Mumford and Brandi Carlile.
Mitchell's triumphant return to the stage on July 24, 2022, is featured on a new live album from Rhino. At Newport is available now on CD and 2-LP black vinyl. Produced by close collaborator Brandi Carlile, along with Mitchell, the music is also available on digital and streaming services and Dolby Atmos. 
Mitchell was joined on stage at the Newport Folk Festival by a star-studded band led by Carlile, the 9x GRAMMY-winning singer/songwriter. Other performers included Carlile's bandmates Phil and Tim Hanseroth, Wynonna Judd, Marcus Mumford, Celisse, Jess Wolfe and Holly Laessig of Lucius, Taylor Goldsmith of Dawes, and more. 
Mitchell delighted the audience, blending her voice with the other singers on stage on classics like "Big Yellow Taxi," "A Case Of You," and "Both Sides Now." For good measure, she even flashed her guitar prowess, playing a solo instrumental version of "Just Like This Train." 
In his liner notes for the album, Cameron Crowe writes about Mitchell's arduous and miraculous recovery from a life-threatening brain aneurysm in 2015, that led to her emotional return at Newport.
"Mitchell emerged from the side of the stage, swaying smoothly, in fine summer-style with beret and sunglasses. Her good-natured mood instantly set the tone. This performance would be an intimate gathering of friends, not unlike the Joni Jams she'd been hosting in her own living room over the last few years of recovery. Smiling broadly, Mitchell made her surprise appearance, taking her on-stage seat alongside Carlile. Within minutes, the news had rocketed around the globe. Mitchell was back, sparkling with enthusiasm, delivering a tender and passionate set of 13 songs, ending with a joyful sing-along of 'The Circle Game.'"
Mitchell's ongoing return to the public eye continued in March when she was awarded the Library of Congress Gershwin Prize for Popular Song at an all-star tribute concert in Washington, D.C.  The show featured performances by James Taylor, Graham Nash, Annie Lennox, Herbie Hancock, Cyndi Lauper, Angelique Kidjo, Ledisi, and Diana Krall, along with several artists from the Newport concert, including Carlile. The concert – "Joni Mitchell: The Library of Congress Gershwin Prize for Popular Song" – was broadcast on PBS stations on Friday, March 31. Watch HERE.
Joni Mitchell continues to stun audiences with genuine performances of her masterpiece songs. "Joni Jams," her personal jam sessions with friends new and old, represents Mitchell's soul and deep love for music. At Newport is a record that captures this spirit, and will be treasured by fans and fellow artists. It is a significant addition to a body of work that remains as viscerally impactful as ever.
Joni Mitchell Online: Website | Facebook | Instagram | Twitter | Apple Music